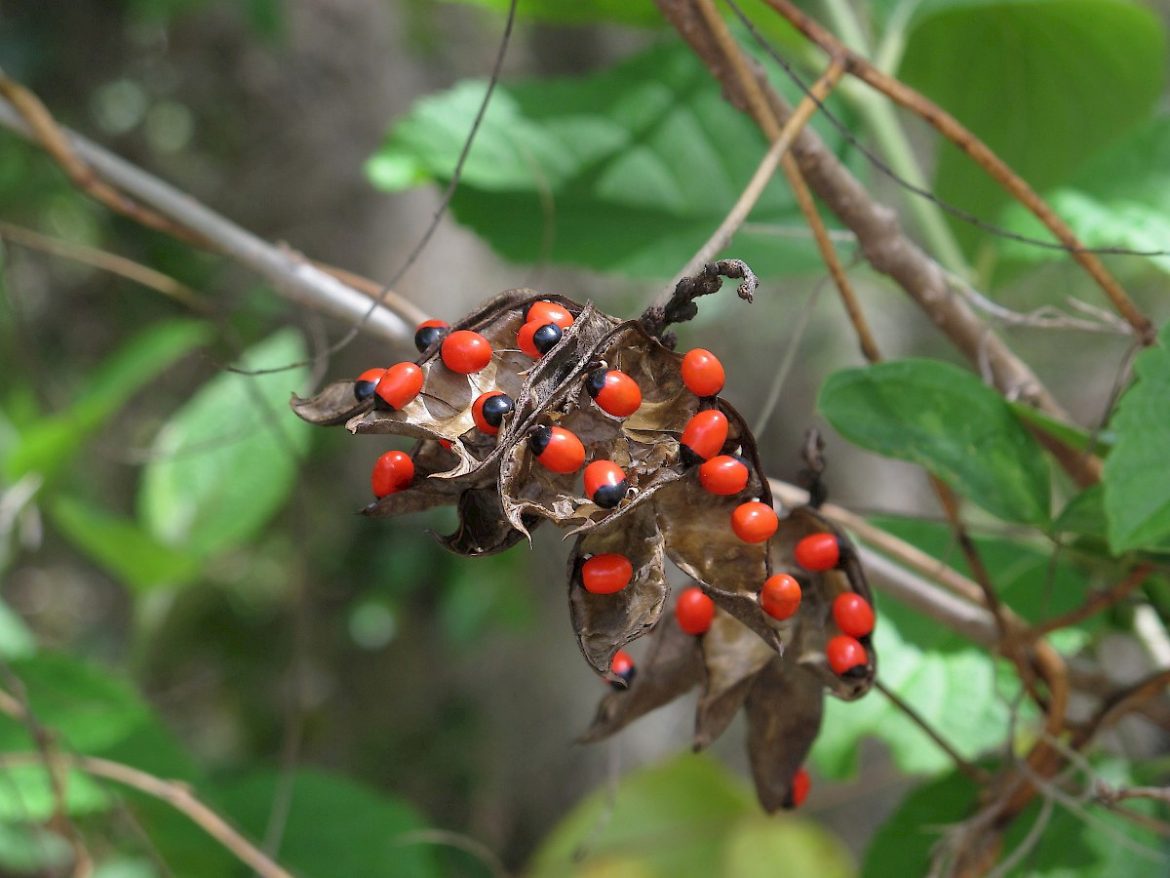 Rosary pea or crab`s eye popularly known as Gunja in Hindi . It is a slender, climbing herb with peculiar bright red seeds. It can be found growing over shrubs , plant and hedges . It is the most toxic herbal plant because of presence of abrin toxin present in plant seeds . 
Gunja occur in two forms normally , the one with the red seeds and the other one is white seed . 
Purified Gunja preparations work well for treating painful arthritis and hair fall . It is also considered a potent aphrodiasiac. 
NAMES :-
ENGLISH NAMES :-Indian Licorice root , Crab`s Eye , John Crow Bead , Abrus seed 
HINDI NAMES :- Gunchi , Gamanchi , Gunja , Rati 
SANSKRIT NAMES :- Kakadantika , Rati , Sheetpaki , Kakashaveya , Shikhandika 
TAMIL NAMES :- Gundumani 
TELUGU NAMES :- Guruvinda ,Guruginia 
MARATHI NAMES :- Gunj , Gunja 
PERSIAN NAMES :-  Gunchi , Chashmi , Khurosa 
AYURVEDIC PROPERTIES :-
RASA :- Tikta ( Bitter ) , Kashya ( Astrigent ) 
GUNA :- Ruksha (Dry ) , Laghu ( Light )
VIRYA :- Ushana ( Hot )
VIPAKA :- Katu ( Pungent ) 
EFFECT ON DOSHAS :- Balances Vatta and Kapha Doshas 
PARTS TO BE USED :- Roots , leaf and Seeds 
CLASSIFIACTION :-
Botanical Name :- Abrus Precatorius 
Kingdom :- Plantae 
Division :- Magnoliophyta 
Class :- Magniliopsida 
Order :- Fabales
Family :- Fabaceae
Subfamily :- Faboideae
Tribe :- Abreae
Genus :- Abrus 
Species :- A precatorius 
USES ARE :-
1 Promote growth of hair :- The oil from the seed of herb is useful to promote the growth of human hair . 
2 Treatment of Gonorrhea :- The rosary pea roots are used in treatment of Gonorrhea , Haemoglobinuric bile and Jaundice .
3 To Treat Fever ,Cough and Cold :- The leaves of Rosary Pea are used in making of tea which is helpful in treating cough , fever and colds . 
 4 This herb is also used as Laxative , Abortifacient , Aphrodisiac and Sedative 
5 The seeds of this herb has antimicrobial , anodyne , diuretic , expectorant , hemostat , emetic , febrifuge , purgative and refrigerant property .  
6 The seeds after being converted to vermifuge paste can be applied topically in case of sciatica , stiffness of shoulder joint and paralysis . 
7 The white seeds of the herb are used in siddha medicine , to make oil that is regarded as an equivalent of the present day vigra .
 8 In some traditional medicines , the herb is used to treat scratches , sores and wounds caused by dogs ,cats and mice .
9 The paste of its roots is often used in treatment of abdominal pain and tumors . 
10 The juice derived from the paste of the leaves and seeds of rosary pea can be used to treat grey hair .
SIDE EFFECTS :-
The seeds of Rosary pea are highly poisonous . In the powdered form they have been known to disturb the uterine function and also prevent conception in  women .
1 If consumed raw the seeds can result in nausea , severe abdominal pain , vomiting and diarrhea , burning in throat . Later on ulcerative lesion of mouth and esophagus might result. 
2 Eye damage conjunctivitis and even blindness might result from coming in contact with an infusion of the seed extracts .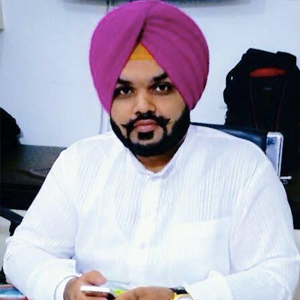 Vaidya Karanvir Singh is the younger Vaidya in Chandigarh Ayurved & Panchakarma Centre. He is the fourth generation in his family who is practicing as a general consultant in Ayurved & Panchakarma treatment at Chandigarh. In his practice, he had treated more than 1000 plus patients worldwide.
Article by Dr. Karanvir Singh (M.D in AYURVEDA, PANCHAKARMA FAGE) and reviewed by Vaidya Jagjit Singh (B.A.M.S)