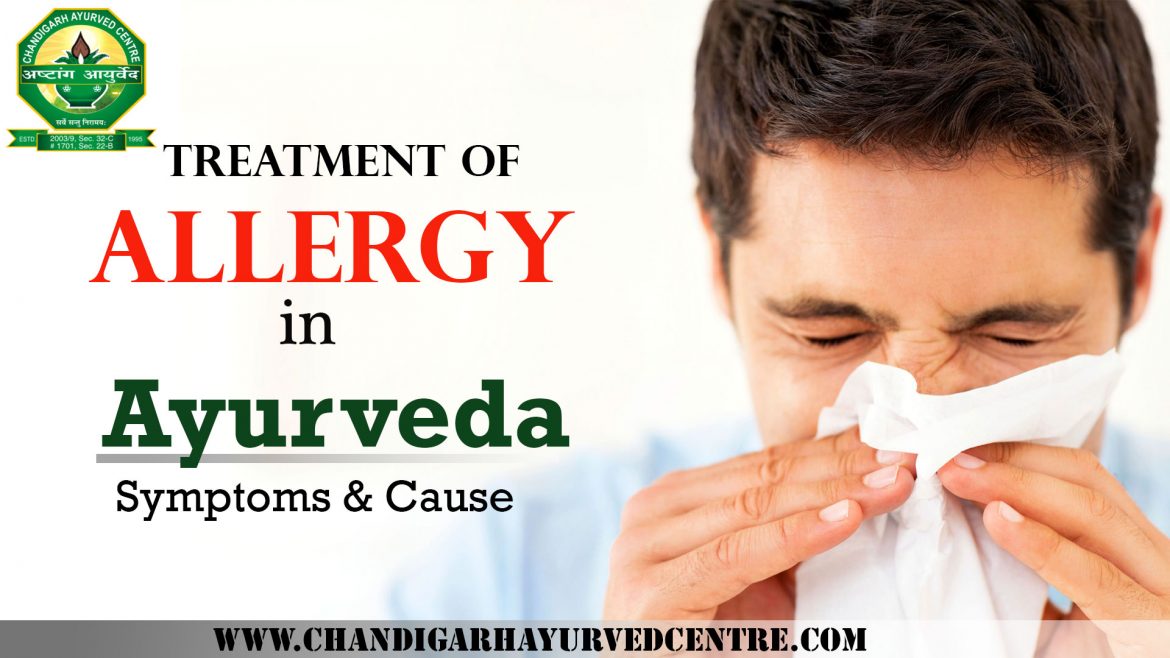 Treatment of Allergy in Ayurveda – Symptoms & Cause
May 18, 2019
Posted by CAC
As the summer season is approaching, people increasingly suffer through allergies and skin related issues.  The scorching heat of the sun, hot winds, pollution are some of the contributory factors. Allergy is a universal issue and it affects people of all ages, right from a children to an old people. It affects the entire human body. Allergy is one of the influential factor in disease like asthma, which is very dangerous if not cured in time. The major contributory aspects toward allergy are pollution, unhealthy eating habits, use of fertilizers and pesticides in the fields, etc. It sounds like a trivial disease but our body gets ruined. Generally, allergies can be seen on skin, eyes,nose and lungs.Though its signs differ in each person, from simple allergy to life threatening, it reduces the eminence of life. Frequent recurrence can cause serious allergic ailments and sickness. It should be cured in time to lead a quality life.
Symptoms Of Allergy
Rashes and itching, sneezing, running nose, swelling, headache, difficulty in breathing are some of the common signs of allergy.Most of the allergies are caused due to the release of chemical known Histamine. A severe allergic sickness, Anaphylaxis, causes lethal reaction to human body. Prevention is always better than the cure but it is not easy with environmental changes and erratic lifestyle.
What Can Cause Allergy?
Pollen particles released by several plants
A small species called mites, found in mats, carpet etc.
Some people are allergic to food items like soya, eggs, milk, peanut, wheat and sea food.
Allergic reactions can be caused by some of the medicinal products and drugs.
Pollution plays a huge role in contributing to the infections on the skin.
Few other contributory factors of the allergy are insects, dust particles, pets etc.
How Ayurveda is Helpful for Allergy
Ayurveda can be helpful to upsurge the immunity of human body to reduce the symptoms. It categorised the sickness caused by the allergens and comes out with explanations and resolutions. It not only provide relief from disease but improves the surroundings of mankind.  Ayurveda is a wonderful option for people who likes to relieve allergies through herbs, diet restrictions, yoga and breathing exercises.
Allergy treatments through Ayurveda work by the pacification of imbalance in dosha, which helps to restore symptoms through herbal preparation. With the advised diet and lifestyle changes, it can help significantly. Oftentimes, ayurvedic tonics are recommended to a patient to improve the lung strength.
CAC Ayurvedic Treatment for Allergy
The kit is your one stop solution for allergy related problems. The kit contains allergy care sachets,Giloy Ghan Vati tablets, Manjisthadi Churna and Yakrit Vati tablets. While the allergy care sachet helps to relieve symptoms like burning and itching, the giloy ghati vati tablets will help to improve your immunity. The Churna and yakrit vati also help to ease the symptoms fight off your allergic reactions.
The kit contains Sitopaladi Churna which helps which congestion and upper respiratory relief. The Abhrak Bhasma strengthens the liver and helps with respiration. The Godanti Bhasma helps with efficiently dealing with chronic fever and headaches. Laxmi Vilas Ras is for quick action. Yashtimadhu Churna works to improve your immunity and the fight off the negative effects of bacteria and virus. UshiraSurkh is a cooling herb that gives intense relief and KasShwasHari are tablets that ensure that cold and cough does not get converted to bronchitis and sinus. Kaphaketu Rasa is another quick action relief. Brochotone cough syrup is syrup without any sedatory effects. Finaly the Anu Thailum nasal oil helps with clearising up the nasal cavity.
This helps to do away with imbalance in the ears and congestion. Since the ear is cleaned completely it ensures clarity and coherence. It also works by softening the facial muscles and reducing jaw tension, amongst other many positive effects.