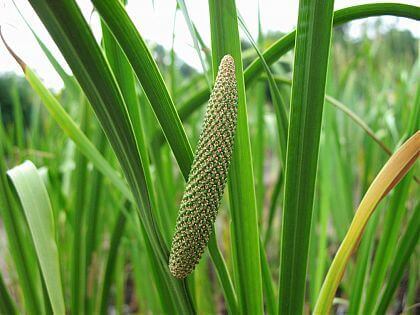 Vacha herb is a soft herb of 2 to 4 feet of height found in moist edges of streams and lakes . 
The Leaves of this plant are green in color with wavering edges with a length of 2 to 4 ft and breadth of 1 inch . 
Flowers of the plant are small dense and whitish in color . 
Fruits are pulpy with numerous seeds.
Its underground hairy and Brownish roots resembles the Ginger rhizome .
Leaves and roots of this plant are aromatic . plant with very strong aroma is considered as best quality . 
Vacha herb – It is used to treat stomach diseases and stones. Its root quality is used to increase strength, prevent germs from growing. The root of Vacha provides benefits in the problem of stretch of flesh. Covenant also helps to recover lost memory. Taking decoction of its plexus, drinking it cures stomach problems.
Vacha herb – Its crust is used to clean the blood. Washing the vagina by making a decoction of this scab, removes vaginal problems. Taking this decoction also cures liver and skin diseases.
NAMES :-
Hindi (acorus calamus in hindi) – Vacha, Ghorvacha, Ghoravacha
English – Sweet Calamus (Sweet Calamus), Flag root, Sweet flag (Sweet flag)
Sanskrit – Vacha, Ugragandha, Shadgrantha, Golomi, Shataparvika, Chudrapatri, Mangalya, Jatila, Ugram, Lomsha
Urdu – Bacha
Gujarati – Vaja, Godavaj
Telugu-vasa (Vasa), Vas (Vas)
Tamil (vacha herb in tamil) – Vashambu
Bengali – Vacha
Nepali – Bomo
Punjabi – Bariboj
Marathi – Wekhand (Vekhand)
Malayalam – Vayambu
Kannada – PM (Baje), Vashampa
Arabic – Udal buj, Akuran
Persian – Sosan jard, Agre turki.
AYURVEDIC PROPERTIES :-
RASA :- KATU (Pungent) , TIKTA (Bitter)
GUNA :-LAGHU (Lightness) , TEEKSHNA ( Strong ,Piercing) 
VIRYA :- USHNA (Hot)
VIPAK :- KATU
PARBHAVA :- MEDHYA (Improves Intelligence )
USES :-
1 Benefits of Vach in Fighting with Headache:-The use of Vacha leaves provides relief in pain in the head, especially in the next part. Grind the leaves of Vach and apply it on the forehead and pain area. It provides quick relief in high headaches.
2 Benefits of Vach in Fighting with Migraine :- Vacha is a very beneficial medicine for people suffering from migraine disease. Smell by mixing Vacha powder with Vacha and Puppali powder. It can also be given in the nose. It provides relief from migraine or migraine pain.
3 Vach Benefits in Increasing Memory Power:- Vach is very helpful in increasing the memory of man. Drink 200 milligrams of the stem with ghee, milk or water. This improves memory. Doing this yoga twice a day is beneficial. 
4 Vach Benefits to Treat Abdominal Gas:-Boil 25 grams of Vach in 400 ml of water. When water remains one fourth, make three parts of it. Give it dose three times a day. It gives relief from gas problem.
5 Uses of Vach for Throat Related Problems:-If there is pain in the throat due to phlegm problem, then drink 500 milligrams of Vach in light warm milk. Consumption of this brings loose phlegm inside and comes out. This pain relieves throat soon.
6 Benefits of Vach in Goiter Treatment  :- Vaccine is beneficial in the treatment of esophagus. Smell its powder (vacha powder) and Pippali powder with honey, or with neem oil. Esophagus is cured by this.
7 Vach Benefits in Fighting with Cough Disease:-Grind vacha herb with mother's milk and give it to the child to cure cough.Grind 125 milligrams of water and drink it thrice a day, it also provides relief in children's cough. Boil 25 grams of Vach in 400 ml of water. When the water remains fourth, make three parts of it. Giving it thrice a day provides relief in dry cough.
8 Vach Uses in Fighting with Asthma :-The patient should be given the first dose in the amount of 2 grams. After this, the dosage of 625 mg should be consumed every three hours. It is beneficial in asthma.
9 Uses of Vach for Tuberculosis Treatment :-Vaccination is also beneficial for TB patients. Prepare powder of patient Vaccine, Ashwagandha, Sesame, Apamarg seeds and Mustard seeds. Taking 1 to 2 grams of this powder with honey is beneficial.
10 Uses of Vach in Coryza Treatment :- Vaccine gives immediate benefit in cold, cold disease. For this benefit, keep the powder of vacha herb in a cloth and smell it. This causes burning sensation in the nose due to cold.
11 Vach Uses to Treat Abdominal Bugs :-Vach has the property of killing insects. Mix 2 grams vacha churna with 125 mg toasted asafetida. Feeding it kills stomach worms.
12 Uses of Sweet Flag in Piles Treatment :- To get relief from piles, burn equal amount of Vach, cannabis and parsley. Bake piles from the fumigation caused by burning them. It provides relief from piles pain.
13 Uses of Sweet Flag in Leprosy Treatment :- Vach is an effective medicine for skin diseases. Grind cardamom, cabbage, vidang, asparagus, chitrak, vach, denti and rasaut. Leprosy and other skin diseases also disappear by applying it.For the relief of leprosy, make a decoction of Vacha, Vaasa, Patol, Neem, Priyangu and Cinnamon. After this, mix 10 grams of Madanphal powder in the quantity of 10 to 20 ml. Use of this mixture is beneficial in leprosy.
14 Benefits of Sweet Flag to Stop Bleeding and Dysentery :-Patients suffering from dysentery and vomiting of blood benefit by drinking decoction of vach, coriander and cumin. For this, take the same amount (10-10 grams) of the three substances and boil them in 100 ml of water. When water is 20 ml, filter it and drink it in the morning and evening.Make a decoction by grinding baje root. Drinking 25 or 35 ml of it provides relief in dysentery.In case of abdominal pain, rub the vatha in water and apply it on the stomach. It provides relief in gas problems or swelling of stomach.If children have dysentery with pain, then burn the vow. Grind its coal in castor oil or coconut oil. Apply this on the baby's stomach. It gives relief.Mixing 125 mg ash (Bhasma) of Vach in water and giving it to the child also provides relief in dysentery.Boil 25 grams of Vach in 400 ml of water. When water remains one fourth, make three parts of it. Dosing it three times a day provides relief in dysentery.
15 Benefits of Sweet Flag in Getting Normal Pregnancy :- The vacha plant helps in normal delivery. Grind the vach in water. Mix egg oil in it and apply it on the navel of a pregnant woman. This makes it easier for a child to be born.To get rid of weakness after delivery, decoction of Vach should be given in the quantity of 20 to 30 ml daily in the morning and evening.
16 Sweet flag uses in epilepsy treatment :- Take 500 mg powder of bach plant with honey. It provides benefits in diseases like epilepsy. Only use milk and rice during the remedy.Apart from this, in the morning, consume 1-1 gram powder with honey or ghee for three days. It provides benefit in epilepsy. Mixing 2 grams of powdered powder with honey and consuming it for 1 month also provides relief in epilepsy. Milk and rice should be taken in food during its intake.
17 Sweet Flag Benefits to Cure Acne :- Vaccine medicines are effective in treating acne and boils. Take equal quantity of Lodhra, Coriander and Vacha. Grinding all three and applying it ends acne.
18 Sweet Flag Benefits to Cure Ulcer :-Use powder prepared from Kasis, Rock salt, Surabiz, Vacha, both turmeric (turmeric and wild turmeric) and other refining substances. It cures ulcers.The medicinal properties of Vach are beneficial in paralysis of the mouth (Sweet Flag Benefits for Mouth Paralysis).
A person suffering from paralysis of the mouth should mix 625 mg powder of Vacha and 625 mg powder of Vacuum Churna in honey. Licking it two to three times a day is beneficial. Honey should be mixed with water at the time of its intake.
19 Uses of Sweet Flag in Stammer Problem :-To cure the disease of stammering, the patient should suck a piece of 1 gram of fresh stem of the bach plant. Using it continuously for 3 months provides amazing benefits in stammering disease.
20  Sweet Flag Beneficial for Skin :-Vach herb gives good results in skin problems. Vacha is used for quick healing of skin wounds, as it has the properties of healing.
21 Benefit of Sweet Flag in Mental Health:- The use of sweet flag i.e. Vacha is beneficial for mental health, because according to Ayurveda, Vacha has the qualities of Medhya which helps in keeping the mental state better.
22 Sweet Flag Beneficial to Boost Appetite :- If you are troubled by the problem of loss of appetite, then the consumption of Vach can be beneficial for you, because according to Ayurveda, Vach has the properties of lamp which helps to increase digestive fire and relaxes from the problem of loss of appetite. Can be found.
22 Benefit of Sweet Flag to Treat Stress :-The use of Vacha can help you to stay away from stress, because Vacha has the qualities of Medhya according to Ayurveda, which helps in keeping the mental state better and keeps stress away.
23 Use of Vacha in epilepsy  :-The use of vascha in epilepsy helps in reducing the symptoms of epilepsy, as it has medial properties which helps to keep the brain cool.
24 Benefits of sweet flag in cold, cough and fever  :-Grind the vach in water and apply it on the nose. It provides relief in cold, cough and high fever due to it.In fever of young children, applying vacha plant in water by rubbing it on hands and feet is beneficial.Also, make a decoction by mixing one part vach and 2 part salivary. Drinking 10 to 20 ml of this mixture provides relief in fever.
25 Sweet flag benefits in Jamalgota :- Dissolve 1 gram ash of vach in water and drink. With this, the effect of the poison of Jamal Gote is eliminated. Problems caused by the side effects of the toxin are gradually overcome.
PART USED :-
Baje root
The bark
Side effects of Vach (Sweet Flag)
Excessive use of speech becomes harmful. It is harmful for people with warm nature. If such people consume vach, then they start having headaches.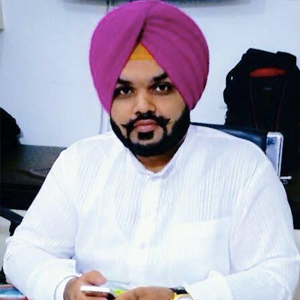 Vaidya Karanvir Singh is the younger Vaidya in Chandigarh Ayurved & Panchakarma Centre. He is the fourth generation in his family who is practicing as a general consultant in Ayurved & Panchakarma treatment at Chandigarh. In his practice, he had treated more than 1000 plus patients worldwide.
Article by Dr. Karanvir Singh (M.D in AYURVEDA, PANCHAKARMA FAGE) and reviewed by Vaidya Jagjit Singh (B.A.M.S)