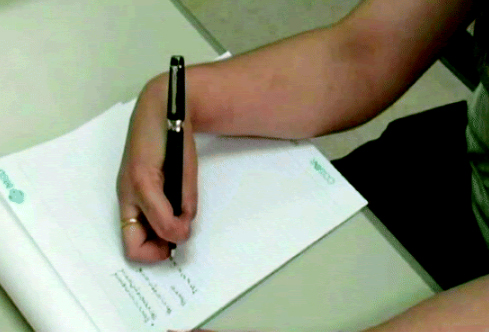 What is Writer's cramp and How to treat it?
About Writer's cramp
Writer's cramp is a type of focal dystonia that affects hands , fingers and fore arm . It is an idiopathic movement disorder of adult onset that is  characterized by abnormal posturing and movement of the hand and forearm during tasks requiring skilled hand use, such as writing.  Focal dystonia of the hands or Writer's cramp  is a neurologic movement disorder.  This disorder is characterized by involuntary and excessive muscle contractions which occurs as a result of wrong information send  by  the brain to the muscles These signals can twist hands or fingers into odd postures.
Writer's cramp is known as a task-specific dystonia. As It happens almost only while performing  a particular activity or task. Like during playing musical instrument that's why also known as musician's cramp.  
Types of writer's cramp
There are mainly two types of writer's cramp i.e. simple and dystonic.
Simple writer's cramp –

This type of writer's cramp  involves difficulty with only writing. It affects person's ability to write . In this type the abnormal postures and involuntary movements occur after  picking up a pen for writing. 

Dystonic writer's cramp –

In this type symptoms are noticed in patients not only during writing , but also seen while doing other activities with hands like while typing ,  shaving . 
Symptoms of Writer's Cramp
Common symptoms that are seen in patient's of writer's cramp are
Wrist flexing

Gripping of pen or pencil is very hard with fingers

Difficult to hold pen or pencil

Abnormal postures of hands or fingers

Hand's discomfort and uneasiness

Stiffness and pain of hand muscles 

Feeling of vibrations in affected hand

limited hand activities 

Stress and mental fatigue 
Causes Of  Writer's Cramp
It is presumed to be the consequence of dissipation of voluntary muscular activity.

Any kind of injury in brain is also can be the reason of writer's cramp

Heredity reason  have been reported.

The failure in functioning of basal nuclei in cerebral cortex and motor cortex results in the writer's cramp.

Many other disorders which can lead to writer's cramp are hypoxia, ischemia, malignancy, and heavy metal poisoning.
Diagnosis of Writer's Cramp
There is not any specific test for confirming Writer's cramp. But there are specific parameters that can be helpful in deciding the severity of disease.
ADDS (Arm Dystonia Disability Scale) and WCRS (Writer's Cramp Rating Scale) – These are helpful to check writing ability 

MRI to check systemic abnormality

EMG to check unusual contractions.
Treatment of Writer's Cramp
Physical and occupational therapy.

 Different techniques and ways to learn how to hold your pen, use of  fatter pens and changing your paper or arm position can all help writer's cramp.

Botulinum neurotoxin (Botox) injections.

Use of  

Botox injections

 into selected muscles can help in treating  this disorder , especially in condition of unusual postures of wrist and fingers.

Oral medications.

 Many kind of oral medications like

Anticholinergic

 drugs can be helpful in this condition.

Sensory motor retuning.

 This 

rehabilitation therapy

 uses splints on your unaffected fingers to help retrain the affected fingers.

Surgery.

 Procedures like pallidotomy and pallidal deep brain stimulation effectively helpful in generalized dystonia. 

 
Ayurvedic treatment for Writer's Cramp
Ayurveda is an ancient and traditional system of medicine that is based on balancing tri doshas i.e. vata, pitta and kapha. When there is any kind of imbalance in these doshas diseases occur. Ayurveda is a science of life that treat the root cause of the disease to prevent its further occurrence. Also importance of diet and life style is given in ayurveda for treating disorders.

Many kind of herbs have been given in ayurveda that are used from many years in treating various disorders.
Herbs for Writer's cramp
Ashwagandha – Withania somnifera
Ashwagandha is widely used herb in ayurveda that is commonly used in treating various disorders . Ashwagandha not only posses therapeutic properties but also acts as an immunity booster. It acts as anti oxidant agent so in helps preventing oxidative damage and  inflammations. Ashwagandha  nourishes the weakened muscles as well as tissues that prevents unwanted contractions and unusual postures of hands or fingers thus acts as good nerve tonic that strengthens the physical . Also  helpful in relieving stress or anxiety so strengthen nervous system.
Giloy- Tinospora cordifolia
Giloy is designated as ' Amrit herb of ayurveda 'due to its ability to treat many disorders . Giloy contains chemical  constituents like berberine, giloin, choline due to which it acts as anti-inflammatory, anti stress, immunomodulator etc.
Bacopa monnieri commonly known as brahmi is  designated as 'Herb of Grace' . Brahmi is a very good  CNS stimulator, that is helpful in treating brain disorders. Brahmi contains  active constituents like triterpenoids saponins , alkaloids, sterols which help in overcoming the many disorders like mental diseases related to memory impairment, sleeplessness and protects bone from arthritis and inflammations. Brahmi acts  a brain tonic which relaxes muscle contraction associated which brain cells and soothes the nerve cells and helps in prevention of writer's cramp.
Guggulu – Commiphora mukul
Guggulu is considered as one of the best medicine in ayurveda for treating vata disorders. Guggulu is very helpful in treating painful condition also a very good anti inflammatory agent. So it helps in balancing the vitiated doshas of the body.
Turmeric is one of widely used herbs in ayurveda . Turmeric contains curcumin which helps in  relieving pain, inflammation and stiffness. Antioxidants presents in turmeric  neutralize free radicals thus helping to protect our cells and tissues and relieves pain 
Ginger – Zingiber officinalis
Ginger contains chemical compounds like gingerols and shogaols that posses  anti-inflammatory properties . These compounds also have antioxidant properties so helpful in  providing strength to nervous system and relieve pain and stiffness.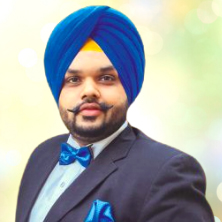 Dr. Vaidya Karanvir Singh is the younger Vaidya in Chandigarh Ayurved & Panchakarma Centre. He is the fourth generation in his family who is practicing as a general consultant in Ayurved & Panchakarma treatment at Chandigarh. In his practice, he had treated more than 1 Lakh Plus patients worldwide.
Article by Dr. Karanvir Singh (M.D in AYURVEDA, PANCHAKARMA FAGE) and reviewed by Vaidya Jagjit Singh (B.A.M.S)