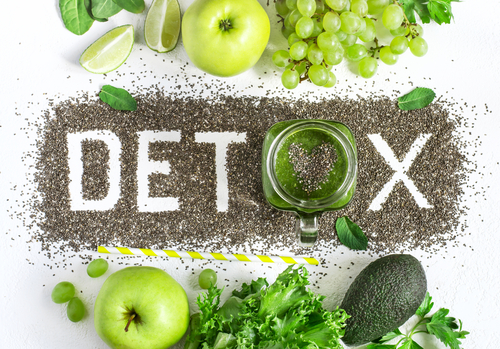 DETOX MEANING
–
To purify body from toxins which taking place all the time in body. It is necessary to rid the body from these toxins accumulation in the body and restore the cells to their normal functioning. It is short-term health regimen involving remove toxins from body through drinking large amounts of liquid, eating a restricted diet or fasting, taking nutritional supplements, and undergoing enemas.
DETOXIFICATION INVOLVE
–
It involve the removal of harmful substances from the body  such as :
External Toxins: 

Food Additives 

Pesticides 

Chemicals 

Tobacco Products 

Pollution 

Internal Toxins: 

Bodily Waste 

Digestive Process 

Energy Production 

Hormone Synthesis 

Stress 
ORGAN FOR DETOXIFICATION –
The liver 

The colon 

The kidneys 

The lungs  

The skin 
WHY SHOULD PEOPLE DETOX THEIR BODY..?
Remove Toxins from the Body 

Prevent Chronic Disease 

Enhance Immune System 

Slow Premature Aging 

Improve Quality of Life 

Increase Energy 

Improve Skin Quality 

Mental & Emotional Clarity 

Restore Balance to your Body's Systems 

Lose Weight.
BENEFITS
Prevention of chronic diseases

Stronger immunity

Assistance in losing stagnant weight

Improved quality of life

Increased energy

Radiant, glowing skin

Bright, clear eyes

Mental clarity

Balanced emotions

Improved self-confidence and empowerment

New healthy habits and routines

Improved longevity
What puts people at risk?
Environmental Exposure 

Chemicals 

Smoke 

Pollution 

Dietary Factors 

Sugar 

Alcohol 

Processed foods 

Lifestyle Factors 

Lack of sleep 

Lack of physical activity 

Excess weight 

High Stress Lifestyle 

Increased demand on recovery 
FOOD WHICH HELP IN DETOXIFICATION
Asparagus

– it is best food for arteries. Asparagus helps in decreasing inflammation as well as clots present in the arteries. This is because it is full of fiber and minerals and can even prevent cardiovascular illness. It contains glutathione well-known antioxidant that promotes detoxification in body. It is also a good source of fiber, folate, iron, and vitamins A, C, E, and K, as well as being beneficial to those who have high blood pressure. Asparagus is also known to help the kidney and bladder cleanse.

Broccoli

– it contain sulforaphane which is good for fighting off infectious cells in body. Eating broccoli also helps to fight off cancer-inducing chemicals and boosts the liver ability to clear bad chemicals from body. Broccoli rich in fiber known to lower blood pressure and keep cholesterol problems away. Broccoli rich in vitamin K which prevent hardening of the arteries. Broccoli also lubricates the arterial walls and also beneficial for bone formation.

Grapefruit

– It is an excellent intestinal and liver detoxifier. Grapefruit full with nutrients like vitamins A, vitamin C, and B1, pantothenic acid, fiber, potassium, and biotin. Enzymes found in grapefruit may also break down the body fat and help to promote weight loss. 

Avocados

– Avocados are loaded with antioxidants that help body to expel harmful toxins. Avocados contain around twenty different vitamins and minerals that decrease the risk of obesity, diabetes, and heart disease. Avocados lower cholesterol level and dilate blood vessels. Avocados also contain a nutrient called glutathione which blocks different carcinogens and also helping the liver to detoxify chemicals.



Beets

– Beets are antioxidant rich vegetable that are also contain nutrients. Beets contain betaine, which helps the liver to rid of toxins. Rich in fiber called pectin that clears toxins that have been removed from the liver. It is packed with magnesium, iron, and vitamin C. beetroot great for skin, hair and cholesterol, it can also help in liver detoxification.



Lemons

– lemons are packed with antioxidant vitamin C, which is good for the skin and fighting disease-forming free-radicals. The citrus fruit has an alkaline effect on the body means it can help to restore the body pH balance, benefits the immune system. Glutathione present in lemon helps the liver detoxify harmful chemicals. 

Green tea

– Green tea contains active ingredients which help in detoxification and provide additional health benefits. Green tea is packed with antioxidants and can help to rid of the body from toxins. It boost the performance of the liver and can protect the liver from diseases.



Turmeric

– Turmeric contains curcumin because of this property turmeric reduces inflammation which causes hardening of the arteries. This condition is called atherosclerosis. Therefore it works to lowering the inflammation in the arteries. This inflammation can be due to unhealthy food habits. Curcumin derived from the bright-orange spice turmeric which works as a powerful anti-inflammatory in the liver. A research found that curcumin significantly reduce bile duct blockage and fibrosis by interfering with chemical reactions involved in the inflammatory process.



Orange

– oranges are great source of vitamin C help to strengthen the arteries and does not lead to blockages. Consuming oranges helps to lowering the resting blood pressure because oranges contain antioxidants which help improve the blood vessel function. Oranges also contain fiber called pectin which lowers cholesterol. The vitamin C present in oranges.



Pomegranate

– Pomegranate is extremely useful for cleansing our arteries and preventing blockages in the arteries. This is because pomegranate contains phytochemicals. The antioxidants present in pomegranate stimulates the production of nitric oxide which helps in blood flow and helps keep the arteries open.



Fatty fish

– Fatty fish includes fish like Salmon which are high source of omega-3. Consumption of good fats in the form of omega-3 is necessary to stimulate arteries to do not get blocked due to unhealthy foods.



Tomatoes

– Tomatoes contain lycopene which help to decrease the LDL cholesterol and triglycerides from bloodstream. They are rich in fiber and help to clear the blockages from arteries.



Beans

– Beans are rich in fiber also high in folic acid. Folic acid prevent arteries blockage. Beans also reduce the risk of cholesterol deposits which leads clogging the arteries.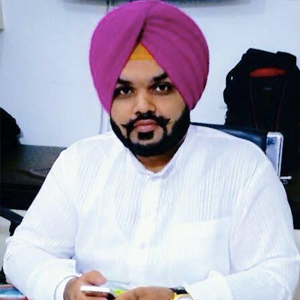 Vaidya Karanvir Singh is the younger Vaidya in Chandigarh Ayurved & Panchakarma Centre. He is the fourth generation in his family who is practicing as a general consultant in Ayurved & Panchakarma treatment at Chandigarh. In his practice, he had treated more than 1000 plus patients worldwide.
Article by Dr. Karanvir Singh (M.D in AYURVEDA, PANCHAKARMA FAGE) and reviewed by Vaidya Jagjit Singh (B.A.M.S)