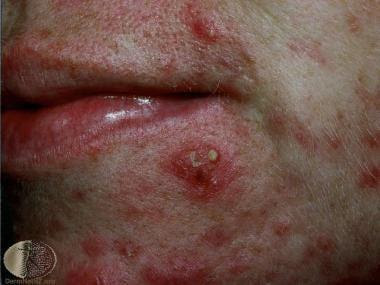 Acneiform Eruptions- Causes, Symptoms, Treatment, What is Acneiform eruptions?
Acneiform eruptions is one type of skin disorder .  It is a group of disorders that characterized by papules and pustules that resembles the condition acne vulgaris. This condition has  an acute onset . The lesion found in acne vulgaris may be a nodule, papule, pustular or a cyst. The main difference between acne vulgaris and acneiform drug eruptions is that

acne vulgaris typically consists of comedones ( blackheads ) but acneiform eruptions  lack comedones.

Acneiform eruptions can affect any age group and can affect both genders. Individuals most prone to develop this condition are those who are exposed to bacteria or any other infective agent and those who use antibiotics. The condition often seen in   hospitalized patients.
Causative factors for Acneiform eruptions
Acneiform eruptions (Acne-like eruptions) can develop from many reasons. Infections, hormonal, or metabolic abnormalities, genetic disorders, drug reactions, contact with chemicals are some common causative factors. 

Some causes for acneiform eruptions include exposure to halogenated  hydrocarbons . Use of some drugs like penicillin ,  isoniazid, corticotropin, naproxen, and hydroxychloroquine etc.can cause acneiform eruptions.

Many organisms are also responsible for causing acneiform eruptions like infections by by 

Klebsiella

, 

Escherichia coli

, and 

Enterobacter

. Infections that are responsible to cause acneiform eruptions may  include secondary syphilis, mycotic infections, cutaneous coccidioidomycosis etc.
Pathophysiology of Acneiform eruptions
Drug-induced acne
This acne can occur due to use of corticosteroids, anticonvulsants drugs like phenytoin, antidepressants, the antipsychotics olanzapine and lithium, intake of antituberculosis drugs like  thiourea, thiouracil, disulfiram, corticotrophin. 

Antibiotics like penicillins and macrolides are responsible for causing acute generalized pustular eruption without comedones.

Usually  lesions appear after the intake of systemic corticosteroids. Use of topical corticosteroids can also be the reason for causing acneiform eruption over skin where these are applied or in some cases eruptions occur around the nose or mouth in the case of inhaled steroids.
Occupational acne
Chlorophenols  that are commonly used as insecticide and fungicide agents  can cause acneiform eruptions.  

Exposure by inhalation, ingestion, or come in direct contact of contaminated compounds or foods can induce a cutaneous eruption of polymorphous comedones and cysts which is called as chloracne. Skin findings like xerosis, and pigmentary changes are also associated with thid . Sometimes Internal organs like eyes, central nervous system and liver may also be affected.

Exposure to Chemicals that contain iodides, bromides, and other halogens can also cause an acneiform eruption . These are similar to steroid acne, but iodide-induced eruption are more serious. 
Chemical acne
Chemical like heavy oils, waxes, cutting oils, heavy coal tar derivatives , vegetable oil in cosmetics can be reason for causing  causes acneiform eruptions.
Mechanical acne
Pressure and friction can  induce this skin condition  over the neck of violin players, under arm bands due to prolonged immobilization.

Weather conditions , excessive hot or spicy foods, alcohol, ingestion of a high-dose vitamin B6 and Demodex folliculorum mites can trigger this condition.
Clinical presentation of Acneiform eruptions
Papules, pustules are seen usually over face, trunk and back. Sometimes  nodule like lesions can be seen. 

Itching is also common in patients .
Diagnosis of Acneiform eruptions
Diagnosis of Acneiform eruptions is done by taking proper history of patient like history of onset, morphology, development of eruptions. 

Biopsy and culture of discharge can be done to confirm the diagnosis.

Withdrawal of suspected medicines is another way to confirm diagnosis.
Management of acneiform eruptions
The line of treatment of acneiform eruptions depends upon the causative factor of acneiform eruptions . Mostly Treatments that have been used to treat acneiform eruptions include laser ablation, excision, topical or oral antibiotics, drug withdrawal or use of topical or oral retinoids. If the cause is a fungal infection like pityrosporum folliculitis, then the use of a topical antifungal drugs can be helpful like  econazole, ketoconazole etc.

Some patients with  pustular folliculitis can be treated with  short course of oral indomethacin. If didn't get result by using this then lesions are treated with cyclosporine.

Use of skin cleaners like salicylic acid or benzoyl peroxide  is suggested to reduce the oily skin .

Use of antihistamines is done to treat the Itching in acneiform eruptions as itching is very common symptom in patients with acneiform eruptions. 

Patients who develops this condition from infection of  gram-positive organisms  may also treated with  doxycycline.

Use of retinoid to treat acneiform eruptions has increased with success. Use of both oral and topical retinoids has been used. These agents help to decrease the production of sebum and rapidly resolve the eruptions. 
Differential diagnose of Acneiform eruptions
Acne vulgaris

Folliculitis

Dry eruptions

Allergic contact dermatitis

Rosacea
Ayurvedic concept of Acneiform eruptions
According to ayurveda, there is vitiation of   doshas mainly kapha and vata and "Rakhta" (blood) due to which this condition occur. 

Ayurveda believes that this skin  is caused by improper diet and other internal factors. In this condition , Vitiated Kapha blocks channels and thus  the normal excretory function of skin and due to which the waste material remains  inside, produces  symptoms like itching, pustules and nodules formation.

Vitiated vata and Raktha is cause for multiple eruptions, redness and scars. These vitiation of doshas cause various symptoms of the disease. 
AYURVEDIC MENEGEMENT
In Ayurveda this condition is treated with panchakarma procedures as well as with medications . Panchakarma procedures are done for detoxification of the body after that medicines are given. 

Chandigarh ayurveda centre

provide the complete solution to this condition. CAC provide the

'Acne go kit'

for treating acneiform eruptions. This kit is combination of  medicines that are purely ayurvedic and free from any kind of  adulteration . 
For Detail prescription about Acne go kit visit our website.
https://www.chandigarhayurvedcentre.com/product/acne-go-kit/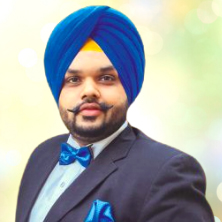 Dr. Vaidya Karanvir Singh is the younger Vaidya in Chandigarh Ayurved & Panchakarma Centre. He is the fourth generation in his family who is practicing as a general consultant in Ayurved & Panchakarma treatment at Chandigarh. In his practice, he had treated more than 1 Lakh Plus patients worldwide.
Article by Dr. Karanvir Singh (M.D in AYURVEDA, PANCHAKARMA FAGE) and reviewed by Vaidya Jagjit Singh (B.A.M.S)