Alzheimer's Disease – Symptoms, Causes, Diagnosis & Ayurvedic Treatment
Introduction
Alzheimer's disease is also known as "Senile Dementia" is a kind of dementia which is related to the problems like memory, thinking and behavior. With time, symptoms show up and get worse. It is the most common form of dementia which includes memory loss and cognitive ability. Alzheimer's disease includes 60-80% of dementia. It is a neurological disorder which occurs because of the death of brain cells which further leads to serious memory loss.
The symptoms of Alzheimer's disease are mild; however the disease worsens with time. People find it harder to remember recent happenings and also face difficulty in recognizing people. A full time assistance is must for a person suffering from Alzheimer's disease.
Symptoms
The most common symptom of Alzheimer's disease is the person forgets the newly remembered things:-
Difficulty in remembering things which adds to:
Repetitive questions
Misplacing belongings
Getting lost in familiar route
Poor understanding of safety risk
Unable to manage finance
Poor decision making
Unable to plan reflex actions
Difficulty in recognizing faces or objects
Hesitation while speaking
Writing and spelling errors
Personality and behavior changes
Socially unaccepted behavior
Memory loss is a vital symptom in Alzheimer's disease. The most prominent symptom would be when facing problem in reasoning, judgment and problem solving.
Causes of Alzheimer's Disease
Alzheimer's disease occurs when brain cells die. With time, there is brain cell death which is known as "Neurodegenerative Disease". Person with Alzheimer's disease has fewer nerve cells in the tissue. There are plaques and tangles in the nerve tissue of brain. A protein, known as Beta Amyloid, is found between the dying brain cells.
Plaques
A protein called as Beta Amyloid may damage and destroy brain cells which cause Brain Cell Death.
Risk Factors
Age
Family history
Down syndrome
Mild Cognitive Impaired
Past Head trauma
Lifestyle and Heart Health
Other health problems: –
Pneumonia
Fractures
Bedsores
Dehydration
Diagnosis
Neurological Exam
Reflexes
Muscle tone and strength
Ability to get up from a place and walk across the room
Balances
Lab Test
Mental status and neuro psychological testing:-
Ayurvedic View
Ayurveda has substantially described and treated Alzheimer's patients as well as disease. Alzheimer's disease includes Epilepsy, insanity, depression, fainting, memory loss.
According to Ayurveda, mainly because of Vata Dosha, there is disturbance in the old age that leads to Alzheimer's disease.
Factors Responsible for Alzheimer's Disease
Smoking
Genetic
Obesity
High Blood Pressure
Alzheimer's disease can affect each person in various ways. Certain factors responsible are:-
Growing age
Down syndrome
Hypertension
Herbal Remedies for Alzheimer's Disease
1. Ekangveer Ras
It strengthens the nerves and muscles. It consists of calcium, vitamin D and also other useful nutrients that helps to maintain the bone structure and gives relief to the pain.
2. Acorus Calamus
It relieves a number of nerve related disorder and promotes speech fluency, speech ability. It increases memory power and builds a strong coordination.
3. Bhrut Vata Chintamani Ras
It is in tablet form. It is used for Vata Dosha Imbalance.
It is prescribed for memory loss, migraine, and vertigo.
Why are Ayurvedic Products Better?
Ayurveda creates a strong bond between the mind and soul. It dignifies the rhythm of life. Ayurveda has no side effects neither for short term nor long term. The prime goal of Ayurveda is to help people live a healthy and a balanced life without the need of drugs or surgeries.
Ayurveda has magnificently treated diseases like:-
Alzheimer's disease
Depression
PCOD
PCOS
Infertility
Ayurvedic Treatment for Alzheimer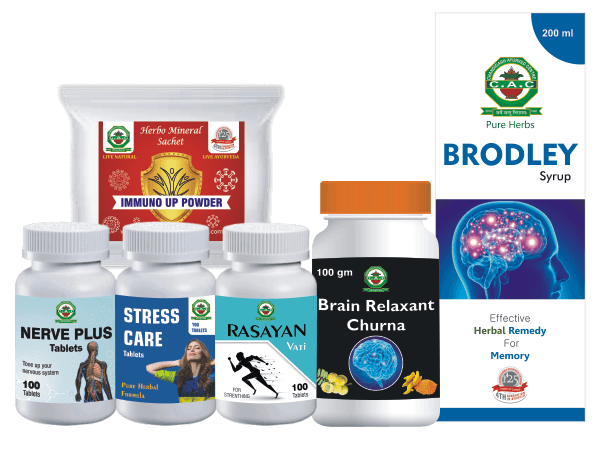 1. Nerve Plus tablet:
These tablets shows Anti-bacterial, Anti-inflammatory, Antioxidant, and immune- modulator properties. It contains herbal ingredients Ghritkumari (Aloe barbadensis), Kali mirch (Piper nigrum), Giloy satav (Tinospora crdifolia), shudha kuchala, shudha shilajeet, shudha vatsnabh, shudh singraf. It is beneficial for erectile dysfunction, diseases of stomach, stimulating nerves and appetite, promotes the level of testosterone naturally.
Recommended Dosage – Take 1 tablet twice daily.
2. Brodley Syrup
This herbal syrup consist of ingredients like Shankhpushpi (Convolvulus pluricaulis), Brahmi (Bacopa monnieri), Yashti madhu (Glycyrrhiza glabra), Dhania (Coriandrum sativum), Jatamansi (Nardostachys jatamansi), Ashwagandha (Withania somnifera), Shatavari (Asparagus racemosus), Saunf (Foeniculum vulgare), etc that improves memory. Brodley syrup deal with the signs and symptoms related to Alzheimer patients.
Recommended Dosage: Take 2 teaspoonful twice daily.
3. Rasayan Vati
Rasayan vati is herbo-mineral Ayurvdic formulation which contains various herbs such as Aswagandha, Shilajeet, Amla, Kesar, Musali, Shatavar, Brahmi Abhrak Bhasam, Swarn Makshik Bhasam, Yashad Bhasam, Mukta pisti, Praval pisti, Jaiphal, Vang Bhasam, Aswagandha, Dalchini, Javitri, Gokhru, Kaunch Beej, Shilajeet, Saunth, Mirch, Pipli, Amla, Kesar, Manjith, Anant Mool, Brahmi, Musali, Shatavar, Swarn Vang, etc. These ingredients show antioxidant, anti-inflammatory, antipyretic, analgesic, immune-modulator properties. These tablets provides good results in General debility, Psychological disorders,
and improves immunity.
Recommended Dosage: Take 1 tablet twice daily.
4. Stress Care Tablet
Stress care tablet is an amazing combination of natural herbs like Sarpgandha, Brahmi, Tagar, jatamansi. It helps to relieve stress conditions. They help to pacify the nervous system and also helps to increase the mental and physical performance.
Recommended Dosage: Take 1 tablet twice daily.
5. Brain Relaxant Churna
This herbal churna is prepared from herb Atmagupta (Mucuna pruriens). The herb normalizes the nerve cell functions and supports brain function. It provides effective results in Alzheimer disease as it maintains the overall performance of the nervous system.
Recommended Dosage: Take 1 teaspoonful twice daily.
6. Immuno Up Powder
This powder is made up of the composition of bhasmas and pure herbs that is very beneficial in controlling the symptoms of Parkinson's disease. The powder includes Giloy satav, Sutshekhar rasa, Sudhyog tablet, Shwet parpati, Shankh bhasma, Parwal pishti, etc. It is a very useful remedy to cure the voice change, uncontrollable movements during sleep, improve the rigid facial expression, etc.
Recommended Dosage:  Take 1 sachet twice daily with normal water.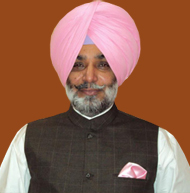 Vaidya Jagjit Singh is a 3rd generation Ayurved physician from his family and is the remarkable person responsible for setting up of the Chandigarh Ayurved and Panchkarma Centre in sector 32 and 22, Chandigarh and Zirakpur and he is also the first founder member of Guru Ravidas Ayurved University. He has done his B.A.M.S. from Shri Dhanwantri Ayurvedic College, Chandigarh. He is an admirable ayurvedic physician with specialization in Chronic ailments.
Article by Dr. Karanvir Singh (M.D in AYURVEDA, PANCHAKARMA FAGE) and reviewed by Vaidya Jagjit Singh (B.A.M.S)