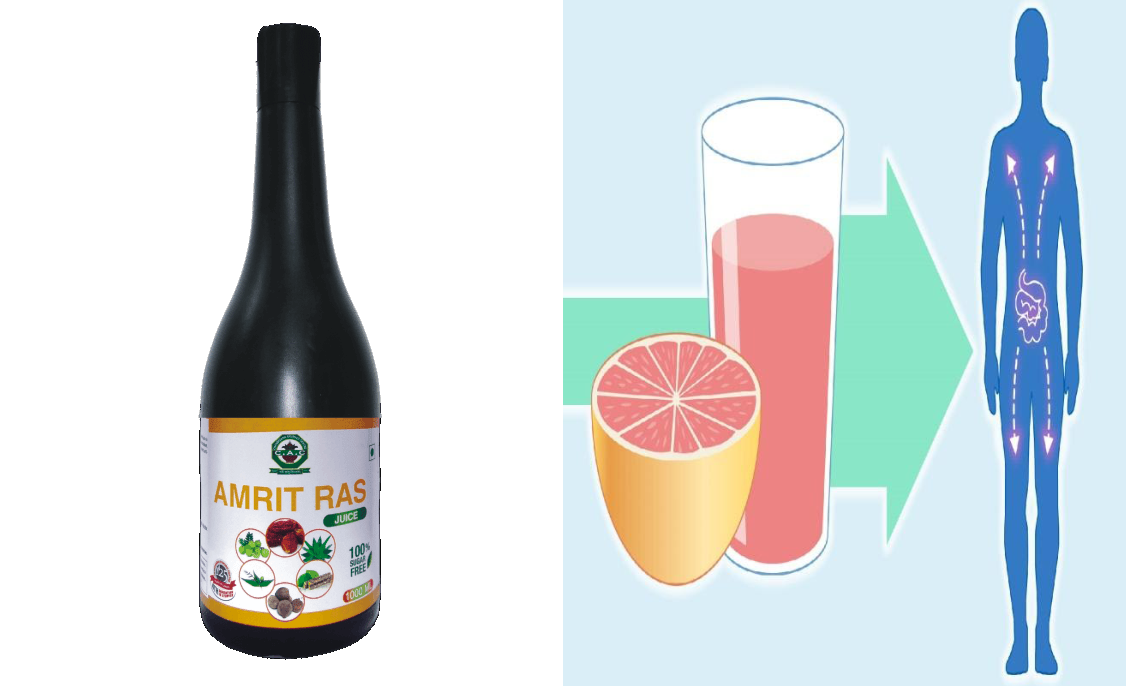 PRODUCT DESCRIPTION-
Looking on to the present scenario, life is totally changed and there is need of some refreshing and Energetic drink as to calm down stress, anxiety and get benefited with multivitamins naturally.
CAC Amrit ras juice is made up of pure  natural herbal juice which enhances your health and enriched with daily required nutrient as to maintain overall wellness. 
It possess strong antioxidant properties, boost energy, promote metabolic rate, rejuvenate cellular health, promote detoxification, strengthen the immune system, Respiratory system to Fight against COVID-19, management of inflammation and allergies. 
INGREDIENTS-
Amla (Emblica officinalis)
Harad (Terminalia chebula)
Bahera(Terminalia bellerica)
Ghrit kumari(Aloe barbadensis)
Giloy (Tinospora cordifolia)
RECOMMENDED DOSAGE-
Take 15-30ml twice a day with equal amount of water or as directed by the Physician.
DETAIL DESCRIPTION OF PRODUCT-
AMLA-
SCIENTIFIC NAME- Embilica officinalis
OTHER NAMES- Amla, emblic, emblic myrobalan, myrobalan, Indian gooseberry, Malacca tree, or amla
Sanskrit name- Amalaki 
Family- Phyllanthaceae
MEDICINAL BENEFITS-
Amla berries are also an excellent source of:
Vitamin C, Vitamin E, Vitamin A, Iron, Calcium
Amla

 berries are rich in antioxidants that reduce the risk of chronic 

health

 conditions like heart disease.

It helps in diabetes as it helps in production of insulin.

The active components found in Amla shows Anti-cancerous properties.

Vision- Carotene found in Amla is found useful for eyes in improvement of Vision.

It boosts the immune system.

It promotes Healthy eyes, skin and nails. 

It prevents constipation

It aids in weight loss.
HARAD-
SCIENTIFIC NAME- Terminalia chebula
OTHER NAMES- Black- or chebulic myrobalan, Indian walnut, Indian hog plum.
Hindi – Harad

Telugu – 

Karakkaya

.

Tamil – 

Kadukkai

.

Gujarati – Harade, Hardi, Harara.

Arabian – Haleelaz

Farsi – Hallel

Assam – Shilikha etc.
MEDICINAL BENEFITS-
Haritaki

 has been used since centuries and having amazing effects that are mention below-

TRIDOSHIK-

 It balances all the three doshas i.e. Vata, Pitta & Kapha.

Vrana Ropana-

It is used externally for wound healing

Aabhyantara or internal application

– It act as a rejuvenating agent for the digestive system with its mild laxative action.
Ritu Haritaki or Seasonal consumption of Haritaki–
In Summers it can be taken along with Jaggery

In Early winters or Hemanta ritu it is consumed with dry ginger powder or Saunth.

In autumn it is consumed with Saindhav(Saindha namak)

In Spring, it is taken along with Madhu or Honey.

In Rainy seson it is good to use with Sharkara.

In late winters i.e. cold and dewy weather or Shishir ritu it is taken along with pippali
BAHERA-
SCIENTIFIC NAME- Terminalia bellerica
OTHER NAMES- Beleric Myrobalan, Bedda Nut Tree, Thandri, Baheda, Bastard Myrobalan, Bolsuiri, Belliric Myrabolan, Beach Almond, Agong, Belleric and Behere
MEDICINAL BENEFITS-
Kasa and Swasa-

It is a herbal remedy against

Cough and Cold
Vibaddhta or Constipation-

Baheda is one of the important herbs which is used in relieving constipation.

It is effective in Atisthoola i.e. It is very beneficial obesity showing great efeect in Weight Loss

It is beneficial in Aruchi or Anorexia i.e. Loss of appetite and bloating.

RogaPratirodhak Kshamta or Immunity- It is an immunomodulator or increases our immunity it is also helping hand in COVID-19.

 It helps to

treat various respiratory conditions, including respiratory tract infections, cough, and sore throat. 

It  is used for dysentery. 

Terminalia bellerica (Bahera)

 and 

Terminalia chebula(Haritaki)

are used topically for sores.
GHRIT KUMARI-
SCIENTIFIC NAME- Aloe barbedensis
OTHER NAMES- 
Sanskrit Name – Ghritkumari, Kumari, Gruha Kanya, Vipulasrava.

English Name – Indian Aloe or Aloe Vera.

Hindi Name – Guarpatha, Ghikanvar, Rambans.

Malyalam Name – Kumara, Kattar Vazha.

Marathi Name – Korphad, Kunvarpata.

Bangali Name – Ghritkumari.

Tamil Name – Chirukuttali.
MEDICINAL BENEFITS-
Shodhak or Body Detoxing-

It helps in cleaning the toxins out of the digestive system

It boost up your digestive system thus enhancing digestion.

It helps in functioning of the kidneys, liver and gallbladder. 

It is having Anti- viral properties 

It helps in healing diabetic wounds that takes very long time to heal
TULSI(The queen of Herbs)-
SCIENTIFIC NAME- Ocimum sanctum
OTHER NAMES- Tulsi, Holy basil,Trittavu, Tulshi, Nhiestso, Nietso etc.  Family: Lamiaceae (Mint family)
MEDICINAL BENEFITS-
Uccha-Raktachapa-

It helps to regulate the high Blood pressure. 

High Cholesterol-

It regulates cholesterol by regulating cortisol levels.

Heart Diseases-

It reduces the risk of stroke, heart attack, and other related issues.

Mano Vikar-

It also helps to relieve headaches and aids in anxiety and depression for some people. 

Aruchighna-

Helpful in Anorexia- Regular consumption of Tulsi may lead to better sleep.
SPECIALITY ABOUT CAC AMRIT TULSI RASA-
The Amrit Ras is made with natural herbs and 100% safe to use.
CAC have chosen the herbs that are helping hand in COVID 19 also is an Additional benefit that makes it special & Unique.
The product aids all the benefits as described above.
It is made under the guidance of qualified and registered MD Experts.
It is 100% Sugar- Free.
Maintains healthy immune system
Natural herbal juice for overall health.
Free from Preservatives and chemicals.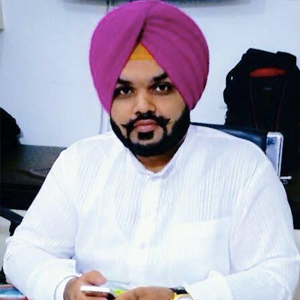 Vaidya Karanvir Singh is the younger Vaidya in Chandigarh Ayurved & Panchakarma Centre. He is the fourth generation in his family who is practicing as a general consultant in Ayurved & Panchakarma treatment at Chandigarh. In his practice, he had treated more than 1000 plus patients worldwide.
Article by Dr. Karanvir Singh (M.D in AYURVEDA, PANCHAKARMA FAGE) and reviewed by Vaidya Jagjit Singh (B.A.M.S)