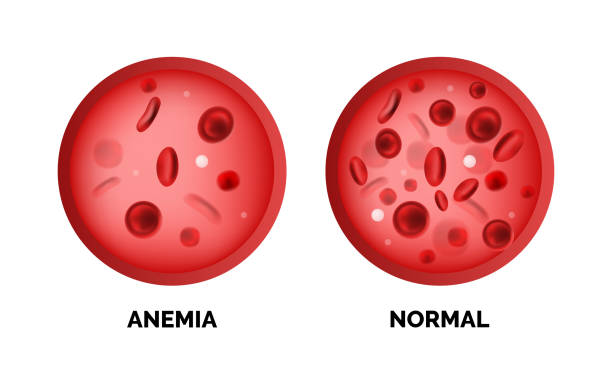 Anemia – Lack of blood decrease in number of red blood cells or less than the normal quantity of hemoglobin in the blood
OVERVIEW
Anemia affects adults, children and pregnant women and adolescent girls are most susceptible 

In adults anemia is usually defined as HB concentration less than 11.5g/dl and women In men less than 12.5 g/dl

In ayurveda anemia

co-related with pandu roga – in pandu roga person become pale due to deficiency of rakt dhatu in the body

pandu roga is tridoshaj  and pitta dosha leads to discoloration of the skin 

Hemolytic anemia – in this red blood cells are destroyed faster  and the causes are –  Autoimmune activity – antibodies work against and attacks , destroys red blood cells, physical damage to red blood cells due to heart lung bypass surgery, infections like malaria

Aplastic anemia – when bone marrow does not produce enough red blood cells  it is most commonly caused by autoimmune activities, when immune system attacks stem cells in bone marrow and inherited genetic changes

Iron deficiency is a common type of anemia – it is due to insufficient iron without enough iron body cannot produce a substance in blood cells that enables them to carry oxygen 
SYMPTOMS OF ANEMIA
Skin- paleness, coldness, yellowing,

Dry skin

Muscular – Weakness, fatigue

Drowsiness

Irregular heart beats

Leg cramps

Dizziness

cold hands and feet

Headache

Chest pain

Genetic factors

Fast heartbeat

Hair loss

Ringing in ears
SYMPTOMS DUE TO IRON DEFICIENCY
Unusual cravings for non nutritive substances

poor appetite

shortness of breath 

inflammation and shortness of breath
OTHER SYMPTOMS
inflammation of tongue

jaundice

enlarged lymph nodes

enlarged spleen or liver
SYMPTOMS DUE TO DEFICIENCY OF VITAMIN B12
Muscles and tingling in hand and feet

Muscle weakness

Depression

Confusion

Heartburn

Nausea 

Vomiting

Bloating, gas

Constipation
SYMPTOMS DUE TO DEFICIENCY OF IRON
Fatigue

shortness of breath

chest pain
CAUSES OF ANEMIA
iron deficiency

Excessive bleeding – gastrointestinal condition, like ulcers, hemorrhoids, cancer or gastritis, use of NSAIDs

Decreased or impaired RBCs 

Iron deficiency anemia – this develop because low iron diet, menstruation, medicines that irritate the gut lining blood donation

Infections like HIV and tuberculosis

Inflammatory bowel disease (IBD)

Exposure to toxins such as lead

Chronic condition such as – hyperthyroidism, hypothyroidism, lupus, kidney diseases these diseases causing body to not have enough hormones to create red blood cells

Vitamin deficiency – folate and lacking of B-12 are both needed to make red blood cells if a person does not intake enough vitamins than this leads to low RBC count

Destruction of RBCs – like some infection, hypertension, autoimmune attack

Chemotherapy 

IN FEMALES – loss of iron in the blood due to heavy menstruation or pregnancy and due to poor diet

Stress 

Lack of sleep – lack of sleep leads to low hemoglobin concentration this increased the risk of anemia 

sickle cell anemia (inherited blood disorders)

hemolytic anemia
HIGHER RISK PEOPLES IN ANEMIA:
Women- blood loss during menstruation and childbirth and develop iron deficiency anemia

Children ages 1 to 2 – because body needs more iron during growth

infants 

people over 65 – anemia may shorten lifespan in older peoples

people on blood thinners
FOODS TO AVOID IN ANEMIA:
Tea and coffee 

gluten containing foods – like barley, rye, oats 

oxalic acid food – peanuts, parsley, chocolate 

phytic acid containing foods
DIET FOR ANEMIA:
Iron rich foods  dried fruit – prunes, dates, raisin, apricots

Nuts – almonds, cashews, pine nuts they are great source ofd iron and antioxidants 

Seeds – pumpkin, sesame, flaxseeds, hemp seeds, sunflower seeds

plant food- tofu, oats, wholegrain, chickpeas, dried fruit, brown rice, nuts, raw spinach, leafy green vegetables, broccoli, morel mushrooms, sweet potatoes, olives,

animal food – lamb, beef, salmon, chicken, tune, sardines, eggs

Hazelnut

cocoa powder 
 DIAGNOSIS OF ANEMIA:
complete blood count (CBC) 

a test to determine the size and shape of red blood cells

serum iron level – to measure the total amount of iron in blood 

Ferritin test – analyzes how much iron stores in blood

Reticulocyte count – 

Vitamin B12 test

Coombs test – show the presence of auto antibodies 

Fecal occult blood test – to see blood in stool present or not 

Bone marrow-  test to measure the level of immature red blood cells called reticulocytes
TREATMENT:
IRON DEFICIENCY VITAMIN

– In this taking iron supplements orally  and changes in diet

In pregnancy eat balanced diet  includes iron rich foods and foods that provide B12 and B9 vitamins 

VITAMIN DEFICIENCY ANEMIA

– increase nutrients in diet  or vitamin B-12 shots 

ANMIA OF CHRONIC DISEASE

– If symptoms becomes severe so go for blood transfusion or injections 

APLASTIC ANEMIA

–

this includes blood transfusion to boosts the level of red blood cells

HEMOLYTIC ANEMIA

– 

taking drugs those suppress the immune system 

SICKLE CELL ANEMIA

–

Pain relievers, oral or IV fluids to reduce pain, antibiotics, folic acid supplements

THALASSEMIA

–

Rarely required blood transfusion , folic acid supplements

BLOOD TRANSFUSION

– used for blood loss

VITAMIN SUPPLEMENTS

–

when vitamin level is low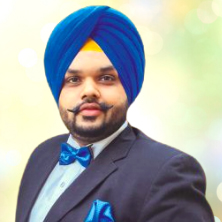 Dr. Vaidya Karanvir Singh is the younger Vaidya in Chandigarh Ayurved & Panchakarma Centre. He is the fourth generation in his family who is practicing as a general consultant in Ayurved & Panchakarma treatment at Chandigarh. In his practice, he had treated more than 1 Lakh Plus patients worldwide.
Article by Dr. Karanvir Singh (M.D in AYURVEDA, PANCHAKARMA FAGE) and reviewed by Vaidya Jagjit Singh (B.A.M.S)