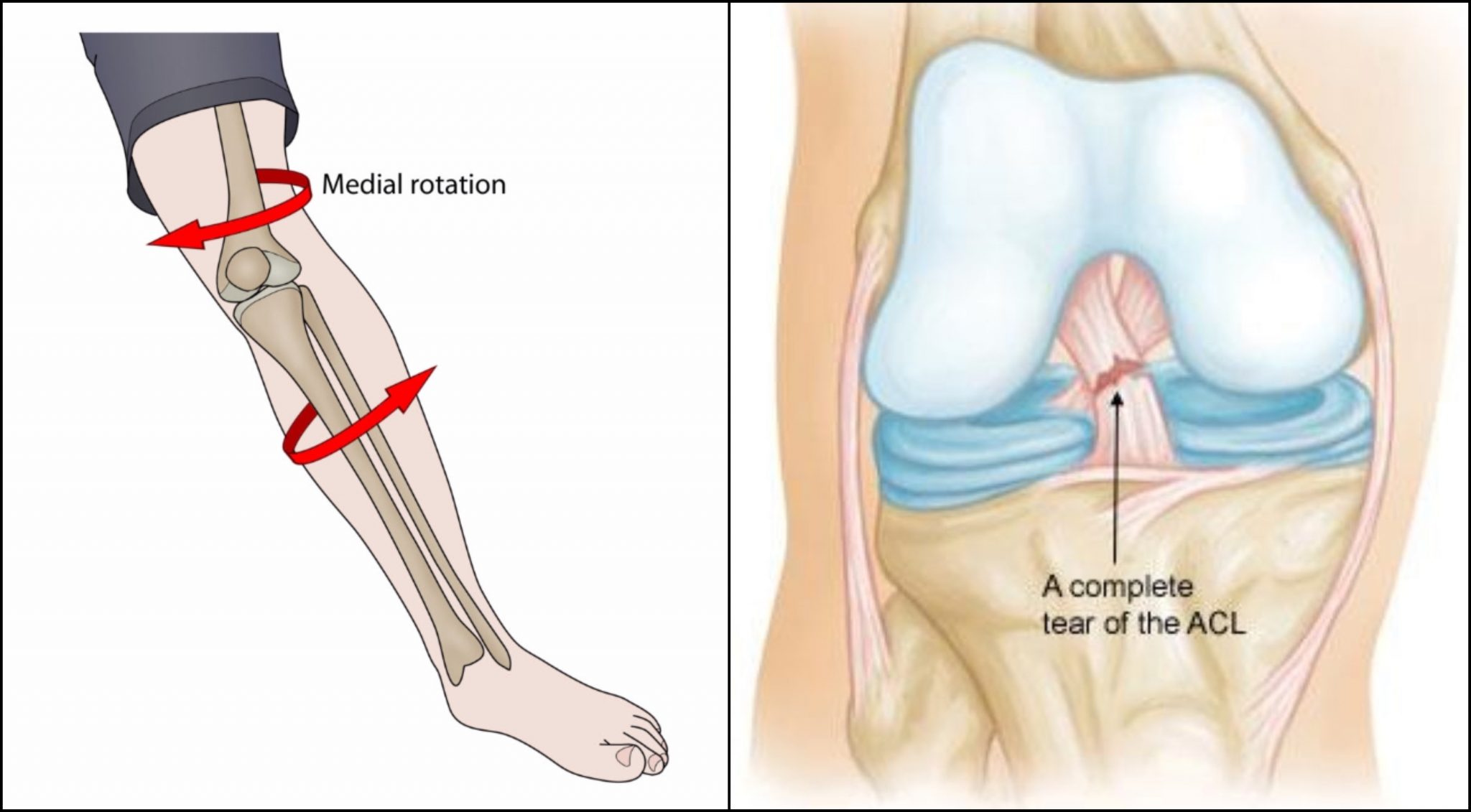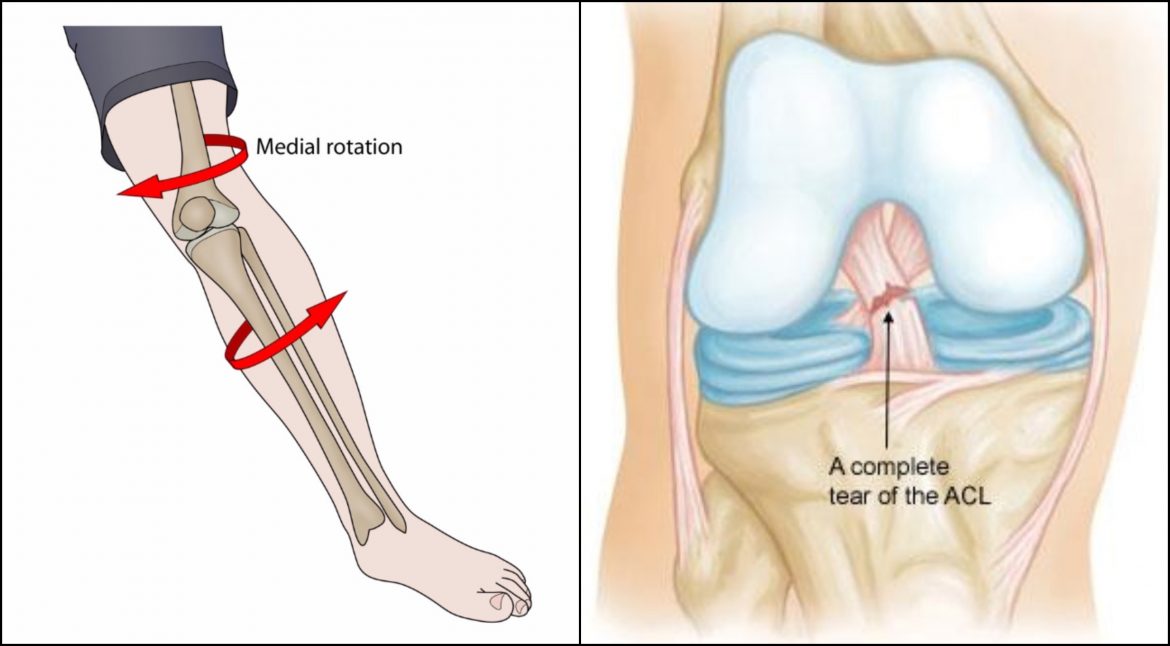 ANTERIOR CRUCIATE LIGAMENT INJURY
An Anterior Cruciate Ligament (ACL) injury is the tear or sprain of anterior cruciate ligament. It is one of the bands of connective tissue that connects femur to tibia. It is one of the most common knee injury. Athletes who participate in high demand sports like soccer, football, and basketball are more likely to injure ACL.
There is a pop up feeling on ACL injury and the knee might swell making it too painful to bear weight. Injured ACL may require surgery
Anatomy
There are three bones which meet to form knee joint i.e. femur, tibia and patella. This patella or knee cap lies at the front and provides protection.
These bones are connected to each other via ligaments which are four in number.
Collateral ligaments
Medial collateral ligament and lateral collateral ligament is found on the sides of the knee. These control side to side motion of the knee and brace the knee against unusual movement.
Cruciate Ligaments
These are found in the knee joint and cross each other to form an X with the anterior cruciate ligament(ACL) and the posterior cruciate ligament(PCL) in the back. These ligaments control the front and back motion of knee. The PCL is responsible for extent of backwards movement of shinbone and is stronger than ACL thus, gets less injured.
DESCRIPTION
Almost half of all the injuries which occur to ACL occur alongside damage to other structures in knee like cartilage, meniscus and other ligaments.
Injured ligaments are considered sprains and are graded accordingly based on their severity.
Grade 1– The ligament is mildly damaged and is slightly damaged but is still able to keep the joint in a stable position.
Grade 2– Here the ligament is stretched to the point where it becomes loose and is referred to as partial tear of the ligament.
Grade 3– It is referred to as a complete tear of ligament. There might be complete tear  or half making the knee joint unstable. Partial tear is although rare and mostly there is a complete or near complete ACL tears.
CAUSES OF ANTERIOR CRUCIATE  LIGAMENT  INJURY
There  can be various causes for the injury like:
Rapid change in direction
Taking a sudden stop
Suddenly slowing down while running
Landing on a jump in an incorrect way
Direct contact on collision like in a tackle
Also, females are at more risk of ACL injuries than males due to differences in physical and other attributes.
RISK FACTORS
Being a female
Certain sports like soccer, football, basketball, etc.
Poor conditioning
Use of faulty patterns like inward knee movement after squat.
Wearing improper footwear
SYMPTOMS
A popping noise and feeling of your knee giving out from under you is a sign that there might be anterior cruciate ligament injury. Some other symptoms are:
Pain which is accompanied with swelling almost immediately within 24 hours.
There is loss of full range of motion
There is tenderness around the joint
Walking discomfort
HOW AYURVEDA HELPS
Anterior cruciate ligament is considered as snayugata roga. ACL injury involves vata vitiation along with that of pitta dosha. Here the chikitsa is done mostly vata shamak after the initial inflammatory period to relieve pain and stiffness and improve healing.
ACL (ANTERIOR CRUCIATE LIGAMENT) CARE KIT
1. Detox Premium Powder
These herbal sachets are prepared from ingredients such as Shankh bhasma, Sutshekhar ras, Parvalpishti, Shukta, Giloy, Kamdudha ras, Shvetparpati that gives calming effect on the stomach.
Shankh bhasma: This ayurvedic bhasma is prepared from conch shell. The bhasma shows antispasmodic, anti-inflammatory, antioxidant, antacid, digestive stimulant properties. The problems like indigestion, heartburn, acid reflux, abdominal pain, loss of appetite, etc are easily treated with it.
Sutshekhar ras: It is an ayurvedic preparation that maintains pitta dosha in the body. This ras provides effective results in abdominal pain, heartburn, nausea, fever, headache, epigastric tenderness, etc.
Parval pishti: This pishti is prepared from coral calcium processed in rose water. It provides effective results in acidity, burning sensation, headache, etc.
Shukta pishti: This pishti balances the pitta dosha in the body and removes all toxins from the body.
Giloy satv: Giloy satv possesses antioxidant, anti-inflammatory, carminative, immunomodulator, etc properties. It eliminates the ama from body hence provide good results in acidity problem.
Kamdudha ras: This ras reduces heat, burning sensation, epigastrium tenderness, irritability, heartburn, and acidity.
Shwet parpati: It is also effective in acidity.
Recommended Dosage: Take one sachet twice daily.
2. Nerve Plus tablet:
These tablets shows Anti-bacterial, Anti-inflammatory, Antioxidant, Analgesic and immune-modulator properties. It contains herbal ingredients Ghritkumari (Aloe barbadensis), Kali mirch (Piper nigrum), Giloy satav (Tinospora crdifolia), shudha kuchala, shudha shilajeet, shudha vatsnabh, shudh singraf. It is beneficial for migraine, lower back pain, rheumatoid arthritis, gout, stimulating nerves and appetite.
Recommended Dosage – Take 1 tablet twice daily.
3. Trikatu Syrup:
Trikatu combines the goodness of Black pepper, Ginger and, Long pepper to create an herbal remedy for digestive ailments, sluggish metabolism, obesity, and high cholesterol. This syrup has best results in anti-inflammatory, pain-relieving, and expectorant. It also help to tackle the weight problems or obesity. It can modulate your body's immune response while cutting the characteristic inflammation associated with the back pain.
Recommended Dosage –Take 2 teaspoonful twice a day before meal with normal water.
4. Pain-O-kill Tablets
As the name suggests these tablets will kill the pain naturally. The herbs present in the formation of these tablets are Ashwagandha, Hadjod, Punarnava, Nirgundi, Methi, Garlic, etc. These herbs in combination show antioxidant, analgesic, anti-inflammatory, immuno-modulator properties. The regular use of these tablets reduce body pain and acts on its root cause.
Recommended Dosage: Take 1 tablet twice daily with normal water.
5. Rasayan Vati
Rasayan vati is herbo-mineral Ayurvdic formulation which contains various herbs such as Aswagandha, Shilajeet, Amla, Kesar, Musali, Shatavar, Brahmi , Swarn Makshik Bhasam, Yashad Bhasam, Mukta pisti, Praval pisti, Jaiphal, Vang Bhasam, Aswagandha, Dalchini, Javitri, Gokhru, Kaunch Beej, Shilajeet, Saunth, Mirch, Pipli, Amla, Kesar, Manjith, Anant Mool, Brahmi, Musali, Shatavar, Swarn Vang, etc. These ingredients show antioxidant, anti-inflammatory, antipyretic, analgesic, immune-modulator properties. These tablets provides good results in General debility, Psychological disorders,
and improves immunity.
Recommended Dosage: Take 1 tablet twice daily.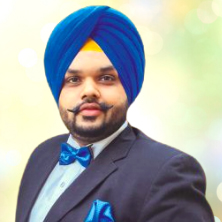 Dr. Vaidya Karanvir Singh is the younger Vaidya in Chandigarh Ayurved & Panchakarma Centre. He is the fourth generation in his family who is practicing as a general consultant in Ayurved & Panchakarma treatment at Chandigarh. In his practice, he had treated more than 1 Lakh Plus patients worldwide.
Article by Dr. Karanvir Singh (M.D in AYURVEDA, PANCHAKARMA FAGE) and reviewed by Vaidya Jagjit Singh (B.A.M.S)