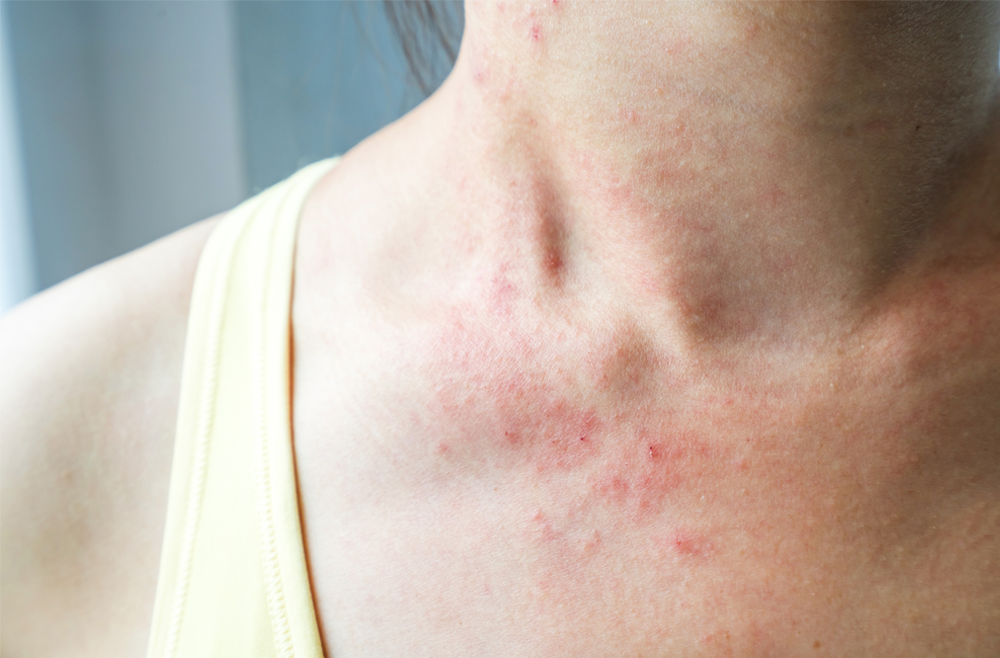 Atopic dermatitis (Eczema) is a skin allergy in which the immune system becomes extremely sensitive. The skin gets allergic to even the smallest thing in it. Skin irritation, stretchiness and red marks appear. This infection is also more likely to occur on the face, inside the elbow and behind the knee. Atopic dermatitis can occur at any age.
Atopic dermatitis is one among chronic diseases that affects the skin. The word "dermatitis" means inflammation of the dermis. "Atopic "refers to Diseases that are hereditary, tend to run in families, and often occur together. Atopic dermatitis and hereditary eczema are interchangeable Terms   for   an   inflammatory   condition   of the skin Characterized   by   erythema,   pruritus,   scaling, and papule-vesicles. Atopic dermatitis is a distinct condition in persons who are genetically predisposed to developing immunoglobulin-E (IgE) mediated    hypersensitivity reactions. It is characterized by severe   itching, followed by scratching and the subsequent creation of a rash. The classic triad of atopic includes eczema, asthma, and allergies. A wide range of environmental factors, such as contact allergens, stress, food, skin flora, and humidity, play roles in the development and severity of atopic dermatitis. 
How common is atopic dermatitis?
Atopic dermatitis is a very common disease and can occur in people of any age, but it is most likely to occur in children. By understanding its causes, you can prevent this disease by controlling it. See your nearest doctor for more information.
Symptoms
It may cause the following symptoms. Like-
There will be more itching or burning at the affected area at night.

Brown and red colored spots on feet, hands, wrists, throat, chest and face.

You may have pimples on your face, which, when teased, will cause pus.

Thick, rough and hard skin can also be seen.

You will feel uncomfortable on itching, which will make the skin more sensitive and increase the chance of infection.
When to see your doctor?
Feeling of discomfort (e.g. sleepiness and lack of mind in their daily activities.)

Feeling pain in parts of the skin.

Skin infection (skin eruptions or yellowing, if it is understood in normal language, the skin becomes lifeless)

If home remedies and common medicines are not reducing your problem, then see a health expert as soon as possible.

If there is any kind of disorder in the eyesight due to the condition of the skin or if there is difficulty in seeing, please inform the doctor as soon as possible.
Reason
The real cause of atopic dermatitis has not yet been ascertained, the possibility of eczema may be more due to these symptoms:
Skin irritation due to which the skin will not be able to do protection work and the chances of infection will increase.

Changes in genes can also result in atopic dermatitis.

Atopic dermatitis can also occur due to disturbances in the immune system.

Staphylococcus Bacteria can also cause atopic dermatitis.

Atopic dermatitis can also occur due to temperature or any other natural condition.
What are the risks of atopic dermatitis?
The following physical problems may occur if there is atopic dermatitis. Like-
If someone in your family is having eczema then you may have eczema.

If you work in treatment related to dermatitis, then there may be a possibility of infection.

Even if you live in the city, you can get this disease.

Even if you send a child to child care, this disease can happen because your child may be more sensitive than necessary.

If you have Hyperactivity disorder / ADHD.

Children are at risk of high fever due to atopic dermatitis.

Sometimes, children may have asthma due to eczema.

There may be excessive itching on the skin, due to which there is a possibility of bleeding from the skin.

In some children, the risk of infection is greatly increased due to atopic dermatitis.

Sleeplessness can also be a problem due to itching on the skin.
How can atopic dermatitis be investigated?
No lab test is required for this testing. Depth of the condition and disease can be detected only by looking at your skin and medical history. Sometimes, doctors can also get a patch test done so that diseases with eczema can be detected.
Criteria that enable a doctor to diagnose it include the typical appearance and distribution of the rash in a patient with a personal or family history of asthma and/or hay fever. 
Ayurvedic view in Atopic dermatitis
Vicharchika (Eczema) is a type of kshudrakustha often encountered by Ayurvedic Dermatologists characterized with symptoms, namely, kandu (itching), srava (discharge), Pidaka (vesicles), and Shyava varna (discoloration). Vicharchika is often correlated to eczema based on the clinical presentations. No satisfactory treatment is available in contemporary medical practice except antihistamines and topical steroids. Main line of treatment for vicharchika in Ayurveda is Shodhana and shaman aushadhis. A patient approached to outpatient department with chief complaints of discharge, edema, and erythematous skin lesions with intense itching at the ankles and dorsum of both foot, dorsal aspect of the hands, and on cheeks was treated with Virechana and few Agada preparations. 
ALL PRODUCTS DESCRIPTION IN DETAIL
Eczema care kit
Detox Premium Powder:
The eczema sachet consists of various herbo-mineral preparations in it.
Parwal Pishti: This Pishti is prepared from natural coral calcium processed with rose water. It reduces the inflammation in the eczema patients.
Shukta Pishti: It contains pearl oyster shell calcium processed in different ways. This Pishti balances the pitta dosha in the body.
Giloy Satv: This satv is prepared from the herb Giloy (Tinospora cordifolia). The antioxidant nature of this herb removes all toxins out from the body.
Gandhak Rasayana: The main ingredient in this is purified sulphur that acts as a blood purifier. This rasayana deal with all signs and symptoms related to eczema.
Tal Sindoor: It is an herbal medicine that contains ingredients like Shuddha parade, Gandhak, Shuddha haratal, and Aloe vera that treat various skin diseases.
Sudhyog Tab: These are herbal tablets that provide very effective result in eczema patients.
Moti Pishti: This is an ayurvedic preparation that shows anti-inflammatory properties. As it reduces inflammation in eczema patients.
Recommended Dosage: Take 1 sachet twice daily with plain water.
Blood Purifier Syrup:
The herbal syrup is prepared from herbs like Khadir Chall (Acacia catechu), Manjistha (Rubia cordifolia), Neem (Azadirachta indica), Giloy (Tinospora cordifolia), Harad (Terminalia bellirica), Baheda (Terminalia chebula), & Amla (Emblica officinalis) that acts as a natural blood purifier. This herbal syrup reduces redness, itchiness, swelling on the skin.
Recommended Dosage: Take 2 teaspoonful twice daily.
Panchtikat Ghrit Guggul:
This herbal preparation contain ingredients like Neem (Azadirachta indica), Patola (Trichosanthes dioica), Guduchi (Tinospora cordifolia), Vasa (Adhatoda vasica), Patha (Cissampelos pariera), Vidanga (Embelia ribes), etc that relieves all skin diseases. It balances Pitta & Kapha dosha in the body.
Recommended Dosage: Take 1 tablet twice daily with plain water.
Twak churna:
Twak Churna balances all the three doshas of your body.  It help reduce symptoms of various skin diseases like ECZEMA, PSORIASIS, cure FRECKLES, and other skin allergies. It help reduce Pigmentation of skin, MELASMA over face and Acne along with Urticaria, Cellulites and all kinds of Dermatitis. It contain ingredients like Yashtimadhu and Manjishtha that possess antioxidant, anti-fungal, anti-bacterial and anti-inflammatory properties.
Recommended Dosage: Take 1 teaspoon twice daily with normal water.
Neembadi tablet:
Neem tablet is pure Ayurvedic formulation. It is prepared from the standard extract of herb Neem (Azadirachta indica). Neem herb is widely used to cure acute to chronic Skin problems such as Pimples, Itching, Dryness, Blemishes, Dark spots, Pigmentation, Scars, etc. Neem leaves are rich in Vitamin-E, Fatty acids & emollients. It is such a wonderful herb that is easily available and shows Anti-bacterial, Anti-inflammatory, Antioxidant, Anti-microbial, Antifungal, Antiseptic properties. Neem cleanses the pores and protects the skin from various infections, Psoriasis, Eczema, Leprosy, Skin ulcers.
Recommended Dosage: Take 1 tablet twice daily.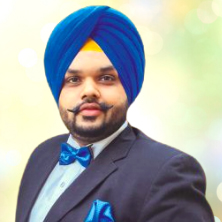 Dr. Vaidya Karanvir Singh is the younger Vaidya in Chandigarh Ayurved & Panchakarma Centre. He is the fourth generation in his family who is practicing as a general consultant in Ayurved & Panchakarma treatment at Chandigarh. In his practice, he had treated more than 1 Lakh Plus patients worldwide.
Article by Dr. Karanvir Singh (M.D in AYURVEDA, PANCHAKARMA FAGE) and reviewed by Vaidya Jagjit Singh (B.A.M.S)