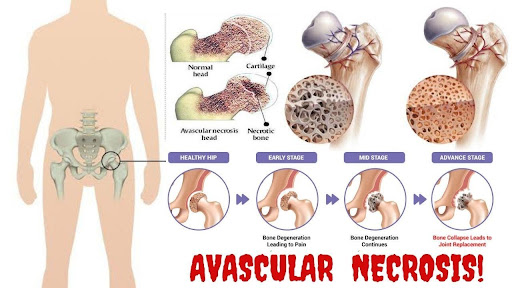 AVASCULAR NECROSIS AND ITS AYURVEDIC MANAGEMENT
A painful bone condition that happens due to blockage of the flow of blood to bone tissues is known as Avascular Necrosis. This condition is also known as Osteonecrosis and it can lead to tiny breaks in bone which causes bone to collapse. This condition mostly affect the hip joint and the round part of the femur that forms the hip joint starts to melt. Although this tissue can affect individual of any age, but mostly individuals between the age group of 30 to 60  years suffer more from it.
WHAT ARE THE CAUSES OF AVASCULAR NECROSIS?
This condition occurs due to obstruction of blood flow to a bone. The obstruction can be due to :
Joint or bone trauma : Injury like dislocated joints, can damage nearby blood vessels. Radiation given during cancer treatment can also weaken the bone and harm blood vessels.
Certain Diseases : Certain medical conditions like Gaucher's disease, sickle cell anemia etc. can also decrease the blood flow to bone.
Fatty deposits in blood vessels : Fat might block the small blood vessels and reduce the blood flow to bones.
WHAT ARE THE RISK FACTORS FOR AVASCULAR NECROSIS?
There are certain factors that might increase the risk of developing avascular necrosis in individuals. The factors includes :
Steroid Use : Continuous use of high dose cortico-steroids like prednisone etc tends to increase the risk of Avascular Narcosis.
Trauma : Injuries like fracture or hip dislocation may damage the nearby blood vessels and reduce blood flow to bones.
Bisphosphonate Use : Continuous use of medications to increase bone density can contribute to developing this condition of the jaw.
Alcohol Abuse : Intake of alcohol on daily bases cause fatty deposits to form in blood vessels.
Certain Medical Treatments: Radiation therapy can weaken the bones . Organ transplants like kidney transplants are also associated with avascular necrosis.
WHAT ARE THE SYMPTOMS OF AVASCULAR NECROSIS?
Some common symptoms experienced by individual with avascular necrosis includes:
Pain which comes and goes in waves when pressure is applied on the bone and then released
Range of motion is limited
Increase stiffness and pain in joints
Difficulty in climbing stairs, walking or standing
Limping
PREVENTION :
Keep cholesterol levels low
Don't smoke as smoking narrows the blood vessels and reduce blood flow.
Limit alcohol intake
Monitor steroid use as constant of high-dose steroids worsen the bone damage.
WHAT AYURVED SAYS ABOUT AVASCULAR NECROSIS?
In Ayurved this condition is said to be manifested due to Srotorodha(blockage of channels ). Asthikshaya (loss of bone tissues) and majjakshaya( loss of bone marrow) are caused by insufficient blood flow. In the location of diminished or lost dhatu Vata invades and increases. As a result, this is the asthimajjagata vata condition brought on by srotorodha. Asthi and its annihilation are painfully caused by asthigata vata. In bones majagata vata causes the development of bones.
HERBS :
Manjistha
Habjod
Rasana
Guggulu
Haridra
Ashwagandha
PANCHAKARMA :
Vaman
Vasti
Sarvang dhara
Raktmokshan
Abhayang
Patra potali pind swedan
CHANDIGARH AYURVED CENTRE MEDICATION FOR TREATMENT OF AVASCULAR NECROSIS:
1. Detox Premium Powder
The powder is very beneficial to cure any body pain as it removes excess toxins from the body and balances the aggravated pitta and vata dosha. It consists of several herbs and bhasmas such as shukta pishti, giloy satv, parwal pishti, kamdudha rasa, moti pishti, gandhak rasayan, akik pishti, etc. The ingredients help in reducing swelling, redness, shrinkage of tear lining in the anus, burning sensation, etc.
Recommended Dosage: Take one sachet twice daily.
2. Makar Rasayan Tablet
Makar Rasayan tablet is a herbo-mineral tablet and is purely Ayurvedic formulation. CAC MAKAR RASAYAN tablet help in balancing all the three doshas. It helps to rejuvenate body tissues and act as an immuno modulator. It helps in proper blood circulation. It prevents the skin from dryness. It contains natural ingredients like shudha kuchla, guduchi satva, shudha shilajeet,  ras sindoor, moonga bhasma, shankh bhasma, praval pishti etc. Herbs and minerals used for the formulation of these tablets show antioxidant, aphrodiasic, analgesic and immuno modulator properties.
Recommended Dosage– Take 1 tablet twice a day with normal water.
3. Nerve Up Tablet
Nerve up tablet is a herbo-mineral tablet and is purely ayurvedic formulation. CAC Nerve up tablets help in balancing the vata doshas. It reduces kapha dosha, and acts as nervine stimulant. It shows effective results in improving the central nervous system. It contains natural ingredients like shudha kuchala, shudha shilajeet,  praval pishti, shankh bhasma etc. These contains natural vatahar properties and helps in curing vata diseases.
Recommended Dosage– Take 1 tablet twice a day with normal water.
4. Pain-O-kill Tablets
As the name suggests these tablets will kill the pain naturally. The herbs present in the formation of these tablets are Ashwagandha, Hadjod, Punarnava, Nirgundi, Methi, Garlic, etc. These herbs in combination show antioxidant, analgesic, anti-inflammatory, immuno-modulator properties. The regular use of these tablets reduce body pain and acts on its root cause.
Recommended Dosage: Take 1 tablet twice daily with normal water.
5. Pain-O-kill Syrup
The herbal syrup is prepared from ingredients like Shunthi, Shudh Guggulu, Ashwagandha, Hadjod, Nirgundi, etc that reduces pain naturally. This herbal syrup helps to reduce body pain, muscle stiffness, inflammation, & swelling. The ingredients used for the preparation of the syrup possess antioxidant, analgesic, anti-inflammatory, etc properties.
Recommended Dosage: Take 2 teaspoonfuls twice daily.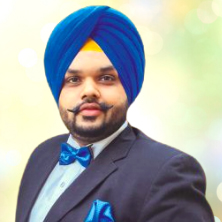 Dr. Vaidya Karanvir Singh is the younger Vaidya in Chandigarh Ayurved & Panchakarma Centre. He is the fourth generation in his family who is practicing as a general consultant in Ayurved & Panchakarma treatment at Chandigarh. In his practice, he had treated more than 1 Lakh Plus patients worldwide.
Article by Dr. Karanvir Singh (M.D in AYURVEDA, PANCHAKARMA FAGE) and reviewed by Vaidya Jagjit Singh (B.A.M.S)