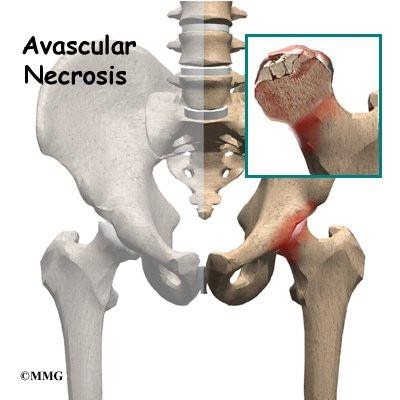 AVASCULAR NECROSIS TREATMENT IN AYURVEDA
Avascular necrosis ( AVN)  is a condition in which the death of bone tissue occur due to no blood supply. Then collapse of bone structures occur that causes pain, loss of joint function and long-term damage to the joints.  Osteonecrosis, aseptic necrosis, or ischemic bone necrosis are another terms used for this.
AVN can lead to  the bone collapse. AVN most often affects your hip. Other common sites are the shoulder, knees, and ankles.
 Symptoms In AVN
Most of the  people have no symptoms in the starting phases of avascular necrosis. But as the condition progresses , putting weight on your affected joint cause pain .  

Pain can be mild or severe depend upon the severity of the disease and usually develops gradually. Usually in avascular necrosis pain occur in mid of the hip or sometimes center of the groin, thigh or buttock. Besides the hip, the areas likely to be affected are the shoulder, knee, hand and foot.

Avascular necrosis can occur one side or on both sides (bilaterally) — such as in both hips or in both knees
Causes and Risk factors that leads to Avascular Necrosis
Following are some factors that can cause the condition of Avascular necrosis.
Alcohol intake.

Frequent alcohol intake in can cause fat deposits to form in your blood, due to which bones can't get proper blood supply and death of bone tissue oocur. 

Bisphosphonates.

  Medications that increase bone density can cause  osteonecrosis of the jaw. This condition is more likely to be occur if these medicines are taken for metastatic breast cancer.

 Radiation therapy.

 Chemotherapy for cancer can weaken your bones. Other conditions linked to AVN include organ transplants, like kidney transplants.

Steroid intake. 

Long-term use of steroids , either by mouth or through injections , leads to 35% of all cases of non traumatic AVN.  The exact reason behind this is not known yet. 

Trauma. 

Any kind of injury to

the bone like fractures   can damage nearby blood vessels and cause obstruction in the  blood supply to your bones. AVN may affect 20% or more of people who dislocate a hip.

Blood clots

, 

inflammation

,

and damage to your

 

arteries

. 

All of these can obstruct blood flow to your bones and cause necrosis.
Another medical conditions associated with Avascular necrosis are
Diabetes

Pancreatitis 

HIV / AIDS

Gaucher's Disease

Hyperlipidemia

Autoimmune conditions like SLE 
Diagnosis of Avascular necrosis
Diagnosis of Avascular necrosis is made by doing  physical examination of the patient and by taking history of patient.
Certain imaging techniques are helpful to diagnose the condition 
X-Ray – Bony changes are visible in X-Ray in later stages

MRI and CT Scan – These gives the details about bone in early stages also

Bone Scan
Avascular Necrosis Treatment
Treatment of Avascular necrosis depends upon the number of factors like 
Age of the patient 

Stage of the disease

Cause of disease

Area involved and damage occurred
Treatment include
Medications – Medications are given in according to the cause
Non steroidal anti-inflammatory drugs (NSAID's)

Anti-coagulants

Drugs to lower Cholesterol
Surgery – Surgical options include 
Vascularized Bone grafts 

Osteotomy

Total joint replacement

Electrical stimulation
Ayurvedic Management  of Avascular necrosis
In Ayurveda Avascular Necrosis can be  co-related with dhatu dushti , Asthi Kashya , katigrah. All these conditions basically occurs due to vitiation of vata dosha mainly
Approach  to treat Avascular Necrosis
Diagnosing and treating the underlying cause

Pacifying vata dosha 

Pacifying pitta to stop further damage to bone tissues

Balancing kapha dosha if lipids (fat) block the blood vessels.

Improving blood circulation to bone tissues
To fulfill this combination of Shodhana and shaman chikitsa with lifestyle changes may give effective results to treat the disorder.
Shaman Chikitsa involved use of certain kind of medicines. Many kind of medicated herbs  are given in Ayurveda which are used to treat vat disorders like rasna , nirgundi, patol , Dashmool , Jivneey gana drvayas and many more these are helpful to pacify the increased vat and strengthen the body.
Besides of these many herbs are helpful to reduce increased kapha  in the body . These are helpful if AVN is occurring due to the fat deposits in the blood. Herbs that are helpful to lower fat deposits include haridra, chitrak, Nisoth, Guggulu , saunth, pippali , marich , haritaki  etc.
Use of these herbs or combination made from these herbs are very helpful to treat the disease.
Shodhana chikitsa – Shodhana chikitsa involves the panchakarma procedures.  Basti is the best treatment to treat the vat disorders. Panchtikta ksheer basti , Anuvasna basti , Abhyangam , lepam are effectively used in this condition.
Some life style changes and dietary changes are also helpful like Include exercise or yoga in your daily routine. This will help your body cells to work proper.
Take proper balanced diet. Add more veggies , pulses, salads, fruits in your diet.  Avoid excessive alcohol intake , fried and junk food . Avoid smoking.
At Chandigarh  Ayurveda Centre we provide the effective ayurvedic treatment for the Avascular necrosis. CAC provides the ' AVN Care Kit '   to treat the condition.  AVN care kit contains best combination of medicines that provide natural cure to the disease. 
AVN Care Kit contains medicines 
Detox Premium Sachet

Makar rasayana tablet 

Pain O Kill Syrup

Nerve Up Tablets

Pain O Kill tablet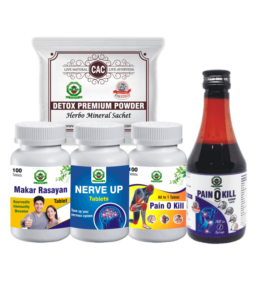 AVN Care Kit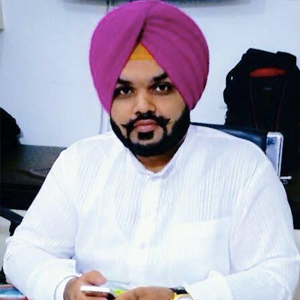 Vaidya Karanvir Singh is the younger Vaidya in Chandigarh Ayurved & Panchakarma Centre. He is the fourth generation in his family who is practicing as a general consultant in Ayurved & Panchakarma treatment at Chandigarh. In his practice, he had treated more than 1000 plus patients worldwide.
Article by Dr. Karanvir Singh (M.D in AYURVEDA, PANCHAKARMA FAGE) and reviewed by Vaidya Jagjit Singh (B.A.M.S)