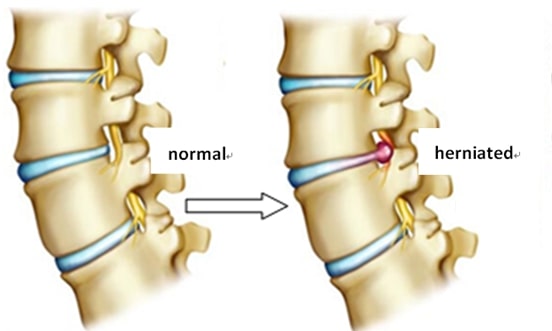 BULGING DISK AND ITS AYURVEDIC MANAGEMENT
Also known as Slipped, herniated or ruptured disk. This condition is one of the most common causes of back, neck and leg pain. Spine has series of bone or vertebrae , stretching from base of skull to tailbone. Between two vertebrae there are round cushions called disks which acts as buffers between vertebrae , allowing individual to bend and move with ease. When one of the disks tears or leaks , it is known as Bulging disk.
FACTORS CONTRIBUTING IN DEVELOPMENT OF BULGING DISK :
The bulging of disk can happen due to many factors like :
Genetics : Individuals sometimes inherit a predisposition to develop a bulging disk.
Age : Due to increasing age there is nature wear and tear of the disk which make disks weak and more prone to damage.
Weight : Being overweight tends to put extra stress on the disk in lower back which can contributes to development of the bulging disk.
Smoking : Smoking lessens the oxygen supply to disk and cause them to break down quickly.
Occupation : Individuals with Physical demanding jobs are more prone to develop spinal issues. As repetitive pulling, lifting, pushing etc put strain which causes wear and tear thus increasing the risk of developing bulging disk.
Sedentary Lifestyle : Leading a sedentary life style can increase the chances of bulging disk.
Bad Posture : Improper body positioning during sitting, standing, sleeping or exercise may contribute in the development of bulging disk.
WHAT ARE THE SYMPTOMS OF BULGING DISK?
Some of the common symptoms experienced by bulging disk includes :
Neck pain
Stiffness
Lower back pain
Leg or arm and hand numbness
Tingling
Leg or arm and hand weakness
Spasms
WHAT ARE THE PREVENTIVE MEASURES FOR BULGING DISK?
Maintaining Healthy Weight
Stretching
Practicing good posture
Exercising regularly to strengthen back and abdomen muscles
Avoiding wearing High-heeled shoes.
Quite smoking
AYURVED APPROACH
In Ayurved that main dosha which is responsible for this condition is Vata dosha. Vata is said to be responsible for the functionality and movement of the body. When the equilibrium of vata gets disturbed , the disturbance leads to development of the disease. The aggravated vata tends to travel in body along with other vitiated doshas and cause obstruction of channels producing symptoms such as pain, swelling, inflammation, numbness etc in the affected area.
HERBS :
Nirgundi
Shunti
Chincha
Rasna
Bala
Prasarini
Haritaki
PANCHKARMA FOR BULGING DISK :
Shashtik Shali Pind Swedan
Patra Potali Pind Swedan
Lepam
Sarvanga Dhara
Kati Vasti
Greeva Vasti
Prishta Vasti
CHANDIGARH AYURVED CENTRE MEDICATION FOR BULGING DISK :
1. Nerve up tablet:
These tablets are pure ayurvedic formulation. Nerve up tablets help in balancing the vata doshas and kapha dosha. It acts as nervine stimulant. It shows effective results in improving the central nervous system. It contains natural ingredients like shudha kuchala, shudha shilajeet, praval pishti, shankh bhasma etc. This tablet helps in Backache, kneepain, headache, bronchitis, depression.
Recommended Dosage– Take 1 tablet twice daily.
2. Back Care tablet:
Back Care tablet is an herbal and purely Ayurvedic formulation. This tablet helps by strengthening your back muscles in relieving back painwhether it be by sciatica, arthritis, kidney infections, infection of the spine and cancer of spinal cord. It helps to pacify Vata dosha and also helps in maintaining proper blood circulation. This is often used for mild to moderate pain all over the body and relaxes your muscles. It contains herbs that act as natural pain relievers.
Recommended Dosage– Take 1 tablet twice daily.
3. Panchasakar Churna:
Panchsakar Churana is an Ayurvedic formulation that consists of five ingredients named as – Saindhavan Lavana – (Rock Salt), Swarnapatri – (Cassia angustifolia), Shatapushpa – (Anethum sowa), Shunti – (Zingiber officinale), Balaharitaki – (Unripe fruits of Terminalia chebula).Panchasakar Churna is naturally detoxifying, thus it removes the toxins from the body. The churna has an anti – inflammatory properties due to which it can reduces the swelling. It is also effective in reducing the weight, which can help to reduce the pressure on lumbar area.
Recommended Dosage– Take 1 teaspoonful with Luke warm water at bedtime.
4. Pain-O-Kill Oil:
This herbal oil contain ingredients like – Rasna (Pluchea lanceolata), Kustha (Saussurea lappa), Jyotishmati (Celastrus paniculatus), Vatsnabh (Aconitum ferox), Devdaru (Cedrus deodara) etc. This oil is an Ayurvedic medicine which gives best result in all types of pain. It is beneficial for the muscle relaxant, sports injury, low back pain, weakness, etc. This oil has a good result in reducing the inflammation.
Method of Usage – It is applied on the affected portion of the body and massage with light pressure. Do this procedure twice a day.
5. Pain O Kill Tablet:
Pain o kill tablet is ayurvedic and purely herbal formulation. It help to relax your musclesand muscles cramps thus relieving pain. It balances all the three doshas of your body thus maintaining proper blood  It provides soothing effect to the affected area of pain. It contains various herbs like Jivanti, Musta, Usher, Bilwa, Shatavri  and Kantakari. All these herbs are natural pain relievers.
Recommended Dosage– Take 1 tablet twice daily.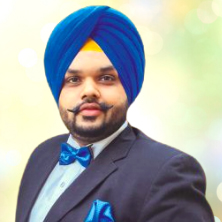 Dr. Vaidya Karanvir Singh is the younger Vaidya in Chandigarh Ayurved & Panchakarma Centre. He is the fourth generation in his family who is practicing as a general consultant in Ayurved & Panchakarma treatment at Chandigarh. In his practice, he had treated more than 1 Lakh Plus patients worldwide.
Article by Dr. Karanvir Singh (M.D in AYURVEDA, PANCHAKARMA FAGE) and reviewed by Vaidya Jagjit Singh (B.A.M.S)