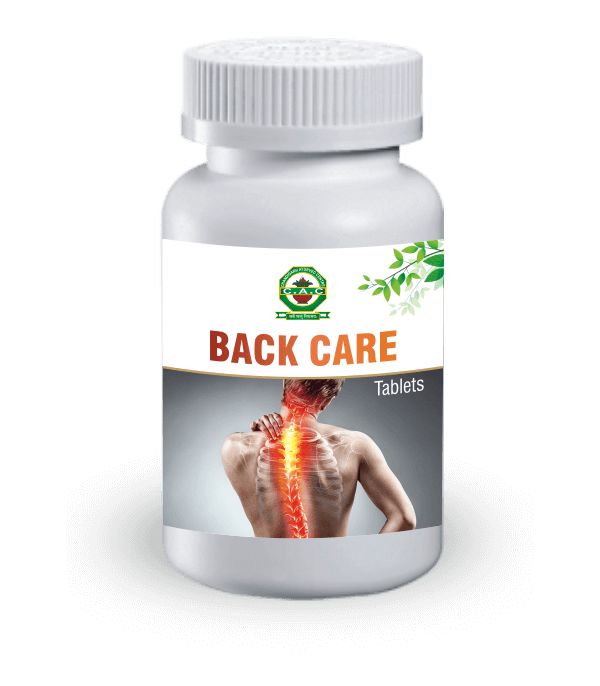 CAC Back Care tablet is an herbal and purely Ayurvedic formulation. This tablet helps by strengthening your back muscles in relieving back pain whether it be by sciatica, arthritis, kidney infections, infection of the spine and cancer of spinal cord. It helps to pacify Vata dosha and also helps in maintaining proper blood circulation. This is often used for mild to moderate pain all over the body and relaxes your muscles. It contains herbs that act as natural pain relievers.
Uses of Back Care Tablets:
Headache

Menstrual cramps

Muscle aches

Mild to moderate pain all over the body

Knee pain

Rheumatoid arthritis

Backache

Cervical spondylitis

Osteoarthritis

Cancer of the spinal cord

Ruptured or herniated disc

Sciatica

Arthritis

Kidney infections

Infections of the spine
Dosage: Take 1-2 tablets twice daily.
Ingredients of Back care tablet
Each 1000mg tablet contains 
Ashwagandha                Withania somnifera      200mg

Kakamachi                      Solanum nigrum            200mg

Nirgundi                          Vitex negundo                200mg

Shudh Guggul                Commiphora mukul       200mg

Vishtinduk                      Strychnos nux vomica   100mg   

Vishmustyadi vati                                                    100mg
DESCRIPTION OF INGREDIENTS
Ashwagandha may act as a pain reliever, preventing pain signals from traveling along the central nervous system. It may also have some anti-inflammatory properties. Ashwagandha is very effective in treating forms of arthritis, including rheumatoid arthritis
Kakmachi is an Ayurvedic herb, popularly used for all kinds of joint pains. It reduce swelling as well as excessive pain. Its potent anti-inflammatory, anti-convulsing and anti-oxidant properties help the joints recover their healthy state in no time.
Arthritic pain is a condition in which pain is felt in the joints in both osteoarthritis or rheumatoid arthritis due to the aggravation of Vata dosha. Nirgundi helps in the management of this pain due to its Vata balancing property.
Guggulu is a destroyer of the aggravated Vata and Kapha doshas, both of the doshas reason for joint pain and swelling. Herb of Guggulu benefits ailments resulting from a distortion in vata or air like Arthritis, sciatica, paralysis etc
Vishtinduk Vati is an ayurvedic medicine that acts on nerves, senses, and muscles. It stimulates the functions of these organs. Vishtinduk Vati is a nervine and cardiac stimulant. It is beneficial for treating neuralgia, facial paralysis, and local paralysis. It also has analgesic property. 
Vishmustyadi vati is analgesic and anti inflammatory in action. Useful in anorexia , dyspepsia, digestion impairment, low-grade pyrexia, abdominal pain, rheumatic pains, parkinsonism, sciatica and disorders of the nervous system.
ABOUT PRODUCT:
Chandigarh Ayurved Centre products are 100% safe and natural. MADE IN INDIA.
Under the guidance of the 

MD Ayurveda expert

, this product is formulated.

Natural and herbal products for overall health.

Free from preservatives and chemicals.

125 years of serving mankind through Ayurveda.

Serving society 

4th

 Generation in Ayurveda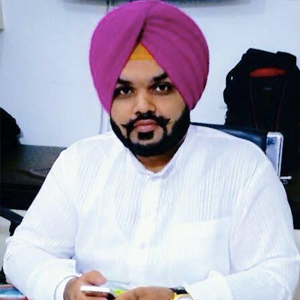 Vaidya Karanvir Singh is the younger Vaidya in Chandigarh Ayurved & Panchakarma Centre. He is the fourth generation in his family who is practicing as a general consultant in Ayurved & Panchakarma treatment at Chandigarh. In his practice, he had treated more than 1000 plus patients worldwide.
Article by Dr. Karanvir Singh (M.D in AYURVEDA, PANCHAKARMA FAGE) and reviewed by Vaidya Jagjit Singh (B.A.M.S)