Best Doctor for Blemishes
What are blemishes?
Any type of mark, spot, discoloration, or flaw that affects the appearance or appear on the skin is known as Blemish. Blemishes on the face may cause emotionally upsetting, most of these are benign and not life-threatening. Some type of blemishes, however, can signal skin cancer.
Types of blemishes
Blemish is any kind of mark on the skin.  There are various types of blemishes.
Acne
Acne is a common condition. Acne can appear in the form of pimples, blackheads on the face.
Secretion from glands of skin i.e. sebum (oil), any kind of bacteria, or dirt when obstructs  hair follicles can cause blemishes . These Acne can sometimes leave dark spots, or scarring on the skin.
Hormonal changes are also one of the reason  in the formation of acne. Stress factor may also worsen the condition.
Papules
Small skin lesions of varying types are known as papules. Their color varies from pink and to brown. Papule can be seen in conditions of Chicken pox, dermatitis, psoriasis etc.
Pustules
Pustules are fluid- or pus-filled bumps. Whiteheads and chickenpox blisters are types of pustules. Conditions like rosacea, scabies can also leads to pustule formation.
Nodules         
These are collection of tissue. Nodules are hard to the touch and larger than papules, usually 1 – 2 cm in diameter. Skin tags and warts are examples of nodules.
Melasma
Melasma is very common during pregnancy. In this condition formation of brownish patches takes place. It can occur due to exposure to harmful rays of sun and hormonal changes.
Birthmarks
Birthmarks are likely to occur either at birth or shortly afterward. They can vary in appearance, size, shape, and color. Moles and port-wine stains are types of birthmarks.
Cysts
There are many types of cysts. Main types  include:
Dermoid cysts
Ganglion cysts
Sebaceous cysts
Cysts are benign sacs that contain a substance, like fluid. They're often round.
Cold sores
The herpes simplex virustype 1 (HSV-1) leads to formation of cold sores. Cold sores are fluid-filled blisters mostly found near the mouth. They may cause itching or tingling sensation.
Scars
Scarring of the skin occurs when the layer of skin i.e. dermis gets damaged . Anything that causes the skin to open can lead to scarring, such as a wound or popped pimples.
Skin cancer
Skin cancers can vary in appearance and in color. Some types of skin cancer look like dark moles with irregular borders. Only a doctor can confirmly diagnose if a blemish is skin cancer.
Hyperpigmentation
An overproduction of melanin can lead to uneven skin tone or formation of dark patches. The causes of hyperpigmentation include:
Exposure to sun
Acne scarring
Hormonal changes
Cause for blemishes
Viruses
Some skin conditions are caused by virus , like cold sores by viruses, such as HSV-1. The varicella-zoster virus (VZV) causes chickenpox.
Genetics
Acne may occur due to some  genetic factors.  Some hereditary conditions can also leads to blemishes. These include:
Darier disease
Adult type 3 GM1 gangliosidosis.
 Fabry disease
Infections
Some skin infections can cause blemishes to erupt on the skin. Infection of hair follicles of can also leads to formation of blemishes.
Sun exposure
Overexposure to the  harmful UV rays of sun can cause skin cancer, hyperpigmentation, and other forms of skin damage.
Clogged pores
Environmental  factor like  dirt, car exhaust, and pollution, can affect your skin, mingle with oil, and clog pores.  Excessive secretion of skin gland also favors this. Dirt and bacteria  also transfers onto your face by touching your face with your hands.
Diet
Your diet also put impact on your skin. Many kind of food allergies can cause skin irritation and bumps.
Medications
Use of some OTC medications may cause acne as a side effect. These include use of corticosteroids , anti-epileptic drugs etc.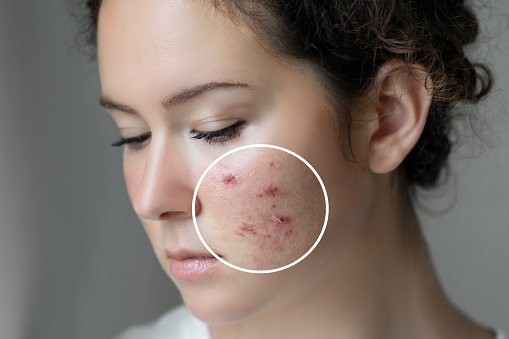 When to see your doctor
Blemishes can sometimes signal a serious condition that requires consultation from doctor .  Your doctor  will look for  any blemish that:
changes in size or color
begins bleeding
has irregular borders
These may be signs of skin cancer.
Doctor will find out cause for blemishes if  blemishes are caused by a virus, such as cold sores or chickenpox , then treatment is done accordingly to  speed recovery.
Read Also : Ayurvedic Treatment for Skin Blemishes
How to treat blemishes?
Treatment of the blemishes is done according to  the cause of the blemish. Common treatment options that are available for blemishes are
Acne medications
There are many OTC products that can help to  reduce or eliminate pimples, whiteheads, and blackheads. These include facial scrubs, astringents, and topical gels. In severe cases oral antibiotics or topical medication are prescribed
Salicylic acid
Salicylic acid products help to unclog the clogged pores.
Sun protection
Use of Sunscreen,  sunglasses, and hats reduce your exposure to harmful rays of sun . This can help protect your skin from damage and prevent scarring.
Hydrocortisone cream
Topical creams can reduce allergic reactions and irritations.
Creams for hyperpigmentation
Creams that contain hydroquinone are  helpful to  lighten age spots, acne scarring, and melasma. They slower down the production of melanin.
Dermatologic procedures for hyperpigmentation
There are several procedures  that  are used to remove scars and clear skin these include Chemical peeling , laser therapy , cryotherapy
Healthy hygiene habits
Keep proper care of your skin . Regular cleansing of your face, body, and hair can help to eliminate excess oil, dirt, and bacteria on the skin and prevent any kind of skin condition to occur . Avoid doing this in excess.
Ayurvedic Mangement of blemishes
Ayurveda provides best treatment for skin conditions. In ayurveda management of disease is done on the basis of imbalanced dosha. On this Principle Chandigarh ayurveda centre provides very effective ayurvedic treatment for blemishes. Chandigarh Ayurved centre have best Ayurvedic doctors that deal with both acute as well as chronic conditions and treat them successfully. Vaidya Karanvir singh is the best doctor for blemishes that not only treat the condition symptomatically but also the root cause. CAC provides Blemishes Go kit that contain combination of medicines that treat the blemishes effectively.
CAC Blemishes Go Kit contains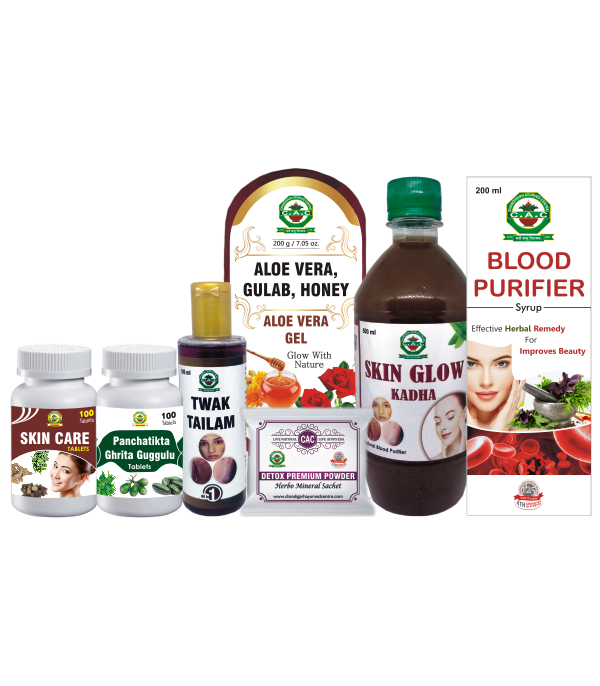 CAC Blemishes Go Kit
Detox premium powder
Skin Glow Kadha
Blood Purifier
Aloe vera gel
Twak tail
Skin care tablet
Panchatikta ghrita guggulu
For more details you can visit our website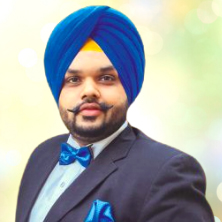 Dr. Vaidya Karanvir Singh is the younger Vaidya in Chandigarh Ayurved & Panchakarma Centre. He is the fourth generation in his family who is practicing as a general consultant in Ayurved & Panchakarma treatment at Chandigarh. In his practice, he had treated more than 1 Lakh Plus patients worldwide.
Article by Dr. Karanvir Singh (M.D in AYURVEDA, PANCHAKARMA FAGE) and reviewed by Vaidya Jagjit Singh (B.A.M.S)