Best Herbal Supplement for Glowing and Gorgeous Skin – Aloe Vera Premium Juice
Aloe Vera Premium Juice by Chandigarh Ayurved Centre is a complete natural package to cure various health problems. Causing no side effects, it's available online and is already the preferred choice of health-conscious people.
What is Aloe Vera Premium Juice?
Aloe Vera Premium Juice is extracted from the succulent plant species. It is basically a thick liquid that is prepared from the leaves of an Aloe Vera plant. The juice is made from the gel plant's leave gel. It contains various vitamins folic acid, & niacin.
Tropical climates are suitable for its growth and it has been used widely in Ayurveda treatments as a medicinal plant.
It has been used since the 18th century and known as the most frequently prescribed medicines to cure the health problems without any side effects. The Aloe Vera gel is made up of 96-98% percent water. Apart from this, it constitutes of polysaccharides and glycoproteins.
In addition to this, Aloe Vera Premium Juice consists of various minerals like magnesium, potassium, zinc, and sodium. It also contains enzymes and amino acids.
Why Chandigarh Ayurved Centre's Aloe Vera Premium Juice is popular?
The ingredients of Aloe Vera Premium Juice are of extreme benefit to the human body. The Glycoprotein present in this is helpful in relieving the pain. It cures inflammation and helps in the stimulation of skin growth and repair.
It is widely used to heal the burns and wounds due to its excellent healing property.
Also, this juice is well known to cure the constipation problem. It can be also be taken as a drink due to its enormous health benefits. It is considered as a complete package of food supplement. We have taken all care to provide you the most natural and chemical free Aloe Vera Premium Juice.
Can you prepare Aloe Vera Premium Juice at home?
Yes you can. But make sure to follow a hygienic process:-
This juice can be extracted from the Aloe leaves by crushing/grinding them.
After this, you can filter the liquid to eliminate any impurities.
It can also be mixed with shakes and other drinks for better taste.
Uses of Aloe Vera Premium Juice
Apart from helping in the digestion in an excellent manner, it is very helpful in enhancing the blood circulation of the body.
It is used as a primary supplement for weight loss in a natural and herbal manner.
If you are suffering from the Blood pressure problem, then this is extremely beneficial to keep the BP normal.
It is also useful in preventing the body from the harmful effects of smoking and alcohol.
Useful for kids:
Not just for adults, the Aloe Vera juice is an effective health juice for kids also.  It can provide the required health supplements to the body thus making the internal system strong.
It includes components like Amino acids, Minerals, Enzymes, and Other Essential vitamins like Folic acid, Vitamin A, B12, C, and E.
It heals the body in a magical and natural way.
Some amazing Benefits of drinking Aloe Vera Premium Juice daily
Aloe Vera Premium Juice cures Obesity by removing the excess fat from the body.
It decreases the effects of bad cholesterol thus reducing the risk of heart-related problems.
It stimulates the metabolism of the body and reduces the risk of Kidney stone.
It can also be helpful in fighting the disease like Arthritis.
It improves the dental health by providing strength to the gums.
It helps in increasing the production of nitric oxide, which is beneficial in reducing the risk of cancer tumour development.
Usage Tips
You can add some water to the Aloe Vera juice and then drink it.
This juice can also be mixed with shakes and other drinks to make the taste better.
Taking it before breakfast and after dinner will be more beneficial.
Precautions
If you are suffering from low sugar level or you are taking some medications for diabetes then this juice is not recommended for you.
Online ordering Aloe Vera Premium Juice
Aloe Vera Premium Juice is a premium product by Chandigarh Ayurved Centre. We have recommended it to numerous patients who have seen immense improvement in their health with regular usage.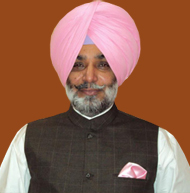 Vaidya Jagjit Singh is a 3rd generation Ayurved physician from his family and is the remarkable person responsible for setting up of the Chandigarh Ayurved and Panchkarma Centre in sector 32 and 22, Chandigarh and Zirakpur and he is also the first founder member of Guru Ravidas Ayurved University. He has done his B.A.M.S. from Shri Dhanwantri Ayurvedic College, Chandigarh. He is an admirable ayurvedic physician with specialization in Chronic ailments.
Article by Dr. Karanvir Singh (M.D in AYURVEDA, PANCHAKARMA FAGE) and reviewed by Vaidya Jagjit Singh (B.A.M.S)