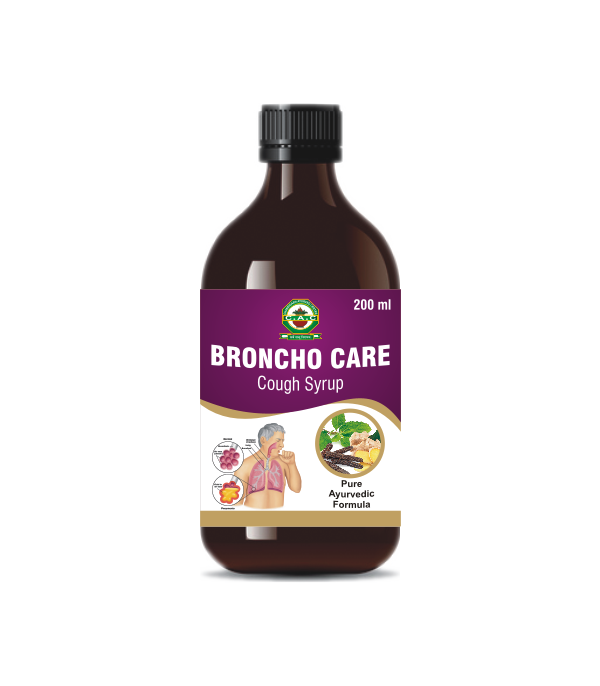 CAC Broncho Care syrup is herbo mineral and purely ayurvedic formulation. It act on Vata and Kapha dosha from which it mainly reduces Kapha. It means it reduces phelgm production in the lungs and balances sections in the body. It exerts mucolytic and expectorant action on the respiratory system. It increases digestive fire which help improve appetite. It also help in chronic bronchitis and asthma symptoms. Broncho care is antioxidant, anti inflammatory, immuno modulator and a good detoxifier.
INGREDIENTS:
Vasa patra (Adathoda Vasica):
Vasa works as an expectorant, which loosens the sticky phlegm and makes it easier to expel it from the chest and air passages. It relieves asthma attacks by reducing bronchial tree irritation and spasm. It also helps manage pharyngitis and persistent cough by soothing the throat.
Kantakari (Solanum Surratense):
The drug is used as anti-asthmatic, hypoglycaemic, anti-inflammatory, antitumor, anti-tussive, antipyretic, antispasmodic, anti-histaminic, hypotensive and cytotoxic activity. It reduces the stickiness and kapha in the oral cavity and provides fresh breath.
Mulethi (Glycyrrhiza Glabra) :
Mulethi thins and loosens the mucus inside the airways, this eases coughing and congestion. Many times, microbes are responsible for the overproduction of mucus which results to coughs and cold, Mulethi can easily clear these microbes due to its anti bacterial properties
It has antibacterial, antiviral, and anti-inflammatory qualities that strengthen respiratory health and aid in the battle against infections.
Bharangi (Clerodandrum Serratum) :
Bharangi is also known as Glory bower or bag flower or bleeding heart and it is one of the most commonly used herbs for the treatment of allergic rhinitis, chronic sinusitis, cough, common cold, and other related chronic respiratory issues.This herb also gives a good rhythm to voice and has expectoration activity. Its leaves are useful in increasing appetite and keeping the digestive system healthy.
Chitrak mool (Plumbago Zelynica):
The roots contain an alkaloid called plumbagin. It is responsible for various therapeutic properties like antioxidant, antimalarial, antibiotic, antifertility, anticancer, and cardiotonic.
Sonth (Zingiber Officinale) :
Due to its anti-inflammatory qualities, ginger causes bronchodilation in asthmatic patients. It relieve all types of pain including abdominal colicky pain, joint pain, headaches and menstrual pain as it balances vata dosha in body.
Pippali controls cough, releases mucus, clears air passages, thus allowing the patient to breathe freely. This is because Pippali has decongestant, bronchodilator and expectorant effects due to its Kapha balancing properties
Mint leaves are highly recommended for asthma patients, as it acts as a good relaxant and relieves chest congestion.
       USES:
In respiratory disorders
 Improves metabolism
 Increase appetite
 Indigestion
 Mucolytic
 Chronic bronchitis
 Cough with thick mucuos
 Flatulence
 Loss of appetite
 Recurent common cold
ALLOPATHIC COUNTERPART OF BRONCHO CARE SYRUP ALONG WITH ITS SIDE EFFECTS :
SALBUTAMOL
BRAND : Ventolin 
DESCRIPTION: Salbutamol is a bronchodilator. It works by relaxing the muscles in the airways and widens airways. This makes breathing easier. It belongs to the class of 'bronchodilators' primarily used to treat asthma and chronic obstructive pulmonary disease. It helps to relieve symptoms like coughing, wheezing and shortness of breath. It contains 'Salbutamol,' which is a β₂ adrenergic receptor agonist. It relaxes the muscles in the airways and increases airflow to the lungs.
SIDE EFFECTS :
Nausea
Vomiting
Restlessness
Tremor
Headache
Muscle tightness
Dryness or soreness of the throat
Dizziness
Sleepiness
Palpitations
Nasal congestion
Cough
Increased heart rate
DRUG INTERACTIONS:
Propranolol
Clomipramine
Guanethidine
Diazepam
Allopurinol
Oestrogen
Phenytoin
Cimetidine
CONTRAINDICATION:
High blood pressure during pregnancy
Uterine infection
Miscarriage
Heart disease
Hypersensitivity.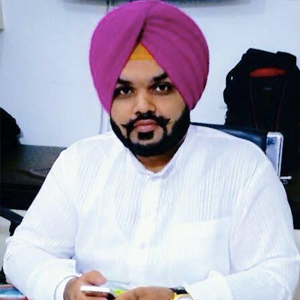 Vaidya Karanvir Singh is the younger Vaidya in Chandigarh Ayurved & Panchakarma Centre. He is the fourth generation in his family who is practicing as a general consultant in Ayurved & Panchakarma treatment at Chandigarh. In his practice, he had treated more than 1000 plus patients worldwide.
Article by Dr. Karanvir Singh (M.D in AYURVEDA, PANCHAKARMA FAGE) and reviewed by Vaidya Jagjit Singh (B.A.M.S)