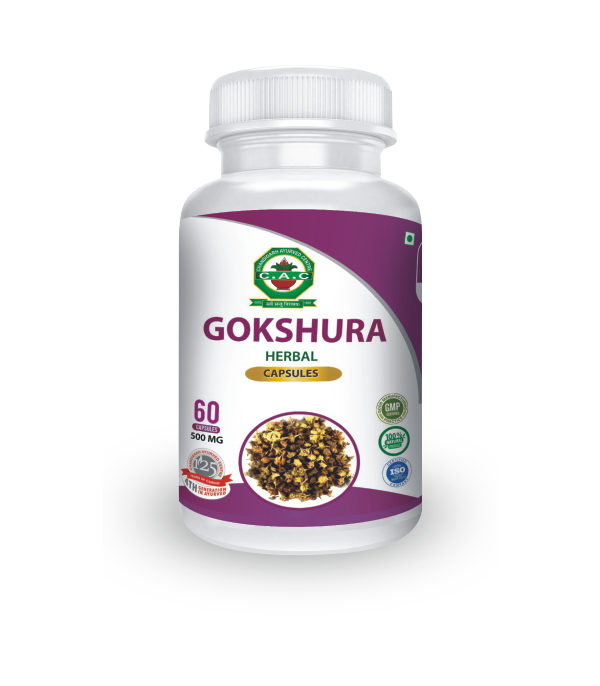 CAC GOKSHURA CAPSULES are 100% natural and safe and is pure Ayurvedic formulation. Gokshura is the herb that helps in revitalizing and rejuvenating the body. Gokshura helps to balance all three Doshas. These capsules contains standardized extract of the herb Gokshura (Tribulus terrestris). Gokshura shows Anti-inflammatory, Antioxidant, Diuretic, Anti-arthritic, Anti-gout, Anti-hypertensive, Immune-modulator properties. This capsule is beneficial for improving Kidney functions, treats Urinary tract infections, urinary distension, urinary calculi, Polycystic kidney disease, Renal calculi, dysuria, difficulty in micturition, cystitis, maintain uric acid levels in the kidneys and thus prevents Gout, . Gokshura is effective in improving men's health, enhances spermatogenesis. This capsule provides strength to heart muscles, prevents atherosclerosis, lowers the risk of heart attack, strokes, maintains Cholesterol levels in blood, etc. The potent antioxidants present in gokshura improves the memory capacity, concentration, calmness, alertness of an individual.
INGREDIENTS :
GOKSHURA :
Gokshura is ideal for body building, combating diuretic issues, PCOS, skin ailments, prostate gland disorders and heart problems. It is also used as an aphrodisiac to increase the libido in both men and women. Additionally, gokshura also acts as anti aging agent and improves brain functioning. Gokshura has active components, the most important of which are the alkaloids, norharman and Harman. It also contains terrestrosins A E, flavonoid glycosides, and furostanol, which are steroidal saponins.
USES:
Anti-inflammatory
Diuretic
Antioxidant
Anti-arthritic
Anti-gout
Analgesic
Anti-hypertensive
Cardiac disorders
Erectile dysfunction
Premature ejaculation
Indigestion
Atherosclerosis
Ulcerative colitis
Chest pain
Eczema
Enlarged prostate
Infertility
Urinary calculi
Abdominal Colic
Dysuria
Urinary obstruction
Enhances digestion
Ascites
ALLOPATHIC COUNTERPART OF GOKSHURA CAPSULES ALONG WITH ITS SIDE EFFECTS:
BUMETANIDE
Brand name : Bumex
It is a diuretic. It helps you make more urine and to lose salt and excess water from your body. It treats swelling from heart, kidney, or liver disease. Bumetanide is 3-(butylamino)-4-phenoxy-5-sulfamoylbenzoic acid. It is a practically white powder having a calculated molecular weight of 364.42
SIDE EFFECTS :
Confusion
Hallucinations
Problems  with thought or memory
Unusual  bleeding
Purple  or red spots under your skin
Dizziness
Irregular  heartbeats
Feeling  jittery
Feeling  very thirsty or hot
Being  unable to urinate
Heavy  sweating
Hot  or dry skin
DRUG INTERACTIONS:
Probenecid
Lithium
Digoxin
Drugs with nephrotoxic materials
Anticogulants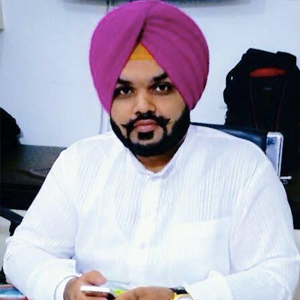 Vaidya Karanvir Singh is the younger Vaidya in Chandigarh Ayurved & Panchakarma Centre. He is the fourth generation in his family who is practicing as a general consultant in Ayurved & Panchakarma treatment at Chandigarh. In his practice, he had treated more than 1000 plus patients worldwide.
Article by Dr. Karanvir Singh (M.D in AYURVEDA, PANCHAKARMA FAGE) and reviewed by Vaidya Jagjit Singh (B.A.M.S)