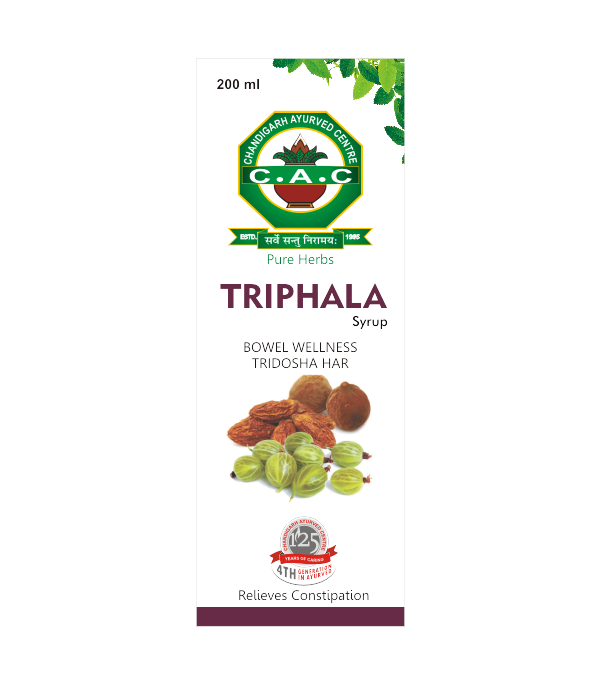 This syrup is an ancient herbal remedy that contains equal parts of three herbs T. chebula, T. bellirica and E. officinalis. These ingredients are very beneficial for maintaining bowel wellness, digestive system, helps in abdominal bloating and flatulence. This syrup has tri-dosha hara properties( pacifies vitiated vata, pitta and kapha ). The syrup is also used to detoxify the body and support the immune system of the body. This syrup has anti-oxidant, anti-bacterial and anti-viral abilities. This syrup is used for treating fatigue and gastric distress, constipation, pneumonia, vaginal infections and piles.
INGREDIENTS OF CAC TRIPHALA SYRUP :
Haritaki (Terminalia chebula) : It has carminative property thus helps to break down the food particles in stomach , enhancing the secretion of digestive juices and therefore increasing the absorption of essential nutrients . It also helps to eliminate gas and in turn reduce abdominal distension, gaseous cramps and bloating. It is rich in fibers thus helps to prevent constipation. It contain chemical compound called tannin that has laxative properties.
Bibhitaki ( Terminalia bellirica) : It helps to boosts the secretion of bile by liver that in turn stimulates the peristalsis movement of intestines and liver thus allowing smooth passage of fecal matter. It has digestive qualities thus facilitates the breakdown of food particles in stomach and intestine thus improves absorption of essential nutrients.
Amlaki (Emblica officinalis) :It has fibers that helps to regulate bowel movements and also improves digestive problems like constipation or diarrhea. It also helps to stimulate the production of gastric juices that in turn speeds up digestion and absorption of food. Amlaki is a rich source of Vitamin-C which helps to improve immunity as Vitamin c is a known antioxidant that helps to minimize the damage caused by free radicals.
USES OF CAC TRIPHALA SYRUP :
Constipation
Immunity booster
Indigestion
Prevent cavities and bleeding gums
Anti-aging
Reduces blood glucose level
Hair fall and graying of hairs
Improves vision
Antioxidant
Improves oral and digestive health
Anti-Inflammatory
Anti-bacterial
Supports skin healing.
Helps in Stomach ulcers.
Helps in Arthritis and gout
Lowers stress and anxiety
Bloating
Digestive disorder
Piles
Promote general wellbeing of the patient
COMPARED TO CAC TRIPHALA SYRUP THE ALLOPATHIC COUNTERPART IS SODIUM PICOSULFATE
Sodium picosulfate comes under class of drugs called contact stimulant laxative which is used as treatment of constipation that is associated with piles , anal fissure, hernia etc.
MECHANISM OF ACTION :
It works by preventing absorption of water in colon/intestine thus stimulating the propulsive activity that in turn promotes water accumulation in colon which helps to ease passing out of stool and relieves constipation.
It is available in market under brand name :
Colax
Coso
Atwork
Laxcil
Laxicare
Dyrset -Eze
Laxatab
Oslax
Piclin
SIDE-EFFECTS :
Nausea
Headache
Abdominal cramps
Bloating
Vomiting
Dehydration
Rectal bleeding
Light headedness
Irregular heartbeats
Trouble swallowing
Hives
Seizure
Irregular heartbeats
Difficulty breathing
Swelling of face, tongue, lips or throat
CONTRA-INDICATION :
Heart condition
Kidney problems
Stomach problems
Electrolyte imbalance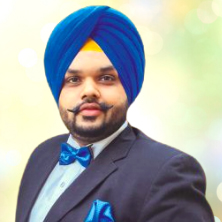 Dr. Vaidya Karanvir Singh is the younger Vaidya in Chandigarh Ayurved & Panchakarma Centre. He is the fourth generation in his family who is practicing as a general consultant in Ayurved & Panchakarma treatment at Chandigarh. In his practice, he had treated more than 1 Lakh Plus patients worldwide.
Article by Dr. Karanvir Singh (M.D in AYURVEDA, PANCHAKARMA FAGE) and reviewed by Vaidya Jagjit Singh (B.A.M.S)