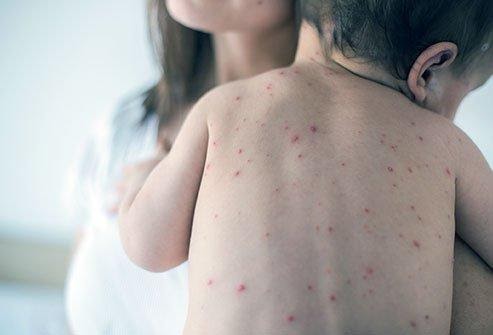 CHICKEN POX PROBLEM WHAT IS THE AYURVEDIC TREATMENT FOR IT
Chicken pox is a infectious childhood disease also called VERICELLA 

Chicken pox is very contagious disease caused by the VERICELLA ZOSTER VIRUS (a member of the herps family of viruses)

Infectious childhood disease that also affects adults 

Rash varies child to child 

It is characterized by itchy red rashes all over the body accompanied by fever, malaise, and vasicular skin lesion 

Chickenpox is generally mild, especially in children some severe cases blisters spread to your nose, mouth, eyes, and even genitals.

Chickenpox lasts seven to ten days in children and longer in adults.

More deadly in adults

7% newborn deaths when mother contact with infection during pregnancy
AS PER AYURVEDA:
As per Ayurveda, chicken pox is referred to as Laghu masurika and caused by imbalanced of vata and kapha dosha 

Laghu means smaller or milder – thus chicken pox is a milder version of the more deadly masurika (Small pox). 

Eating extremely salty bitter or sour food overeating are causative agenst of chicken pox as per ayurveda because in ayurveda main root of any disease caused by imbalanced digestive fire 
SYMPTOMS OF CHICKEN POX:
Headache

Fever

Tiredness and fatigue

Red spots first appear in the chest, face and back

Spots turns into itchy blisters 

Decreased appetite

Abdominal pain
CAUSES OF CHICKEN POX:
In Ayurvedic laghu masurika or chicken pox is caused doshas – Vata, Pitta and Kapha.

Varicella- zoster virus (VZV) causes the chickenpox infection. 

Through contact with an infected person. The virus is contagious to those around you for one to two days before your blisters appear the virus can spread through, saliva, coughing, sneezing, contact with fluid from the blisters
THREE STAGES OF CHICKEN POX: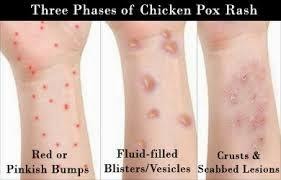 RAISED PINK OR RED BUMPS – which break out over several days. Small

FLUID-FILLED BLISTERS – which form in about one day and then break and leak. 

CRUSTS AND SCABS –  which cover the broken blisters and take several more days to heal.
RISKS TO GET INFECTED BY CHICKEN POX:
Non immune pregnant women infected with VZV during greater in the first six months

In pregnancy third trimester mother is more to have severe symptoms

Weak immunity or compromised immunity due to any disease or any medication

greater in the first six months. In the third trimester, the mother is more likely to have severe symptoms

Adults residing with infected children

Dehydration

Pneumonia

Skin, bone, joint and blood infection 
MODE OF TRANSMISSION:
Chicken pox transmitted from person to person by directly touching the blisters, saliva, mucus of an infected person

Also spread through the air by coughing and sneezing
DIAGNOSE OF CHICKEN POX:
The diagnosis is based on the signs and symptoms of disease

Fluid within the vesicle of rash by blood test
PREVENTION OF CHICKEN POX:
Hygiene measure

Can be prevented by vaccination.

Stay at home while infectious to avoid spreading the disease to others. 

Nail cut short and wear gloves  prevent scratching and minimize the risk of secondary infections

Use calamine lotion 
TREATMENT OF CHICKEN POX:
IN CHILDREN
Aciclovir through mouth it decreases symptoms

Children younger than 12 years, cutting nails and keeping them clean because they are more likely to scratch their blisters 
IN ADULTS
Increase water intake to reduce dehydration and relieve headaches.

Painkillers such as paracetamol (acetaminophen) are recommended, as they are effective in relieving itching and fever or pains.

Antihistamines relieve itching and may be used in cases where the itching prevents sleep with antiviral drugs (e.g. aciclovir or valaciclovir) is generally advised, as long as it is started within 24–48 hours from rash onset
AYURVEDIC TREATMENT OF CHICKEN POX:
NEEM (AZADIRACHTA INDICA) 
Neem has a special mention in management of Laghu masurika (Chicken pox) in Ayurveda
Haridra has antibacterial and antibiotic properties that helpful in any skin problem it also called natural wound healer 
It Boosts immunity, boosts digestion helps treat skin problems, protects the liver, improves digestive issues 
It has antimicrobial properties and helps to aids skin problems 
It purifies the blood and relives from skin problems 
It has Excellent antiseptic, antimicrobial properties
DIET RECOMMENDATIONS (AAHAR) IN CHICKEN POX
Light food with warm water 
LIFESTYLE CHANGES (VIHAR) IN CHICKEN POX
Adequate rest is advised.
NATURAL HOME REMEDIES FOR CHICKEN POX:
Herbal tea of tulsi, chamomile and calendula in hot water add a lemon and a teaspoon of honey. 

Give oatmeal to the patient's bathwater to reduce inflammation

Apply sandalwood paste it help cool the skin.

Honey is also herbal medicine for chicken pox because it has anti baterial properties honey applied on the blisters in the mouth to reduce burning and itching

.

Neem is one of the best natural herb for chicken pox. Highly antibacterial and astringent in nature, consuming neem juice or chewing on neem leaves 

Cool mud mask applied to the abdomen and chest twice a day can help bring down the feeling of feverishness and itching.

Sponge the patient with water drained from green peas to remove scars

Essential oils for scar removal:

 

aloe vera has anti-inflammatory properties, which relieves your skin from itchiness, irritation, and redness

Cool blisters and keep discomfort at bay by dabbing calamine lotion over the sores.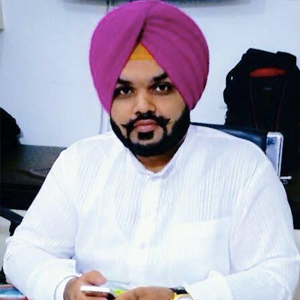 Vaidya Karanvir Singh is the younger Vaidya in Chandigarh Ayurved & Panchakarma Centre. He is the fourth generation in his family who is practicing as a general consultant in Ayurved & Panchakarma treatment at Chandigarh. In his practice, he had treated more than 1000 plus patients worldwide.
Article by Dr. Karanvir Singh (M.D in AYURVEDA, PANCHAKARMA FAGE) and reviewed by Vaidya Jagjit Singh (B.A.M.S)