Coriander (Dhania) – Benefits, Medicinal Usage and Properties
INTRODUCTION
Every household in India uses dry Coriander (Dhania) fruit as spice. Everyone is aware of its importance in spices. So only the medicine properties and use are discussed here.
APPEARANCE
Coriander plant is an annual herb with branches and sub branches with a soft, distinctive odour. It is 1-3ft tall. The leaves are serrated. Leaves on the lower side are serrated and those on the upper side are like thin vertical rtrands.
PROPERTIES
It cures tridosas, swelling and oedema. It relieves pain, and also thirst. It is a natural purgative and improves digestion. It excites liver and is rakta pitta shamak. It is beneficial for heart and cures cough, urine infections.
MEDICINAL USAGE & BENEFITS:-
EYE PROBLEMS:-
Grind 10gm coriander and boil it in one glass of water and then strain the solution through fine cloth. Put 1 drops each in both the eyes. It cures conjunctivitis disorder and also cures pain in the eyes. It reduces the itching in the eyes and also cures watery eyes.
Put 1-2 drops of coriander juice in the eyes. It prevents the chicken pox boil in eyes.
Boil 10gm coriander in 200ml water is reduced to 1\4th. Use this water to rinse the eyes. It cures whiteness of eyes, swelling and wound in the eyes due to chicken pox.
Take and grind equal quantities of coriander and berley seeds. Prepare a poultice of the paste and apply on the eyes. It cures swelling of the eyes.
MULTINODULAR TUBERCULOSIS:-
Grind 15-20 gm coriander and mix with barley powder (sattu). Apply this regularly. It cures multinodular tuberculosis.
THROAT PAIN:-
Chew 6- 10 seeds of coriander every morning and evening. It cures throat pain.
HEADACHE:-
Soak equal quantities of coriander and Indian gooseberry overnight in water. Next day morning, grind and strain the solution. Give this with sugar mixed in it. It cures headache due to heat.
NASAL BLEEDING:-
Grind 30 gm coriander leaves and mix a little amount of camphor in it. Put 2-3 drops in the nose and also apply a few drops on the head. It controls nasal bleeding.
COUGH IN CHILDREN:-
Grind 20-30 gm coriander in the rice water and add sugar to it. Give this to the child every morning, afternoon, and evening. It cures cough and also is beneficial in asthma in children.
PILES: –
Boil 7-14 gm seeds with a glass of water and 5gm sugar candy. Give this to the patient. It stops the bleeding from boils.
JOINT PAIN:-
Give 5-10gm of coriander powder with 5gm sugar, every morning and evening. This helps cure joint pain due to heat.
STOMACH DISORDERS:-
In case of stomach pain due to heat, give 1gm coriander powder with 3gm, 1-2times a day.
In case of gas due to indigestion of food, give 5-10ml coriander oil. It brings immediate relief.
VOMITING:-
In case of vomiting during pregnancy, give 50gm decoction of coriander with 10gm sugar and 10gm rice water mixed in it. Give this solution repeatedly in small quantities to the pregnant woman.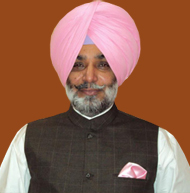 Vaidya Jagjit Singh is a 3rd generation Ayurved physician from his family and is the remarkable person responsible for setting up of the Chandigarh Ayurved and Panchkarma Centre in sector 32 and 22, Chandigarh and Zirakpur and he is also the first founder member of Guru Ravidas Ayurved University. He has done his B.A.M.S. from Shri Dhanwantri Ayurvedic College, Chandigarh. He is an admirable ayurvedic physician with specialization in Chronic ailments.
Article by Dr. Karanvir Singh (M.D in AYURVEDA, PANCHAKARMA FAGE) and reviewed by Vaidya Jagjit Singh (B.A.M.S)