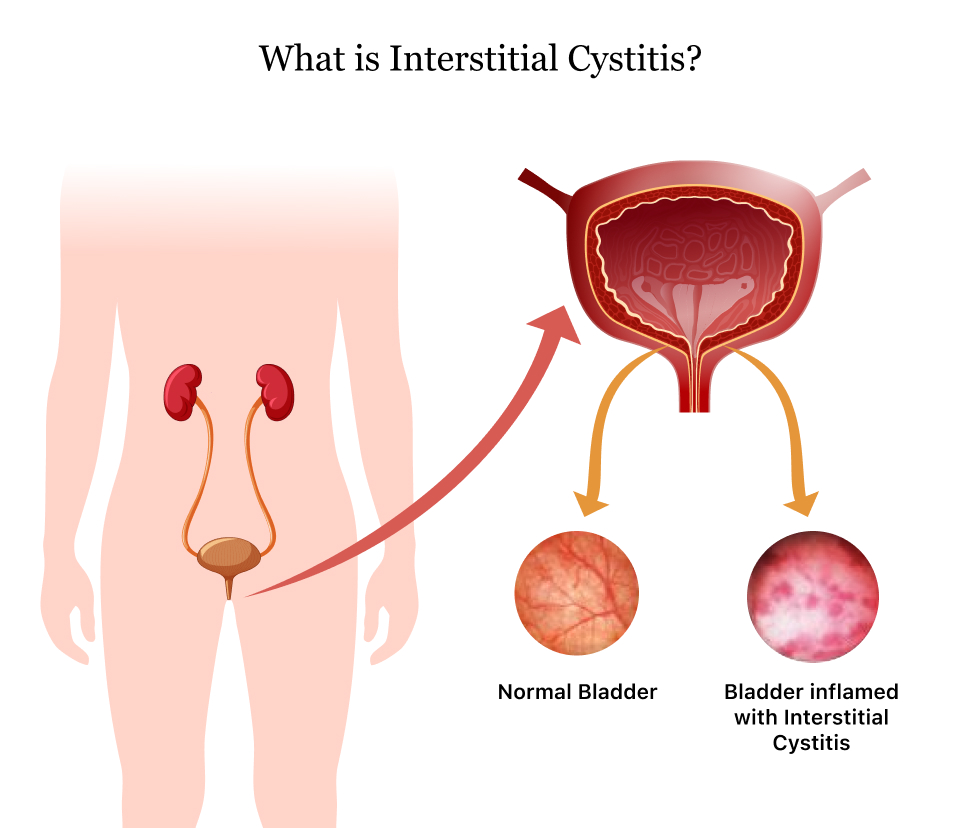 CYSTITIS AND ITS NATURAL MANAGEMENT
INTRODUCTION
Cystitis is a medical condition which is characterized by the inflammation of the urinary bladder. The urinary bladder becomes red and swollen. The inflammation occurs because of the infection of the urinary bladder which is caused by bacteria. This is called urinary tract infection. However, cystitis is also caused by certain drugs or use of radiation therapy. Pain and urgency to urinate even after emptying of bladder are some of the most common symptoms of cystitis. If the infection is not dealt properly, it can spread to kidneys causing serious health implications. It can affect people of all age groups but females are more prone to it.
The treatment of cystitis depends on the underlying cause. There are various medications available and surgery is required in rare cases.
WHAT ARE THE CAUSES OF CYSTITIS?
Cystitis is caused by the following factors:
Urinary tract infection: E.coli is the bacteria which enters the urinary tract from the outside environment through urethra and enters the urinary bladder.
Prolonged use of catheter
Certain medicines
Exposure to radiation
Spermicidal jellies
Bubble bath
Tight clothing
Hard stools
Use of barrier contraceptives such as contraceptives
Personal hygiene sprays
Sexual intercourse
Diabetes
Kidney stones
Prostate hypertrophy
RISK FACTORS OF CYSTITIS
Some factors make a person more prone to cystitis. Following are the risk factors of cystitis:
Sexually active persons are more prone
Pregnancy
Use of birth control measures
Hormonal changes such as menopause
Weakened immune system
Suffering from AIDS
Renal stone
Spinal injuries
SYMPTOMS ASSOCIATED WITH CYSTITIS
The symptoms of cystitis are different among different individuals. The intensity ranges from mild to severe. Following are the common signs and symptoms of cystitis:
Burning sensation during urination
Strong urge to urinate
Pain during passage of urine
Presence of blood in urine
Cloudy or turbid urine
Discomfort in urine
Frequent urination
Passing small amounts of urine
Heaviness in abdomen
Fever
Pain during sexual intercourse
Strong odor in urine
Feeling tired
Generalized body pain
HOW CYSTITIS CAN BE PREVENTED?
With some of the self-care measures, bladder infections can be prevented. Following are the precautions which need to be taken:
Drinking plenty of water
Urinate as a person feels urge to urinate
Wash genitals gently daily without using harsh soaps
Empty the bladder as soon as possible after sexual activity
Do not use deodorant sprays in genital area
Wipe from front to the back after passing stool as it prevents the spread of bacteria from anus to the vagina and urethra
AYURVEDIC APPROACH TO CYSTITIS
In Ayurveda, cystitis is called Mootrakriccha. Mootra means urine and kriccha difficulty, so mootrakriccha means difficulty in urination. In this, vata dosha gets vitiated. Apan vayu is a subtype of vata which resides in the pelvic portion and thus leads to urinary problems. Mootrakrichha is of different types depending on the type of dosha involved:
Vataja mootrakriccha
Pittaja mootrakriccha
Kaphaj mootrakriccha
Sannipattik mootrakriccha
Some of the herbs which are required for management of cystitis are:
Punarnava
Varun
Gokshur
Kanchnar
Amalaki
Haritaki
Marich
Haridra
CHANDIGARH AYURVED CENTER'S MEDICATIONS FOR THE TREATMENT OF CYSTITIS
Here are some of the medications of Chandigarh Ayurveda Center which are used for the treatment of cystitis: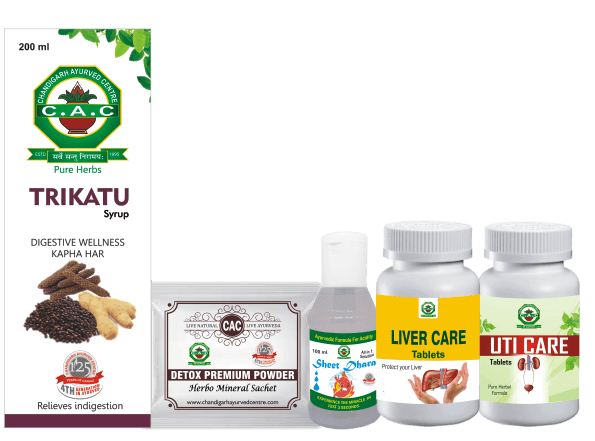 1. Liver Care Tablet
The Liver care tablet of CAC is a herbo mineral pure ayurvedic formulation. It mainly works in balancing pitta doshas. Liver care tablet consists of ingredients like Kalmegh (Andrographis paniculata), Kutaki(Picrorhiza kurroa), Bhumi amla( Phyllanthus niruri), Giloy(Tinospora Cordifolia), Yavakshar( Hordeum vulgare), Imli Kshar( Tamarindus indica), Mukta Shukta pisti etc. Its main function is to improve the circulation of blood. it works against burning sensation of urine, removes urinary infection and other inflammatory conditions.
Dosage: Take one tablet twice daily with plain water after a meal.
2. UTI Care Tablet
It's a 650 mg pure herbo mineral ayurvedic formulation. it treats the root cause of diseases without any side effects. along with the UTI problem it also treats problems related to kidney, urinary bladder, urethra and ureters. it consists of ingredients like Yavakshar (Hordeum vulgare)   -200 mg, Kalmi Shora (Potassium nitrate) -150 mg, Nuashadar (Ammonium chloride) -150 mg, Swarna Gairik (Red ochre) -150 mg. It removes the kidney stones, renal colic, painful micturition, hypertension, and burning sensation during the passage of urine. it has antioxidant and anti -inflammatory properties. also useful in dysuria, pelvic pain, urine incontinence, foul odor, etc.
Dosage: Take 1 tablet twice daily with plain water after meal.
3. Trikatu Syrup
Trikatu syrup is pure ayurvedic formulation comprises of mainly three herbs such as Pippali (Piper longum), Shunthi (Zingiber officinale), & Marich (Piper nigrum). the main function of trikatu syrup is it removes excess of Kapha doshas and supports the respiratory system, help to reduce body weight and hence detoxifies the body. it has anti-inflammatory , analgesic and antioxidant properties. It boosts metabolism and works in dysuria, painful micturition, and reduce inflammation of the kidney occurs due to any diseases. It is free from chemicals, additives, colors and fillers.
Dosage: Take 2 tsp twice daily before a meal.
4. Detox Premium Powder
It is purely a herbal formulation that helps to reduce inflammation and burning sensation caused due to UTI infection. It has an anti-inflammatory action. It also helps to remove toxins due to its antioxidant properties. It comprises of  Moti Pishti, Parwal Pishti, Shukta Pishti, Giloy Satav, Kamdudha Ras, Jahar Mohra, Akik Pishti, Gandhak Rasayan, Tal Sindoor, Shankh Bhasma, Sutshekhar Ras, Sudhyog Tab, Shwet Parpati, Yavakshaar. It has an antibacterial action and provides cooling and calming effect to the body.
Dosage:Take one sachet twice a day with normal plain water.
5. Sheet dhara
It is pure herbo mineral ayurvedic formulation which works on doshas of the body especially pitta  doshas. It mainly consists of herbs like Ajwaion, Kapur (camphor) and Mint leaves that provide a cooling effect and helps to reduce burning sensation during micturition. it also controls mood swings, bloating and nausea.
Dosage: Take 1/2 or 1 teaspoon of sheet dhara twice daily empty stomach.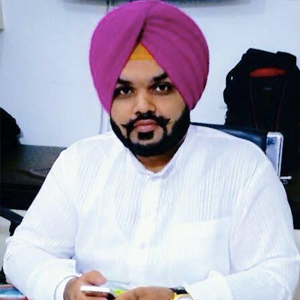 Vaidya Karanvir Singh is the younger Vaidya in Chandigarh Ayurved & Panchakarma Centre. He is the fourth generation in his family who is practicing as a general consultant in Ayurved & Panchakarma treatment at Chandigarh. In his practice, he had treated more than 1000 plus patients worldwide.
Article by Dr. Karanvir Singh (M.D in AYURVEDA, PANCHAKARMA FAGE) and reviewed by Vaidya Jagjit Singh (B.A.M.S)