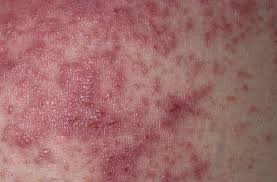 A chronic autoimmune skin disorder characterized by the development of pruritic papulovascular and bullous lesions in the elbows, knees, buttocks, and back. This is associated with increased expression of HLA-A1, HLA-B8, and HLA-DR3 antibodies.
Symptoms of Dermatitis Herpetiformis
Dermatitis herpetiformis is indicated by the following symptoms:
Extremely itchy bumps or blisters

Rashes

Itching

Scratch marks

Skin breakdown

Anemia
It is possible that the dermatitis herpetiformis shows no physical symptoms and is still present in a patient.
Common Causes of Dermatitis Herpetiformis
The following are the most common causes of dermatitis herpetiformis:
Autoimmune disorder

Environmental factors

Viral infection

Severe emotional stress
Risk factors of dermatitis herpetiformis
The following factors may increase your chances of dermatitis herpetiformis:
Family members with celiac disease or dermatitis herpetiformis

Type 1 diabetes

Down syndrome or Turner syndrome

Autoimmune thyroid disease

Microscopic colitis (lymphocytic or collagenous colitis)

Addison's disease

Rheumatoid arthritis
Treatment of dermatitis herpetiformis
No, it is not possible to prevent dermatitis herpetiformis.
Mutations in HLA-DQA1 and HLA-DQB1 genes
Presence of dermatitis herpetiformis
Very common> 10 million cases

Dermatitis herpetiformis can occur at any age.

Dermatitis herpetiformis can occur in any gender.
Laboratory Tests and Procedures for Diagnosing Dermatitis Herpetiformis
Physical examination: to examine the body for a rash or malnutrition and to examine the abdomen for pain and fullness

Blood test: to test for antibodies in the blood

Genetic testing: to check for specific gene changes

Intestinal biopsy: to confirm the presence of celiac disease in the body

Skin biopsy: examining skin tissue for antibodies
Yes, Dermatitis Herpetiformis can cause complications if it is not treated. Below is a list of the complications and problems that can arise from leaving Dermatitis Herpetiformis untreated:
Malnutrition

Loss of calcium and bone density

Infertility and Miscarriage


Lactose intolerance

Cancer

Neurological problems
Self-care for Dermatitis Herpetiformis
The following self-care actions or lifestyle changes may help with the treatment or management of dermatitis herpetiformis:
Gluten-free diet to improve cutaneous lesions in patients
The following actions may help patients with dermatitis herpetiformis:
Education: helps to cope with the disease

Find a support group: Helps you feel comfortable sharing experiences and struggles and meeting people facing similar challenges
AYURVEDIC MEDICINES FOR CANDIASIS BY CAC
Detox Premium Powder:
This is a herbo-mineral preparation that contains ingredients like Parwal Pishti, Giloy satv, Shukta Pishti, Kamdudha Ras, Gandhak Rasayan, etc.
Parwal Pishti: This Pishti reduces inflammation, flaking, itching of the skin. The Pishti is composed of natural coral calcium processed with rose water.
Shukta Pishti: It helps to balance the Pitta dosha in the body. All signs and symptoms related to Psoriasis patients are managed with this article.
Giloy Satv: This satv is prepared from the herb Giloy (Tinospora cordifolia). The anti-inflammatory, antioxidant, and analgesic properties of this herb deal with psoriasis easily.
Kamdudha Ras: This herbal-mineral classical preparation balances Pitta dosha in the body.
Gandhak Rasayana: This herbal preparation is used since ancient times for all types of skin disorders.
Tal Sindoor: It contains ingredients like Shuddh parad, Aloe vera, Gandhak, etc that relieve redness in psoriasis patients.
Akik Pishti: This Pishti reduces all types of Pitta related disorder hence it gives good results in psoriasis.
Recommended Dosage: Take 1 sachet twice daily with plain water.
Blood Purifier Syrup :
It is ayurvedic syrup that consists of various natural ingredients such as Khadir Chall (Acacia catechu), Manjistha (Rubia cordifolia), Neem (Azadirachta indica), Giloy (Tinospora cordifolia), Harad (Terminalia bellirica), Baheda (Terminalia chebula), Amla (Emblica officinalis), etc. As the syrup purifies the blood by removing excess toxins it is very beneficial in maintaining proper circulation and improves the skin naturally.
Recommended Dosage – Take 2 teaspoonful twice daily.
Skin Care Plus tablet:
skin care tablet is a pure ayurvedic formulation. It help to maintain the texture of your skin depending on the type of skin you have. It contains various herbs like Haridra khand, Panchnimb churna, Khadir chahal, Chirayta, Mulethi, Chopchini, Gandhak, Ajmoda that work very effectively on all skin types. Skin care is a blood purifying tablet. It cools and detoxifies the blood, increase blood circulation of the skin. It minimizes the blemishes, lighten sun tan, delay ageing of skin and heal skin problems.
Recommended Dosage: Take 1 tablet twice daily.
Panchatikta Ghrita Guggulu:
Panchatikta Ghrita Guggulu is an ayurvedic preparation mainly used for skin diseases. This tablet contains pure herbal ingredients such as Nimba(Azadirachta indica), Patola(Cucumis acutangulus), Guduchi(Tinospora cordifolia), Vasa(Adhatoda vasica), etc. This tablet promotes detoxification and rejuvenation. Panchatikta Ghrita Guggulu tablet is a natural source of anti – oxidant. It promotes engender vibrant and healthy skin.
Recommended Dosage–Take 1 tablets twice a day with normal water.
Twak tailam
CAC TWAK TAILAM is the herbal oil and is purely Ayurvedic preparation. CAC Twak Tailam provides relief from various skin problems such as pimples, blemishes, scars, ulcers, wounds, skin rashes, dry patches, itching, skin irritation, reduces redness, etc. It is composed of natural herbs that pacifies all three doshas and provides healthy skin. This oil is made up of pure herbs such as yashtimadhu (Glycyrrhiza glabra), manjistha (Rubia cordifolia). Twak tailam supports skin health, helps in reducing uneven pigments, delays the process of ageing, improves complexion, and helps in deep detoxification, blood purification without any side effects. This oil moisturizes your skin, and makes your skin spotless and glowing naturally. it is also used to treat skin infection, Candidiasis.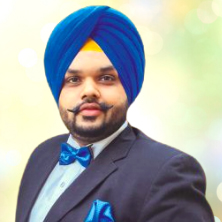 Dr. Vaidya Karanvir Singh is the younger Vaidya in Chandigarh Ayurved & Panchakarma Centre. He is the fourth generation in his family who is practicing as a general consultant in Ayurved & Panchakarma treatment at Chandigarh. In his practice, he had treated more than 1 Lakh Plus patients worldwide.
Article by Dr. Karanvir Singh (M.D in AYURVEDA, PANCHAKARMA FAGE) and reviewed by Vaidya Jagjit Singh (B.A.M.S)