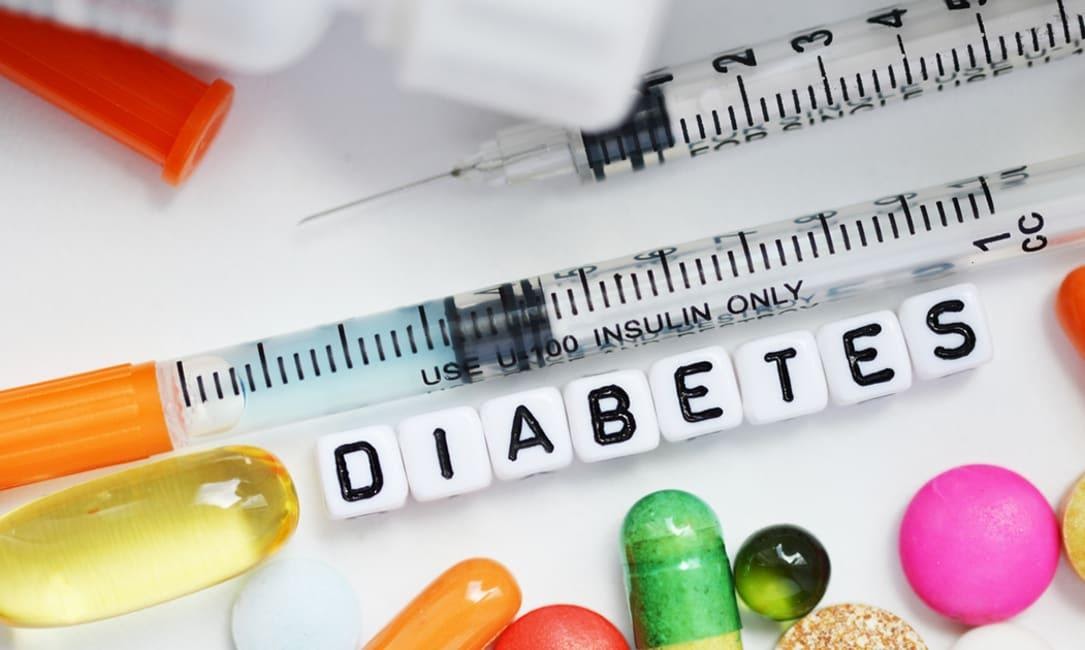 DEFINATION:-
Diabetes is a metabolic disorder that causes high blood glucose. The Insulin Hormone transfer sugar from the blood into body cells to use for energy or be stored. Due to the diabetes, the body doesn't make enough insulin in the pancreatic gland. Uncontrolled Blood glucose levels can damage the nerves, eyes, kidneys, and other organs of the body. 
TYPES OF DIABETES:-
There are a few different types of diabetes are mentioned below:-
TYPE 1 DIABETES:-

This is an Autoimmune Disorder. The immune system attacks and destroys the pancreatic cells, the gland where insulin is made. The 10% Patients are suffering from this type of Diabetes. 
TYPE 2 DIABETES:-

This type of Diabetes occurs when the body becomes resistant to Insulin and glucose builds up in the blood.
This occurs when the blood sugar levels is higher than the normal levels.
GESTATIONAL DIABETES:-

This is high blood glucose levels during pregnancy. This Diabetes is caused due to Insulin-blocking hormones produced by the placenta.
DIABETES INSIPIDUS:-

This is very rare condition in which the Kidney remove too much fluid from the body.
SIGN AND SYMPTOMS OF DIABETES:-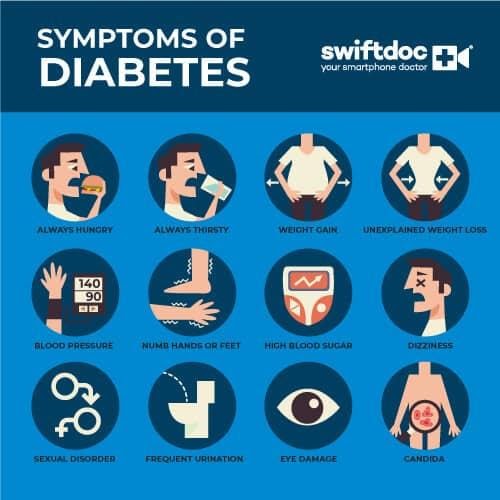 The Symptoms of Diabetes caused by rising blood Glucose levels. These symptoms are mentioned below:-
TYPE 1 DIABETES SYMPTOMS:- 
Polyphagia- Extreme Hunger

Polydipsia:- Increased Thirst

Poly Urea:- Frequent Urination 

Excessive weight loss

Weak Eyesight and blurry vision

Tiredness

Mood Swings 
TYPE 2 DIABETES SYMPTOMS:- 
Polyphagia- Increased hunger

Polydipsia- Increased thirst

Polyuria- Increased urination

Blurry vision

Fatigue and tiredness 

Sores are slow to heal in this condition 

Recurrent infections may occurs. This is due to elevated glucose levels.
GESTATIONAL DIABETES SYMPTOMS:- 
The condition detected during a routine blood glucose test or oral glucose tolerance. The test is usually performed between the 24th and 28th weeks of pregnancy.

In some cases, a woman with gestational diabetes may have the symptoms of Polydipsia or frequent urination.
SYPTOMES IN MEN
Decreased sex drive 

ED (Erectile Dysfunction)

Poor Muscle strength 
SYMPTOMS IN WOMEN 
Recurrent Urinary Tract Infections

Dry Skin

Itchy Skin 
GENERAL SYMPTOMS OF DIABETES:-  
The general symptoms of diabetes are following:-
Polyphagia:- In this condition there is increase in hunger of the patient

Polydipsia:- In this condition there is Increased thirst

Loss of Weight 

Frequent urination:- This may be due to recurrent UTI caused by increased blood glucose levels in the blood. 

Blurry vision

Weak Eyesight  

Excessive Fatigue 

Sores that do not heal 
CAUSES OF DIABETES
There are different causes of Diabetes are mentioned below according to its type:- 
CAUSES OF TYPE 1 DIABETES:- 
Weak immune system attacks and destroys beta cells of pancreas that producing insulin in the pancreas. 

Genetic cause:- Genes may play a role in some patients. 

Virus may also responsible for weak immune system and causes Diabetes.
CAUSES OF TYPE 2 DIABETES:- 
Genetic Cause:- This condition runs in the families 

Lifestyle Factors 

Obesity or Overweight 

Extra fat in Belly
CAUSES OF GESTATIONAL DIABETES:- 
Hormonal changes during pregnancy

In this condition the placenta produces hormones that make the cells less sensitive to the effects of insulin, in a pregnant woman. This condition can cause high blood glucose during pregnancy.

Women who are overweight when they get pregnant

Women who gain too much during their pregnancy. 

Environmental Factors

Genetic Factors 
RISK FACTORS OF DFIABETES:-
There are Certain factors that increase the risk for diabetes.
TYPE 1 DIABETES RISK FACTORS:-
The patient is more likely to get Type 1 Diabetes when He is a child or a teenager

If the patient's Parents or sibling have diabetes, means patient carry certain genes that are linked to the Diabetes disorder.
TYPE 2 DIABETES RISK FACTORS:- 
Obesity or Overweight

Age Factor:- If patient's age is 45 or older than that.

Genetic Factor:- When patient have a Parent or sibling with the condition of Diabetes. 

Laziness:- When patient is not physically active

If patient have past history of gestational diabetes

If patient has prediabetes history  

High blood pressure

High Cholesterol Levels

High Triglycerides 
GASTATIONAL DIABETES RISK FACTORS:- 
The risk for gestational diabetes increases, the causes are mentioned below:-
Obesity are overweight, it's a major factor which is responsible for gestational diabetes.  

When patient get over age 25

Past history of gestational diabetes during pregnancy

When patient given birth to a baby weighing more than 9 pounds.

When patient have family history of type 2 diabetes

If patient have PCOD/PCOS (Polycystic Ovarian Disease/Syndrome)

Preexisting medical conditions

Environmental Factors 
COMPLICATIONS OF DIABETES:-
There is some complications caused due to Diabetes are mentioned below:- 
High blood Glucose levels in blood can damages the organs and tissues throughout the body.

The higher blood sugar levels, is the greater risk for many complications in the body.

High Blood Glucose levels can cause heart Diseases 

Heart attack

Stroke

Neuropathy

Nephropathy

Retinopathy

Vision Loss

Hearing Loss

Sores that does not heal 

Foot Damage due to infections 

Bacterial and Fungal infections of skin 

Depression 

Dementia 
COMPLICATIONS OF GASTATIONAL DIABETES:- 
Uncontrolled Gestational diabetes can cause many problems that affect both the mother and baby. The complications are mentioned below:- 

Premature Birth of the baby

Baby's weight is higher than normal weight 

Increased risk for type 2 diabetes later in life of a baby

Low blood glucose levels

Jaundice 

Preeclampsia:- High blood pressure complication occurs to the mother

Mother may require Cesarean Section, due to the overweight of the baby.

The mother's risk of gestational diabetes are increased in future pregnancies.

Diabetes can lead to major medical complications.
DIABETES ACCORDING TO AYURVEDA
CHANDIGARH AYURVEDIC CENTER provides Purely Herbal and effective ayurvedic formulation for the treatment of Diabetes. CAC provides The DIABETES CARE KIT. This Herbal Kit basically controls the blood glucose levels in the blood. Diabetes Care Kit also helps to balance the Three Doshas of the body. This Kit mainly controls the Kapha Dosha (Increased Kapha Dosha is responsible for Diabetes).                  The Diabetes Care Kit contains various Herbal Medicines which helps to reduce Diabetes symptoms. It has Natural antioxidant, Anti microbial and Immuno modulator properties. This Herbal kit cure Diabetes without any side effects. 
The ingredients of this Kit are mentioned below:- 
Dalchini

Haldi

Kalizeeri

Aswhwagandha

Tulsi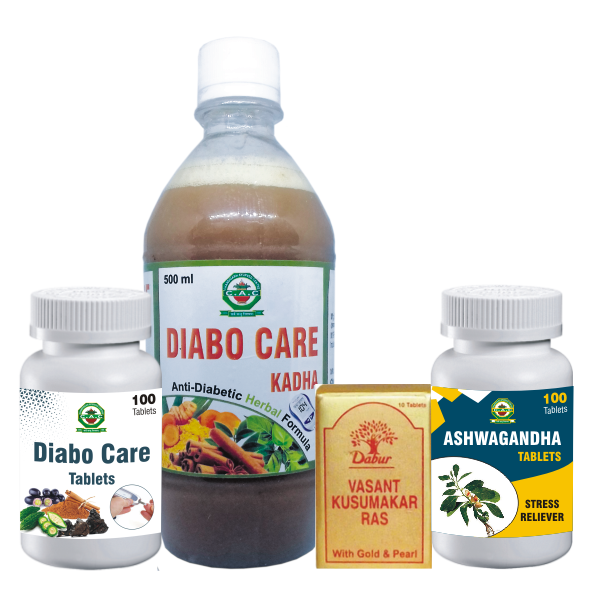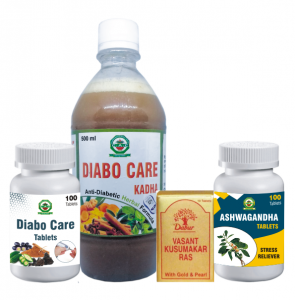 DIABETES MELLITUS CARE KIT
The Diabetes Care Kit products mentioned below in dfetails:-
VASANT KUSUMAKAR RASA:
Vasant Kusumakar Ras is an ayurvedic herbal medicine contains following ingridients:- 
Praval Pishti

Ras Sindoor

Mukta Pishti

Abhrak Bhasma

Swarna Bhasma

Raupya Bhasma 

Loha Bhasma

Naga Bhasma

Vanga Bhasma

Vasaka (Adhatoda Vasica)

Haldi (Curcuma Longa) 

Ikshu (Saccharum Officinarum) 

Shatavari (Asparagus Racemosa)
USES OF VASANT KUSUMAKAR RAS:- 
Anti-hyperglycaemic Properties

It contains aphrodisiac and cardioprotective agent

This contains natural ingredients such asIt, This is beneficial for diabetes mellitus 

It is effective for normalizing and stabilizing the blood glucose level

It also provides effective result in urinary disorders

This Used in nervous disorders

It gave relief in geriatric diseases.
Recommended Dosage: One tablet twice a day with normal water.
ASHWAGANDHA TABLET:-
These tablet are pure Herbal preparation which has pure extract of Ashwagandha. Ashwagandha has anti-diabetic, antioxidant, anti-inflammatory,  anti-cancer, anti-stress properties. Ashwagandha also helps to regulates glucose metabolism and cholesterol.
USES OF ASHWAGANDHA TABLET:- 
Ashwagandha is used for arthritis

Anxiety

Bipolar disorder

Insomnia

Tumors

Tuberculosis

Asthma

Leukoderma

Bronchitis

Backache 

Fibromyalgia

Menstrual problems

Chronic liver disease. 
Recommended Dosage: One tablet twice a day with normal water.
DIABO CARE TABLET:-
These tablets are pure Herbal formulation. 
Diabo care tablets contains herbal ingredients such as:-
Karela

Jamun 

Ashwagandgha

Gurmur

Shuddha Shilajeet

Neem
USES OF DIABOCARE TABLETS:- 
This is used to treat the Diabetes, by reducing the level of glycosuria. 

It also contains Polypeptide-p that has shown to control diabetes naturally.

This tablet also maintain blood glucose levels   
Recommended Dosage: Take One tablet twice daily.
DIABO CARE KADHA:-
Diabo care kadha contains following ingredients:- 
Dalchini (Cinnamomum zeylanicum)

Methi dana (Trigonella foenum- graecum)

Ashwagandha (Withania somnifera)

Haldi (Curcuma longa)
USES OF Diabo care kadha:- 
This increases the uptake of glucose by the cells

Regenerate lipid mechanism

Preventing micro-vascular damage 

Prevents Diabetic retinopathy. 

It is also very helpful in the burning of palms and soles, wounds that take time to heal

It cures skin infections

It helps in unexplained extreme fatigue
Recommended Dosage: 20 ml Kadha twice a day with normal water.
PANCHAKARMA TREATMENT OF DIABETES MELLITUS
In Ayurveda, Panchakarma procedures Detoxify and purify and the body in a natural way. Abhyanga, Swedan, Basti and Virechana Panchakarma Treatments are beneficial in the Diabetes Mellitus. 
CHANDIGARH AYURVED CENTRE provides you the best Doctors which can cure Diabetes from its root and maintain the work of the pancreas.

Abhyanga and Swedan Panchkarma Therapy:-
It helps to low the level of stress. 

It  lover blood sugar levels. 

Abhyanga is useful in relieving the Anxiety

 It helps in relaxing the muscles

It helps to improve the circulation which further causes increased glucose absorption and the level of insulin required for impaired glucose levels also decreased.
Swedan Panchkarma Therapy:-
This therapy opens the pores and cleanses the system through the skin

It also helps to remove the  toxins excreted through sweat.
Basti Panchkarma Therapy:- 
Basti karma concentrates on the elimination of toxins of the body through the rectum.

The treatment involves the introduction of Medicinal substances, such as medicated oil and decoctions in a liquid medium into the anal region of the patient by using a rubber catheter under the supervision of an expert ayurvedic practician.
It is a medicated purgation therapy that removes toxins from the body that are accumulated in the liver and gallbladder.

In this therapy the Doshas are removed in the form of feces through the rectum. 

It completely cleanses the gastro intestinal tract.
Healthy Tips and Diet for Diabetes Mellitus Patients:-
Do daily exercise at least for 30-60 minutes.

Increase the use of wheat, barely, mudga, and roasted chana in the diet.

Limit the use of potato, oily foods, rice, milk, and milk products.

Avoid liquor consumption and tobacco.

Avoid Sweets 

Avoid Nuts

Take Cinnamon, It helps in dropping the blood sugar level and reducing the risk of developing type 2 diabetes.

Take Garlic, It has the properties of lowering cholesterol and blood sugar level.

Drinking water before eating. It helps to increase the sensitivity of insulin and reducing the  blood glucose levels in pre-diabetes patients.

Regular monitoring of blood glucose level and medical checkup.

Eye examination annually.

Foot examination twice in a day.

Glycosylated hemoglobin (HbA1c) test twice in a year.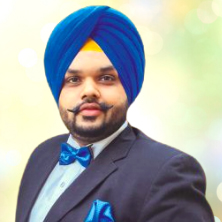 Dr. Vaidya Karanvir Singh is the younger Vaidya in Chandigarh Ayurved & Panchakarma Centre. He is the fourth generation in his family who is practicing as a general consultant in Ayurved & Panchakarma treatment at Chandigarh. In his practice, he had treated more than 1 Lakh Plus patients worldwide.
Article by Dr. Karanvir Singh (M.D in AYURVEDA, PANCHAKARMA FAGE) and reviewed by Vaidya Jagjit Singh (B.A.M.S)