Diet Chart for Cervical spondylitis
Cervical spondylitis is the natural wearing down of cartilage, disks, ligaments and bones in your neck. Main symptoms include neck pain or stiffness. Cervical spondylitis is a general term for age-related wear and tear in the cervical spine (neck) that can lead to neck pain, neck stiffness and other symptoms. Sometimes this condition is called arthritis or osteoarthritis of the neck.
We recommend you a diet rich in vitamins, minerals and antioxidant which is very helpful to control pain and inflammation.
| | Foods to be Consumed | Foods to be avoided |
| --- | --- | --- |
| Fruits | Apple, carrot, pomegranate, banana, papaya, pear, avocado, apricot, guava. | Orange, lime, and all citrus fruits |
| Vegetables | Garlic, bitter gourd, drumsticks, green leafy vegetables, spinach, beetroot, ginger, broccoli, kale, green coriander, onion, pumpkin . | Tomato, peas, eggplant, potato. |
| Grains | Soybean, whole grains, oats, brown rice, barley, wheat. | Bread, refined wheat products, white flour. |
| Legumes | Lentils, haricot beans, legumes . | Black gram |
| Spices | Ginger, turmeric, coriander, fennel, fenugreek, cumin, black p4epper, garlic. | Excess salt. |
| Oils | Olive oil, mustard oil, soybean oil, rice bran oil, almond oil, coconut oil. | Palm oil. |
| Nuts | Almonds, walnuts. | Peanuts, cashew |
| Dairy Product | Low fat milk, cow ghee. | Whole milk, cottage cheese, curd, buttermilk, yogurt, butter. |
| Beverage | Coconut water, herbal tea, beetroot juice, green tea, aloe vera juice, gooseberry juice. | Cream based liquors, canned soups, alcohol, carbonated drinks, and squashes. |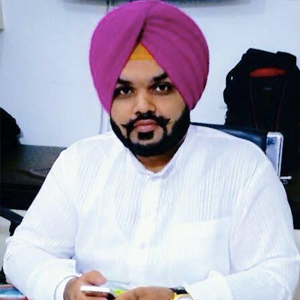 Vaidya Karanvir Singh is the younger Vaidya in Chandigarh Ayurved & Panchakarma Centre. He is the fourth generation in his family who is practicing as a general consultant in Ayurved & Panchakarma treatment at Chandigarh. In his practice, he had treated more than 1000 plus patients worldwide.
Article by Dr. Karanvir Singh (M.D in AYURVEDA, PANCHAKARMA FAGE) and reviewed by Vaidya Jagjit Singh (B.A.M.S)