DIET PLAN FOR COPD – CHRONIC OBSTRUCTIVE PULMONARY DISEASE
SUNDAY

Breakfast

(8:00 – 8:30AM)

Cottage Cheese sandwich (2 slice bread) + 1 cup skimmed milk.
Mid-Meal

(11:00 – 11:30AM)

1 cup boiled green gram sprouts
Lunch

(2:00 -2:30PM)

Veg pulav rice 1 cup + 1 cup Soya Chunk curry
Evening

(4:00 – 4:30PM)

1 cup Almond milk
Dinner

(8:00 – 8:30PM)

2 chapatti + Ladies finger sabji 1 cup

MONDAY

Breakfast

(8:00 – 8:30AM)

chappati-3+ Paneer sabji 1 cup
Mid-Meal

(11:00 – 11:30AM)

1 cup grilled vegetables with Cottage cheese.
Lunch

(2:00 – 2:30PM)

2 Roti+ Mushroom curry 1 cup + 1 cup moong dal
Evening

(4:00 – 4:30PM)

1 apple + 1/2 cup cottage cheese
Dinner

(8:00 – 8:30PM)

2 chapatti + Arhar dal 1 cup

TUESDAY

Breakfast

(8:00 – 8:30AM)

Soy flour Uthappam 2 + coconut chutney + 1 glass skim milk.
Mid-Meal

(11:00 – 11:30AM)

1 cup boiled black Chana
Lunch

(2:00 – 2:30PM)

1 cup rice + Kidney beans curry 1 cup + cucumber salad+ cottage cheese vegetable 1 cup.
Evening

(4:00 – 4:30PM)

Brown rice flakes Poha with nuts 1 cup
Dinner

(8:00 – 8:30PM)

2 paneer stuffed capsicum +2 chapatti

WEDNESDAY

Breakfast

(8:00 – 8:30AM)

Paneer Paratha 2 + 1 cup skim milk
Mid-Meal

(11:00 – 11:30AM)

1 cup grilled paneer
Lunch

(2:00 – 2:30PM)

2 chapati + Black eyed beans curry 1 cup + cucumber salad
Evening

(4:00 – 4:30PM)

1 cup soy milk
Dinner

(8:00 – 8:30PM)

Broken wheat upma 1 cup+ 1/2 cup green beans subji

THURSDAY

Breakfast

(8:00 – 8:30AM)

Mushroom Paratha 2 + 1 cup skim milk
Mid-Meal

(11:00 – 11:30AM)

1 cup boiled green gram sprouts
Lunch

(2:00 – 2:30PM)

1/2 cup rice + 1-2 chapatti + Chick peas spinach curry 1/2 cup + Snake guard sabji 1/2 cup
Evening

(4:00 – 4:30PM)

1 cup boiled channa
Dinner

(8:00 – 8:30PM)

2 chapatti+ 1 cup mix veg curry

FRIDAY

Breakfast

(8:00 – 8:30AM)

Moong dal Cheela with Paneer filling – 2 + 1 cup skim milk
Mid-Meal

(11:00 – 11:30AM)

1 cup boiled black Chana
Lunch

(2:00 – 2:30PM)

1 cup rice+ Soya chunk curry1/2 cup+ Ladies finger sabji 1/2 cup
Evening

(4:00 – 4:30PM)

1 glass almond milk
Dinner

(8:00 – 8:30PM)

2 chapatti + Ridge guard sabji 1 cup

SATURDAY

Breakfast

(8:00 – 8:30AM)

Wheat dosa-2 + Tofu curry 1 cup
Mid-Meal

(11:00 – 11:30AM)

1 cup grilled vegetables with Cottage cheese.
Lunch

(2:00 – 2:30PM)

1/2 cup rice+ 1-2 chapatti + Kidney beans curry 1/2 cup + Palak paneer sabji 1/2 cup
Evening

(4:00 – 4:30PM)

1 cup boiled black eye beans
Dinner

(8:00 – 8:30PM)

Broken wheat Upma 1 cup+ 1/2 cup green beans sabji
Do's and Don'ts
Do's:
Eat high carbohydrate meals every day to keep glycogen stores full 

Allow 3-4 hours digestion time for a large meal, 2-3 for smaller meal, 1-2 for blended or liquid meals and less than one hour for smaller snacks.
Don'ts:
Dehydrate ourselves with proper liquid intake.

Maintain proper balance between intake and output.

Balance protein and carb intake wisely.

Alcohol & smoking should be avoided totally.

Avoiding contact with others would prevent the spread of pathogens that cause other people to contract the disease as well.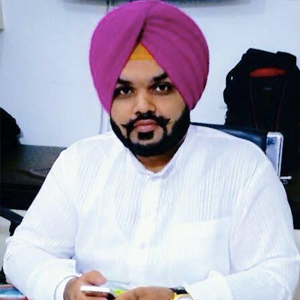 Vaidya Karanvir Singh is the younger Vaidya in Chandigarh Ayurved & Panchakarma Centre. He is the fourth generation in his family who is practicing as a general consultant in Ayurved & Panchakarma treatment at Chandigarh. In his practice, he had treated more than 1000 plus patients worldwide.
Article by Dr. Karanvir Singh (M.D in AYURVEDA, PANCHAKARMA FAGE) and reviewed by Vaidya Jagjit Singh (B.A.M.S)