Diet Chart for Dengue
When we heard about dengue fever it makes us scary as we lose whole energy and have a high-grade fever. Dengue fever is transmitted by a mosquito named as Aedes mosquito. It is a viral fever that is related to the viruses that cause yellow fever. Dengue fever can affect anyone but is more severe in people with compromised immunity.
This fever can be named with other names like dandy fever or breakbone fever. If you are having mild dengue fever it causes rash, muscle and joint pain, high fever. Severe dengue fever causes dengue hemorrhagic fever that causes a drop in blood pressure, severe bleeding, & sometimes death.
We recommend you a balanced diet rich in all nutrients and healthy foods to reduce the symptoms, increase platelets count and treat dengue.
| | Foods to be Consumed | Foods to be avoided |
| --- | --- | --- |
| Fruits | Papaya, pineapple, strawberry, guava, kiwi, pomegranate, apples, pears, banana, watermelon, muskmelon. | Citrus fruits, packaged fruits. |
| Vegetables | Spinach, papaya leaves, bottle gourd, potatoes, cabbage, pumpkin, round gourd, turnip, radish, broccoli, beetroot, mushroom, tomato, cucumber, onion, fenugreek leaves, carrot, kale, coriander leaves. | Red and green chilli, frozen vegetables, capsicum, okra. |
| Grains | Wheat, rice, oatmeal, millet, quinoa, semolina, barley. | Refined flour. |
| Legumes | Split pulses. | Dried and frozen pulses |
| Spices | Turmeric, cumin, carom, fennel, mint, coriander, fenugreek, salt in limited quantity. | Red chilli powder, clove. |
| Oils | Olive oil, flaxseed oil, mustard oil, soybean oil. | Coconut oil, palm oil. |
| Nuts | Almonds, raisins, walnut. | Peanuts, cashew. |
| Dairy Product | Goat milk, cow ghee. | Whole milk and cream, full fat yogurt, cream cheese, curd, buttermilk, condensed milk, butter. |
| Beverage | Coconut water, herbal tea, carrot juice, homemade vegetable soups, cucumber juice, pineapple juice, kiwi juice, pomegranate juice, Guava juice, papaya leaves juice, Amla juice, Aloe vera juice. | Coffee, tea, Alcohol, Carbonated drinks, canned fruit juices, lime water. |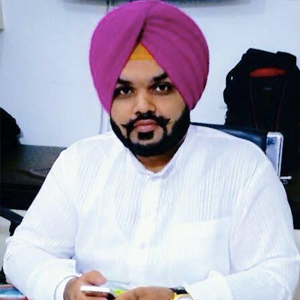 Vaidya Karanvir Singh is the younger Vaidya in Chandigarh Ayurved & Panchakarma Centre. He is the fourth generation in his family who is practicing as a general consultant in Ayurved & Panchakarma treatment at Chandigarh. In his practice, he had treated more than 1000 plus patients worldwide.
Article by Dr. Karanvir Singh (M.D in AYURVEDA, PANCHAKARMA FAGE) and reviewed by Vaidya Jagjit Singh (B.A.M.S)