Diet Chart for Eczema
Eczema is a condition that results in skin inflammation. This disease is characterized by itching, red skin, and rashes. In cases of short duration, there may be small blisters, while in long-term cases the skin may become thickened. The area of skin affected can vary from small to the whole body.
The itching can be especially bad, making it difficult to concentrate and sleep. It is also called atopic eczema or atopic dermatitis.
Various food items can aggravate the eczema; therefore it is important to know about diet. We recommend you a diet which helps to resolve this condition and prevents it.
| | Foods to be Consumed | Foods to be avoided |
| --- | --- | --- |
| Fruits | Apple, muskmelon, banana, cherry, watermelon, pear, peaches, avocado, papaya, pomegranate, apricot, blueberries. | Mango, kiwi, strawberry, citrus fruits like oranges, lemon . |
| Vegetables | Carrot, onion, ginger, beetroot, bitter gourd, mushroom, bottle gourd, kale, Brussels sprouts, lettuce, turnips, cucumber, pumpkin, spinach, potato, broccoli, drumstick. | Radish, eggplant, tomatoes, garlic. |
| Grains | Wheat, quinoa, rice, millet, barley, oats, corn, finger millet. | Refined flour, rye. |
| Legumes | Green gram, horse gram, chickpeas, red lentil, yellow lentil. | Black gram. |
| Spices | Cumin, ginger, fennel, peppers, turmeric, coriander. | Mustard, red chilli, nutmeg. |
| Oils | Mustard oil, Olive oil, rice bran oil. | Coconut oil, canola oil, palm oil. |
| Nuts | Almonds, walnuts, soaked raisins, flax seeds . | Peanuts, cashew, pistachios. |
| Dairy Product | Avoid dairy products, use ghee in limited quantity. | Condensed milk, cheese. |
| Beverage | Vegetables soups, coconut water, herbal tea, green tea. | Alcohol, packaged drinks, carbonated drinks, cream based drinks. |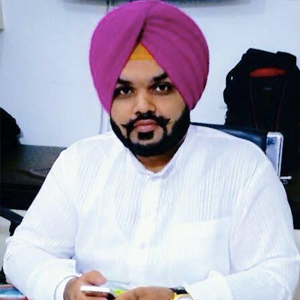 Vaidya Karanvir Singh is the younger Vaidya in Chandigarh Ayurved & Panchakarma Centre. He is the fourth generation in his family who is practicing as a general consultant in Ayurved & Panchakarma treatment at Chandigarh. In his practice, he had treated more than 1000 plus patients worldwide.
Article by Dr. Karanvir Singh (M.D in AYURVEDA, PANCHAKARMA FAGE) and reviewed by Vaidya Jagjit Singh (B.A.M.S)