Diet Chart for Hypertension
The unhealthy life-style and not getting proper sleep give birth to a silent killer known as Hypertension (High blood pressure). The normal blood pressure is the amount of blood your heart pumps but in high blood pressure the more blood is pumped through your heart that makes your arteries narrower. Nowadays the risk of high blood pressure is increasing people at the age of 18 are facing this issue. But mostly after the age of 45, people are facing this problem.
A good and nutritious diet plays a major role in the protection of heart. You can prevent this condition by adopting the foods which lowers blood pressure, decreases cholesterol, and help to manage the weight loss. Here we recommended some of the best foods that one must be followed by every individual to prevent from heart diseases.
| | Foods to be Consumed | Foods to be avoided |
| --- | --- | --- |
| Fruits | Blueberries, raspberries, strawberries, banana, pomegranates, avocado, sweet potatoes, kiwi, watermelon, apricots, dates, grapes, peaches, pineapple, raisins, oranges, mangoes. | Frozen fruits. |
| Vegetables | Leafy green vegetables like turnip greens, spinach, beet greens, broccoli, kale, swiss chard, garlic, tomatoes, potatoes, green peas, mushrooms, tuna , beans, cabbage, fennel. | Canned vegetable juices, bottled tomato products, baked vegetables. |
| Grains | Oatmeal, whole wheat bread, maize, barley, popcorn, unsalted pretzels. | White rice, white bread, corn bread. |
| Dairy Product | Skim milk, yogurt, dark chocolates, low- fat mayonnaise. | Salted snacks, whole milk products, butter. |
| Legumes | Chickpeas, Peas, Soybeans, Kidney beans, Yellow lentil, Pink lentil, Green gram. | White gram, black gram. |
| Nuts | Pistachios, unsalted almonds, peanuts, walnuts, sunflower, pumpkin, or squash seeds. | Cashews, Excessive peanuts |
| Oils | Olive oil, corn, canola, sunflower oil. | |
| Spices | Cinnamon, basil, thyme, Turmeric, Ginger, Coriander, Cinnamon, Cloves, Curry powder, Black pepper. | Excessive salt, red chillies. |
| Beverage | Fresh fruit juice, Lime juice, Beetroot juice, Green tea, Herbal tea. | Alcohol, tea, coffee, cold drinks, energy drinks. |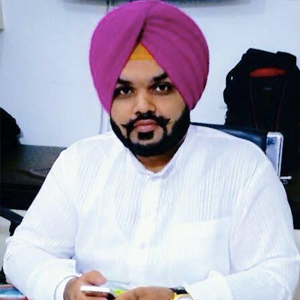 Vaidya Karanvir Singh is the younger Vaidya in Chandigarh Ayurved & Panchakarma Centre. He is the fourth generation in his family who is practicing as a general consultant in Ayurved & Panchakarma treatment at Chandigarh. In his practice, he had treated more than 1000 plus patients worldwide.
Article by Dr. Karanvir Singh (M.D in AYURVEDA, PANCHAKARMA FAGE) and reviewed by Vaidya Jagjit Singh (B.A.M.S)