Diet Chart for Lung Diseases
Lungs are the parts of Respiratory system that allow us to breathe. The respiratory system serves to provide oxygen to the blood. Nowadays, due to changes in the environment, the incidence of respiratory diseases is more. The excess amount of pollution disturbs the mechanism of lungs and causes asthma, lung cancer, obstructive pulmonary disease etc.
The right mixer of nutrients in your diet can help to ease out from various lung diseases. Eat a good source of nutrients that help to maintain the strength of respiratory muscles. We described some of the best nutritious diets which are very beneficial in curing and preventing lung diseases.
| | Foods to be Consumed | Foods to be avoided |
| --- | --- | --- |
| Fruits | Watermelon, Papaya, Sugarcane, Apple, Pear, Avocadoes, Pomegranate. | Oranges, Grapes, Berries, Pineapple, Peaches, Apricot, Berries, Banana, Citrus fruits. |
| Vegetables | Cabbage, Cauliflower, Broccoli, Onion, Sweet potatoes, Mushrooms, Pumpkin, Bell peppers Bottle gourd, Bitter gourd, Ridge gourd. | Beans, Potato, Taro roots, Cooked or canned vegetables. |
| Grains | Wheat, Oats, Soya grains, Brown rice, Whole grain pasta. | White flour bread, White rice, Refined white flour. |
| Dairy Product | Low-fat milk, Yogurt, Buttermilk. | Curd, High-fat milk, Cheese, Mayonnaise. |
| Legumes | Green gram, Bengal gram, Yellow lentil, Pink lentil, Black-eyed peas. | Chickpeas, Kidney beans, Black gram, White split gram. |
| Nuts | Soaked Almonds, Figs, Raisins, Walnuts. | Peanuts, Pistachios, Cashew nuts. |
| Oils | Olive oil, Flaxseed oil, Mustard oil. | Refined oils. |
| Spices | Turmeric, Garlic, Mint, Coriander, Cumin, Fenugreek, Fennel, Black pepper, Thyme. | Excessive salt, Red chili. |
| Beverage | Aloevera Juice, Green tea, Coconut water, Herbal tea. | Alcohol, Cold drinks, Excess coffee, Tea, Soda, Energy drinks. |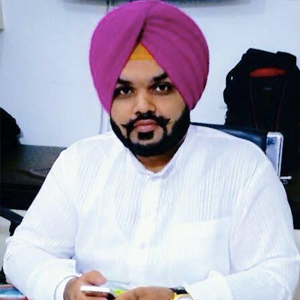 Vaidya Karanvir Singh is the younger Vaidya in Chandigarh Ayurved & Panchakarma Centre. He is the fourth generation in his family who is practicing as a general consultant in Ayurved & Panchakarma treatment at Chandigarh. In his practice, he had treated more than 1000 plus patients worldwide.
Article by Dr. Karanvir Singh (M.D in AYURVEDA, PANCHAKARMA FAGE) and reviewed by Vaidya Jagjit Singh (B.A.M.S)