Diet Chart for Ovarian Cyst
An ovarian cyst is described as a fluid-filled sac within the ovary. Occasionally they may produce lower back pain, abdominal pain, discomfort, bloating, etc.
Nowadays, the prevalence of this condition increases due to bad dietary habits and lifestyles. A healthy and nutritious diet, full of vitamins, carbohydrates, fibers plays an important role in the regulation level of hormones and boost immune system. We recommended the best diet chart through which you can prevent and control the symptoms of ovarian cyst.
| | Foods to be Consumed | Foods to be avoided |
| --- | --- | --- |
| Fruits | Banana, Coconut, Mango, Apples, Pear, Grapes, Pineapple, Papaya, Peach, Kiwi, Pomegranate, Cherries, Prunes. | Frozen/Canned fruits. |
| Vegetables | Cauliflower, Cabbage, Broccoli, Okra, Cucumber, Bottle gourd, Bitter gourd, Round gourd, Ridge gourd, Squash, Green beans, Potato, Pumpkin, Spinach, Fenugreek. | Overcooked/Frozen vegetables. |
| Grains | Wheat, Brown rice, Oatmeal, Barley, Oats, Whole grain, Rye, Corn. | White rice, Refined grains, White Bread. |
| Dairy Product | Buttermilk, Low-fat milk, Cow's ghee, Fresh yogurt, Curd, Egg white. | Ice cream, High-fat milk, Cheese, Butter, Mayonnaise. |
| Legumes | Yellow lentil, Pink lentil, Green gram, Black gram, Kidney bean, Chickpeas. | Black gram, Split white gram. |
| Nuts | Almonds, Walnuts, Flax seed, Figs, Pistachio, Cashew nuts. | None |
| Oils | Mustard oil, Olive oil, Coconut oil. | Soybeans oil, Sunflower oil. |
| Spices | Coriander, Turmeric, Cumin, Fennel seeds, Fenugreek seeds, Black pepper. | Excessive salt, Red chili. |
| Beverage | Coconut water, Orange juice, Aloe Vera juice, Dandelion tea, Chamomile tea, Green tea. | Alcohol, Coffee, Tea, Energy drinks, Carbonated drinks. |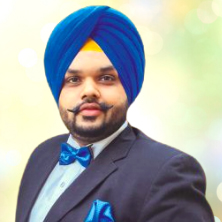 Dr. Vaidya Karanvir Singh is the younger Vaidya in Chandigarh Ayurved & Panchakarma Centre. He is the fourth generation in his family who is practicing as a general consultant in Ayurved & Panchakarma treatment at Chandigarh. In his practice, he had treated more than 1 Lakh Plus patients worldwide.
Article by Dr. Karanvir Singh (M.D in AYURVEDA, PANCHAKARMA FAGE) and reviewed by Vaidya Jagjit Singh (B.A.M.S)