Diet Chart for Pregnant Women
Pregnancy is the most important part of every women life. In this stage not only your body need proper nutrients but the fetus inside you also want nutrients from you for its proper development. So always try to eat a well-balanced diet instead of junk food items. You diet should include (vitamins, minerals, proteins, fats, & carbohydrates) as it is considered as a healthy & balanced diet.
| | Foods to be Consumed | Foods to be avoided |
| --- | --- | --- |
| Fruits | Apple, Peach, Pear, Melons, Pomegranate, Blueberries, Blackberries, Grapes, Amla, Kiwi, Strawberries, Banana. | Pineapple, Papaya, Mangoes (in limited quantity). |
| Vegetables | Bottle gourd, Ridge gourd, Coriander leaves, Broccoli, Cauliflower, Cabbage, Peas, Carrot, Beetroot, Spinach, Fenugreek, Basil, Mint, Pumpkin, Turnip, Radish, Garlic, Ginger, Onion. | Bitter gourd, Brinjal. |
| Grains | Wheat, Brown rice, Millet, Whole grain bread, Maize, Oats. | White bread, Refined grain, White rice. |
| Dairy Product | Cow's milk, Cow's ghee, Buttermilk, Almond milk, Tofu, Yogurt, Curd. | High-fat milk, Butter, Cheese, Mayonnaise. |
| Legumes | Yellow lentil, Pink lentil, Green gram, Chickpeas, Sprouts, Bengal gram, Black gram, White split lentil, Kidney beans. | None |
| Nuts | Soaked Almonds, Walnuts, Figs, Flax seeds, Raisins. | Dates, Peanuts, Cashew nuts, Pistachios. |
| Oils | Olive oil, Mustard oil, Coconut oil, Sunflower oil. | Sesame oil, Refined oil. |
| Spices | Cumin, Coriander, Turmeric, Carom seeds, Fenugreek, Black pepper. | Excessive salt, Red chili. |
| Beverage | Coconut water, Herbal tea, Fresh juices. | Tea, Coffee, Cold drinks, Alcohol, Energy drink. |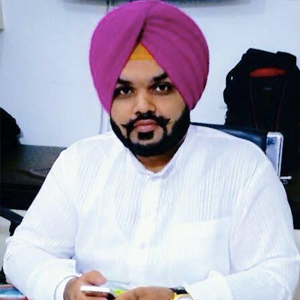 Vaidya Karanvir Singh is the younger Vaidya in Chandigarh Ayurved & Panchakarma Centre. He is the fourth generation in his family who is practicing as a general consultant in Ayurved & Panchakarma treatment at Chandigarh. In his practice, he had treated more than 1000 plus patients worldwide.
Article by Dr. Karanvir Singh (M.D in AYURVEDA, PANCHAKARMA FAGE) and reviewed by Vaidya Jagjit Singh (B.A.M.S)