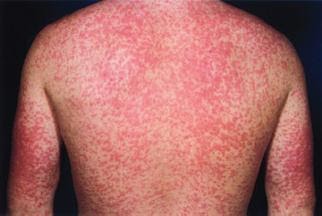 Drug Eruptions – Types, Symptoms, Treatment
What is a drug eruption?
Drug eruption is adverse drug reaction of the skin. Any kind of acute or sub-acute adverse cutaneous reactions to a drug or medicine include drug eruptions.
Drug eruption may range from unnoticed mild rash to severe cutaneous adverse reaction (SCAR) that may be life-threatening.
Types of drug eruption
There are many types of drug eruption . The most common drug eruptions include 
Morbilliform or exanthematous drug eruption

Urticaria and/or angioedema (which rarely leads to anaphylaxis).
SCARs are rare:
Drug hypersensitivity syndrome

Stevens–Johnson syndrome / toxic epidermal necrolysis (SJS/TEN).
Many other cutaneous adverse reactions include
:
Acute generalised exanthematous pustulosis (AGEP) (pustular psoriasis-like)

Serum sickness (urticaria, fever, arthralgia, lymphadenopathy)

Hypersensitivity vasculitis (palpable purpura)

Fixed drug eruption 

Lichenoid drug eruption  in which lichen planus-like reaction is seen.

Drug-induced sensitivity: Sunburn or eczema in sun exposed sites due to phototoxicity or photoallergy 

Bullous drug eruptions 

Lupus erythematosus that is induced by drug
Sometimes cutaneous drug eruption is another name used for drug eruption. Drug eruption  sometimes affects  hairs and nails also.
Some drugs can also cause drug eruption :
Skin pigmentation induced by drug

Skin problems which are not commonly caused by a drug For eg. Eczema triggered by retinoids ,  psoriasis triggered by lithium etc.

Systemic contact dermatitis

Allergic contact dermatitis and photocontact dermatitis

Hair loss or increase in hair (hypertrichosis)

Nail dystrophy , changes or pigmentation.
Some drugs that are commonly responsible for causing reactions, include
Hormones such as antiandrogens

Chemotherapy drugs

Anticoagulants

Topical and systemic corticosteroids

Calcineurin inhibitors

Epidermal growth factor inhibitors and targeted cancer therapies.
Who gets drug eruptions?
On average, new medications prescribed leads to a drug eruption in some people.

Allergic reactions to some drugs are more commonly seen in females than in males.

Genetic factors also play a role in causing drug eruptions. 

Various kinds of viral infections and diseases can influence reactions.

Any kind of allergic drug reaction that occur previously  or drug intolerance increases the risk of reaction to another drug. 

Cross-reactions can occur due to sensitivity to certain sunscreens, cosmetics, foods or insect bites.
Causative factors for drug eruptions
There are several factors that cause drug eruptions which are
True allergy: occur due to immunological mechanism

Immediate reactions occur within an hour of drug exposure and are mediated by IgE antibodies (urticaria, anaphylaxis).

Delayed reactions occur after 6 hours or after several weeks

of exposure to drug . They may be due to  IgG antibody, immune complex, or cytotoxic T cells.

Drug intolerance (i.e, dose-related reactions)

Pseudo allergy i.e. a reaction that is assumed to be an allergy but is actually occur due to release of mast cell mediators by the drug [opioids, NSAIDs].
What are the clinical features of drug eruptions?
Other symptoms that are seen in Drug eruption other than the allergic reaction are
Fever

Malaise

Involvement of other organs like in SCAR
Diagnosis of drug eruptions
Diagnosis of drug eruptions can be made by taking careful history and by doing general physical examination of patient.

Some investigations like blood test, liver function and kidney function test are helpful

Skin intradermal/prick tests are helpful to check immediate reactions to penicillin and few other drugs. 

Sometimes it become difficult to determine responsible drug for rash . As very few drug reactions have a confirmatory test.
Treatment options for drug eruptions
Most appropriate way to treat the condition is to detect and stop the responsible medication.

If rash or allergic reaction is severe   then use of systemic steroids for drug eruptions can be done. Topical use of corticosteroids is helpful and helps to reduce the symptoms.

Drug-induced urtic area can be treated with antihistamines.  
Prevention of drug eruptions
Drug eruptions are commonly due to antibiotics, so avoid use of antibiotics or use should be limited.

A medical record of drug allergies of patients should be maintained.  Patients should remain alert and should remind of their previous allergic reaction that occurred in past.
Chandigarh Ayurved centre provides effective Ayurvedic  treatment for drug eruptions . CAC provides a kit named 'Allergy care kit'. This kit contains medications that are very effective to treat any kind of allergic reaction. 
Description of medicines
Detox Premium Powder
The powder is very beneficial to cure any kind of body pain as it removes excess toxins from the body and balances the aggravated pitta and vata dosha. It consists of several herbs and bhasmas such as shukta pishti, giloy satv, parwal pishti, kamdudha rasa, moti pishti, gandhak rasayan, akik pishti, etc. The ingredients help in reducing swelling, redness, shrinkage of tear lining in the anus, burning sensation, etc.
Nerve up tablet
Nerve up tablets help in balancing the vata doshas. It reduces kapha dosha, and acts as nervine stimulant. It shows effective results in improving the central nervous system. It contains natural ingredients like shudha kuchala, shudha shilajeet, abhrak bhasma, praval pishti, shankh bhasma etc. This tablet helps in the symptoms related to Allergy.
Curcumin Capsule
Curcumin Capsule helps in pacifying all three doshas. Curcumin Capsule is beneficial for variety of skin conditions like Acne, Eczema, Psoriasis, and Dermatitis. This Capsule contains standardized extract of the herb Curcumin (Curcuma longa). Curcumin is the active ingredient in Turmeric having powerful Anti-inflammatory, Antibacterial, Antifungal, Anti-microbial and Antioxidant properties.
Amrit Tulsi Ras
This herbal preparation is in drops form prepared from five types of Tulsi. Shama Tulsi (Ocimum sanctum), Rama Tulsi (Ocimum gratissimum), Kapoor Tulsi (Ocimum canum), Shwet Tulsi (Ocimum basilicum), Nimba Tulsi (Ocimum citriodorum) that provides good result in all allergic reactions.
Immuno Booster Tablet
It is a pure herbal combination that helps to build up immunity. It consists of effective levels of antioxidants. vitamin C and E circulate in the body to protect it against the damage caused by free radicals. It has natural immunity-boosting properties to prevent and ease cough, cold, headache, and infections. it provides quick relief from early signs of running nose, itching throat, body ache, and weakness.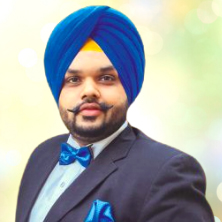 Dr. Vaidya Karanvir Singh is the younger Vaidya in Chandigarh Ayurved & Panchakarma Centre. He is the fourth generation in his family who is practicing as a general consultant in Ayurved & Panchakarma treatment at Chandigarh. In his practice, he had treated more than 1 Lakh Plus patients worldwide.
Article by Dr. Karanvir Singh (M.D in AYURVEDA, PANCHAKARMA FAGE) and reviewed by Vaidya Jagjit Singh (B.A.M.S)