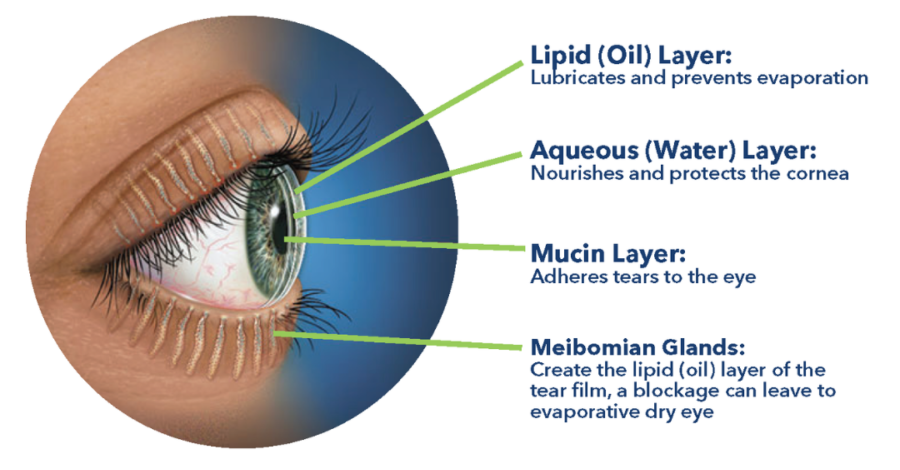 Dry eye is a condition  in which  occurs  there is inadequate tear volume or function resulting in an unstable tear film and ocular surface disease. Due to inadequate formation tears aren't able to provide adequate lubrication to eyes and nourish them.
ABOUT TEAR FILM
Tear film consists of three layers. Each layer must function optimally to  form adequate  tears and avoid dry eye disease.
Mucus layer. – Innermost layer of the tear film.

Aqueous layer:  Intermediate layer consists of tears secreted by the main and accessory lacrimal glands

Lipid  layer:  This is the outermost layer of tear film.
Functions of tear film
Keeps the cornea and conjunctiva moist

It provides oxygen to the corneal epithelium. 

Washes away debris and other irritants.

 Facilitates movements of the lids over the globe.
Dry  eye is mainly co-related with 
  Keratoconjunctivitis sicca (KCS) refers to any eye with some degree of dryness 

  Xerophthalmia – commonly occurs due to  vitamin A deficiency.

  Xerosis is the extreme dryness of eyes, occur in advance conditions.
 TYPES OF DRY EYE
Water or aqueous deficiency occurs when the lacrimal glands do not produce enough of the watery part of the tears.

Oil deficiency or Meibomian Gland Dysfunction (MGD) occurs when the outer oily layer of tears is deficient and evaporation of tears occurs as soon as you make them.
CAUSES  OF  DRY EYE
Age and gender are the most common causes, since patients, especially women, and especially women over 50, tend to produce fewer tears

Diseases of the eyelid, such as 

blepharitis

 and Meibomian Gland Dysfunction can allow tears to evaporate too quickly.

Systemic diseases such as Parkinson's, lupus, Sjogren's Syndrome, and rheumatoid arthritis can be associated with dry eye.

Dry eyes can be caused by certain medications, such as tranquilizers and those for high blood pressure.

Contact lens wear can cause dry eye, especially with weekly or monthly lenses that may become coated despite cleaning and disinfecting. Exposure is another common cause of dry eye.
CLINICAL  FEATURES
Feeling of dryness

Itching in eyes

Irritation 

foreign body sensation

Non specific  discomfort in eyes

Photosensitivity

Redness in eyes
HOW IS DRY EYE TREATED
Treatment depend  upon the causes of dry eye. Cause of dry is diagnosed by taking proper history of patient , physical examination of eye and by investigations .
TREATMENT INCLUDES 
– Tear supplements –  Most available tear drop contains either cellulose derivatives (  methyl cellulose ) or polyvinyl alcohol  available in drop , ointment.
–  Topical cyclosporine (0.05% , 0.1% ) : reduces cell mediated inflammation of lacrymal tissues 
– Preserving the existing tears : reducing the evaporation, avoid the hot and dry climatic conditions .
– Vitamin A supplements.
Diagnosis & Ayurvedic Treatment for Dry Eyes
Shushka Akshipaka is the diseases mentioned in Ayurveda co-related with Dry eye. Shushka akshipak is mentioned under sarvagat netra vikar by the acharayas. These comprise different symptoms based on the disturbances of Vata, Pitta, and Kapha doshas. Vata-Pitta/Rakta vitation in shushkaksipaka is the basic pathology due to disturbed system biology which needs a holistic approach to deal with the problem.
Panchkarma procedures that are commonly used in dry eyes are-
 AKSHI TARPAN
–
In this process the eye is filled upon with medicated oil or ghee for a certain period of time.
 ASCHYOTANA – 
It is the instillation of the drug in the form of drops into the eyes.
NETRA ANJANA
–
In this, medicines in the form of churna , gutika and raskriya applied to eyes.
Many others procedures like putpaka, vidalaka, seka are also mentioned but these are the most commonly procedures that are used for the treatment.
 DRY EYE  TREATMENT – AT CHANDIGARH AYURVEDA CENTRE
As dry eye treatment in Ayurveda focuses on both the cure and prevention of this disease. Treatment consists of several therapies with ayurvedic medicines.
CAC Provides you the Eye dryness care kit as solution to this 
problem.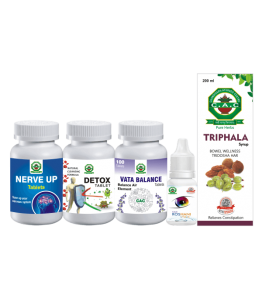 EYE DRYNESS CARE KIT 
This kit contains-
1.Nerve Up Tablet         –  1 tablet twice daily
2.Vata Balance Tablet  –  1 tablet twice daily
3.Detox Tablet                –  1 tablet twice daily
4.Triphla Syrup               –  1 tsf twice daily
5.Roshani Eye Drop       –  1 drop in each eye twice daily
Description of medicines
1. Nerve up tablets 
Nerve up tablet is purely ayurvedic formulation. CAC Nerve up tablets help in balancing mainly the vata dosh and acts as nervine stimulant. It contains natural ingredients which are used to pacify vataj disorders.
2. Detox tablets
 It consist of Parwal Pishti, Shukta Pishti, Giloy Satav, Kamdudha Ras, Jahar Mohra, Akik Pishti, Gandhak Rasayan, Shankh Bhasma, Sutshekhar Ras, Sudhyog Tab, Shwet Parpati, Yavakshaar which naturally help to detoxify your body.
3.Vata Tablet
Vata balance tablet is used to balance Vata doshas without aggravating Pitta or Kapha doshas. 
4.Triphla Syrup
Triphala Syrup contains herbs T. Chebula, T.bellirica rox, and E. officinalis. These ingredients helps to detoxify the body and have rejuvenating effect . Triphala Syrup is used to pacify all the tridosha .
5.Roshani Eye Drop
Roshani Eye Drop is pure Ayurvedic formulation used in problems like frequent travel, work on a computer, and lack of sleep, photosensitivity, irritation .This eye drop soothes up the eyes, prevents infections and improves vision. 
All the formulations used in this kit has made for the purpose of not only to treat the symptoms but curing the disease also. 
For more information visit our website 
https://www.chandigarhayurvedcentre.com/product/eye-dryness-care-kit/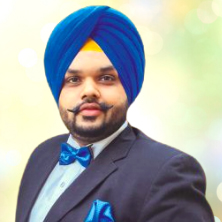 Dr. Vaidya Karanvir Singh is the younger Vaidya in Chandigarh Ayurved & Panchakarma Centre. He is the fourth generation in his family who is practicing as a general consultant in Ayurved & Panchakarma treatment at Chandigarh. In his practice, he had treated more than 1 Lakh Plus patients worldwide.
Article by Dr. Karanvir Singh (M.D in AYURVEDA, PANCHAKARMA FAGE) and reviewed by Vaidya Jagjit Singh (B.A.M.S)