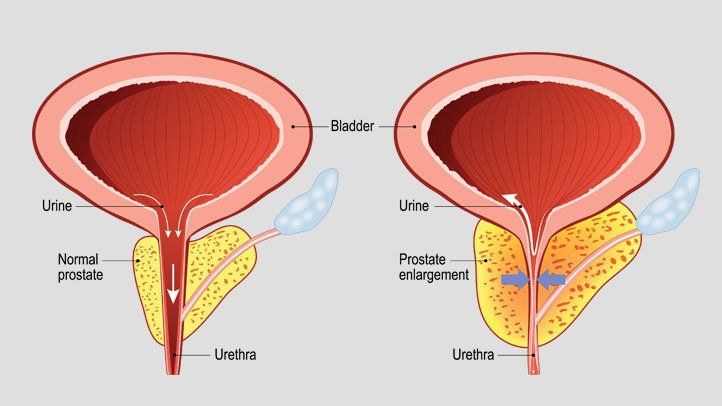 INTRODUCTION
Enlarged prostate gland is a male reproductive disorder in which the size of the prostate gland increases. It is also known as benign prostatic hyperplasia. Prostate gland is a male accessory gland which is present below the urinary bladder and in front of rectum. It is of the size of a walnut and is present around the urethra. It mostly occurs in aged men. Difficulty in urination, urgency to urinate and feeling of heaviness in lower abdomen are some of the most common symptoms of an enlarged prostate.
Benign prostate hyperplasia is not cancerous but if not managed at time, it can lead to serious health implications. There are some oral medications and surgery which is beneficial for its treatment.
WHAT ARE THE CAUSES OF ENLARGED PROSTATE GLAND?
There has not been found exact cause of enlargement of prostate gland. But it is believed to be due to changes in sex hormones with increasing age. This leads to abnormal growth of prostate gland leading to formation of tumor. Urethra is a tube which carries urine and ejaculation out from the body. When the prostate gland gets enlarged, it causes blockage of the urinary tract and thus leads to obstruction in urinary flow.
The several causes which are responsible for enlarged prostate gland are:
Inflammation of prostate gland
Infection of urinary tract
Presence of stones in urinary bladder or kidneys
Narrowing of the urethra
Scarring of neck of urinary bladder due to any surgery
Nervous problem
Certain medications like anti-depressants, painkillers, etc
WHAT ARE THE RISK FACTORS OF ENLARGED PROSTATE GLAND?
Following are the factors which make a person more prone to prostatomegaly:
Having a genetic predisposition to enlarged prostate
Increasing age, mostly above 50 years
Suffering from diabetes
Heart problems
No physical exercise
Increased body weight
WHAT ARE THE SIGNS AND SYMPTOMS OF BENIGN PROSTATIC HYPERPLASIA?
Following are the common signs and symptoms of benign prostatic hyperplasia:
Urgent need to urinate
Dribbling of urine
Urinary incontinence
Increased urination at night
Inability to completely empty the bladder
Pain during urination or ejaculation
Weak stream of urine
Presence of blood in urine
Odor in urine
WHAT ARE THE COMPLICATIONS WHICH ARISE WITH ENLARGED PROSTATE GLAND?
Following are the complications which are associated with enlarged prostate gland:
Stones in urinary bladder
Retention of urine in bladder
Urinary tract infections
Damage to the urinary bladder
Kidney damage
MANAGEMENT OF BENIGN PROSTATIC HYPERPLASIA WITH THE MEDICATIONS OF CHANDIGARH AYURVED CENTRE
Here are some of the medications of Chandigarh Ayurved centre which are used for the treatment of enlarged prostate gland:
1. Detox Premium Powder
Detox premium powder is made up of natural herbs and bhasmas like iloy satav, gandhak rasayan, tal sindoor, shankh bhasma, moti pishti, akik pishti, etc. The powder relieves the burning sensation, irritation, discomfort, and normalizes the aggravation of the pitta dosha.
Recommended Dosage– Take 1 sachet twice daily with normal water.
2. Trikatu Syrup
Trikatu syrup is widely used to balance the aggravated Tridosha and mainly composed of Ginger (Zingiber officinale), Pippali (Piper longum), and Maricha (Piper nigrum). The ingredients used in the formation of the syrup reduce the symptoms and prevent further enlargement of the gland.
Recommended Dosage– Take 2 teaspoonfuls thrice daily.
3. UTI Care Tablets
UTI Care Tablet is an herbal formulation of Sajjakshar (Bergenia lingulata), Gokshura (Tribulus terrestris), Punarnava (Boerhavia diffusa), etc. The capsule cures the flow of urine, relieves the burning sensation, swelling, pain, and discomfort.
Recommended Dosage– Take 1 Tablet twice daily with normal water.
4. Sheet Dhara Syrup
This is the ayurvedic formulation of Ajwain satv, Peppermint, and Mushak kapoor that balances the vata and pitta dosha. The syrup has coolant properties thus it is very beneficial to cure abdominal pain, discomfort, and improves the metabolism of digestion.
Recommended Dosage– Take half teaspoonful of this syrup in half a cup of water. Drink this mixture twice daily on an empty stomach.
5. Panchasakar Churna
The churna has best results in the detoxification of excess toxins from the body and maintains the proper metabolism. It is made up of a total of 5 ingredients – Shunthi (Zingiber officinale), Haritaki (Terminalia chebula), Svaran patri (Cassia angustifolia), Shatapushpa (Foeniculum vulgare),Sauvarchala lavana (Rock salt). The powder reduces the inflammation, redness, relieves constipation, abdominal discomfort, etc. and also prevents it from re-occurring.
Recommended Dosage– Take 1 teaspoonful at bedtime with lukewarm water.
6. Kanchnaar guggulu
Kanchnaar guggulu has anti-bacterial, analgesic, anti-oxidant, anti-inflammatory properties that subside the symptoms of BPH quickly and is very beneficial for weight loss, any type of cyst, thyroid, etc. Each tablet consist of Amalaki (Emblica officinalis), Haritaki (Terminalia chebula), Elaichi (Elettaria cardamomum), Maricha (Piper longum), etc.
Recommended Dosage– Take 1 tablet twice daily with normal water.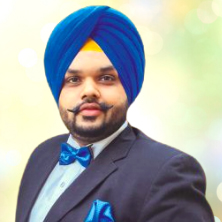 Dr. Vaidya Karanvir Singh is the younger Vaidya in Chandigarh Ayurved & Panchakarma Centre. He is the fourth generation in his family who is practicing as a general consultant in Ayurved & Panchakarma treatment at Chandigarh. In his practice, he had treated more than 1 Lakh Plus patients worldwide.
Article by Dr. Karanvir Singh (M.D in AYURVEDA, PANCHAKARMA FAGE) and reviewed by Vaidya Jagjit Singh (B.A.M.S)