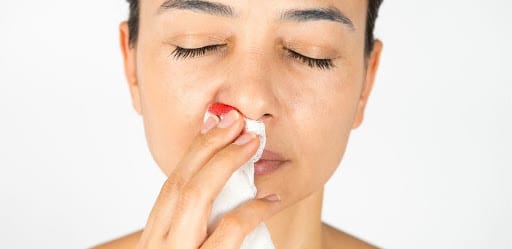 Epistaxis (Raktagata pitta)
Epistaxis likewise called intense discharge or nose drain is an ailment wherein draining happens from the nasal depression of the nostril. Nose drain can happen because of an injury to the nose, because of mishap, or injury to the inside of the nose from pricking. Nosebleed or epistaxis can be ordered by their site of start as front and back.
Raktapitta is a draining issue where in the blood vitiated by Pitta streams out of the hole of the body. Raktapitta is a specific sickness brought about by Raktava srotodusti. 
This drain may happen from urdvajatrugata angas like nose, mukha, karna or from descending Adhoangas, gudmarg, mutra marg, yonimarg and so forth.
Samprapti of Nasagata Raktapitta (Epistaxis)
Pitta aggrivated by the above said nidanas and leaves its site and reaches Rakta (blood).
⇓
Being a mala (side-effect) of Rakta, the Pitta on getting blended in with Rakta accomplishes quantitative increment.
⇓
The Pitta thusly vitiates the Rakta. Because of the warmth of Pitta, the drava dhatu or the fluid part (liquid) of different tissues like Mamsa (muscles) Meda (fat) and so on, overflows out of their individual tissues and gets blended in with Rakta.
⇓
Due to the pressing factor of the blood and warmth of Pitta, the dividers of the blood vessels get harmed and the blood begins coursing through different openings of the body.
⇓
Bleeding happens through mouth, nose.
Causes of Nasagat Raktapitta
Ahara:- 
Rasa – Excessive utilization of Diet that is Amla (harsh), Katu (sharp), Lavana (saline). 

Guna – Intake of inordinate Vidahi (Improper assimilation prompting consuming vibe of food), Tikshna (Sharp),Ushna (Hot), Kshara (Alkalis) 
Vihara:- 
Aatapa – Excessive openness to warm of sun 

Vaayama – Excessive actual exercise 

Vyavaaya – Excessive extravagance in 

sexual exercises 

Adhwa – Excessive strolling 
Manas:- 
Shoka – Excessive distress 

Kopa – Anger 
Other:- 
Symptoms of Epistaxis
There are going with side effects and signs that demonstrate a fundamental issue. These include: 
Diligent dry nose 

Regular nasal contaminations 

Stodgy nose and shaded seepage 

Itchy, watery eyes 

Failure to smell and loss of taste 

Troublesome breathing through the nose 

Mouth breathing, particularly around evening time
Management of Epistaxis
Santarpana/Apatarpana Chikitsa Mrudu, Sheetala, guna Ahara 

Madhura, Tikta, Kashaya Rasa Ahara Pradeha, Parisheka, Avagaha, Samsparshana and so on, outside coolants

Pratimargaharana Chikitsa 

For Urdhvaga RaktapittaKashaaya and Tikta Rasa are criteria.

Virechana ought to be given (us-ing Nishottara, Haritaki, Aragvadha, Indrayana etc.

In Urdhvaga Raktapitta – Tarpana ought to be given to start with.
Preventions
Try not to pick the nose. 

Apply greasing up ointment, for example, petrol jam (Vaseline), inside the nose; particularly in youngsters whose nosebleeds are most usually ascribed to crusting inside the nostrils. 

Try not to clean out the nose excessively hard, or too much of the time. 

Utilize a humidifier at high heights or in dry environments. 

To forestall repeating nosebleeds, keep away from effort or exhausting action for at least multi week after the past nosebleed.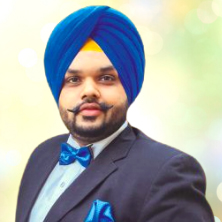 Dr. Vaidya Karanvir Singh is the younger Vaidya in Chandigarh Ayurved & Panchakarma Centre. He is the fourth generation in his family who is practicing as a general consultant in Ayurved & Panchakarma treatment at Chandigarh. In his practice, he had treated more than 1 Lakh Plus patients worldwide.
Article by Dr. Karanvir Singh (M.D in AYURVEDA, PANCHAKARMA FAGE) and reviewed by Vaidya Jagjit Singh (B.A.M.S)