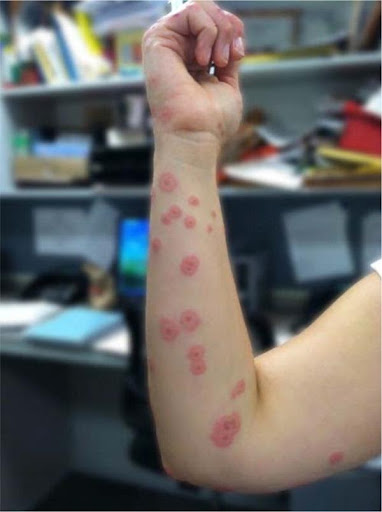 Erythema multiforme is a skin condition in which an immune reaction occurs that an infection or medication can trigger. In eryhthema multiforum the  "erythema" – means redness , "multi" – means many, and "forme" – means shapes and  which means in this condition red colored many rashes appears on the body .

Erythema multiforme can occur in any age. Its more prevalence is seen in men as compared to women. It is affecting five men for every one women.  20 % cases are seen in children. However, it is mainly seen  in young adults between the age of  20 and 40 years 
What is erythema multiforme?
Erythema multiforme (EM) is skin disorder in which rash appear usually caused by an infection or medication. 

Erythema multiforme is can be major or mild. In mild erythema multiforme usually skin rash appear and will resolve after a few weeks.  

Erythema multiforme major is a severe and life-threatening form of EM that may affect the mouth, eyes, and even genitals. 
Erythema multiforme is also known as 
Febrile mucocutaneous syndrome

Herper iris, eryhthema multiforme

Dermatostomatitis
Symptoms of erythema multiforme
The erythema multiforme rash
The EM rash can consist of many red colored  (bull's-eye pattern) lesions that develop within 24-hour period. These rashes start appearing on the backs of hands and tops of feet after that it spreads to the trunk. This rash may also appear on the face and neck. 
Erythema multiforme minor
In minor EM, there are rashes covering the affected area. In minor erythema minor rash will appear on both sides of the body. 
Erythema multiforme major
In cases of EM major, other symptoms that can be seen are
Generalized weakness

Pain in joints 

Brownish color to the rash once it fades
Erythema multiforme can also affect body's mucous membranes, most oftenly it includes the lips and interior of the cheeks. Sometimes  It can also affect the:
Bottom of the mouth, palate, and gums

Eyes

Genitals and anus

Digestive tract
Lesions in these areas are very painful and may cause swelling and redness with blisters. The blisters leave painful, large, irregularly shaped ulcers covered with a whitish membrane. This is worsened condition that if left untreated can cause severe skin issues. So it is very important to diagnose the condition timely and to take proper treatment.
Causes of erythema multiforme
Main causative factor that are responsible for erythema multiforme include 
Erythema multiforme is associated with the  herpes simplex virus

Many other infections stimulate the body's immune system to skin cells that leads to erythema multiforme 

Use of Certain medications can also develop erythema multiforme. These medications include
Non-steroidal anti-inflammatory drugs (NSAIDs)

Antibacterial drugs 

Penicillin and penicillin-based antibiotics

Seizure medications

Anesthesia drugs

Barbiturates
Diagnosis of multiforme erythema
Multiforme erythema can be diagnosed by taking history and by doing physical examination of patient . Erythema Multiforme can be diagnosed by observing the size, shape, color, and distribution of the developing lesions. 

Skin biopsy is very helpful to confirm the diagnosis and to exclude other possibilities. 

Various tests are useful to diagnose some infections commonly associated with erythema multiforme, like mycoplasma (a type of bacterial infection).
Treatment options for multiforme erythema
Both forms – major and minor forms of EM, the symptoms are treated with
Antihistamines

Pain relievers

Soothing ointments

Topical steroids
In severe cases of EM, careful wound care and Burrow or Domeboro solution dressings can be effective. Using a liquid antiseptic  solution will help to prevent infection and  treat the condition. 
If it is due to an infection
If an infection is the cause, then the appropriate treatment will depend on the results of cultures or blood tests. 
If it's due to medication
 Firstly, find out the medications that responsible for causing the symptoms. Then stop the medications with the advice of doctor. 
Complications of erythema multiforme
Complications of EM can include:
Permanent scarring

Permanent eye damage

Internal organ inflammation

Blood poisoning

Skin infections

Septic shock
Chandigarh Ayurved centre provides effective Ayurvedic  treatment for Erythema multiforme. CAC provides a kit named 'Skin care kit'. This kit contains medications that are very effective to treat this kind of skin condition. 
Description of medicines
Detox Premium Powder
The powder is very beneficial to cure any kind of body pain as it removes excess toxins from the body and balances the aggravated pitta and vata dosha. It consists of several herbs and bhasmas such as shukta pishti, giloy satv, parwal pishti, kamdudha rasa, moti pishti, gandhak rasayan, akik pishti, etc. The ingredients help in reducing swelling, redness, shrinkage of tear lining in the anus, burning sensation, etc.
Blood Purifier Syrup 
 It is ayurvedic syrup that consists of various natural ingredients such as Khadir Chall (Acacia catechu), Manjistha (Rubia cordifolia), Neem (Azadirachta indica), Giloy (Tinospora cordifolia), Harad (Terminalia bellirica), Baheda (Terminalia chebula), Amla (Emblica officinalis), etc. As the syrup purifies the blood by removing excess toxins it is very beneficial in maintaining proper circulation and improves the skin naturally.
Skin Care Plus tablet
Skin care tablet is a pure ayurvedic formulation. It help to maintain the texture of your skin depending on the type of skin you have. It contains various herbs like Haridra khand, Panchnimb churna, Khadir chahal, Chirayta, Mulethi, Chopchini, Gandhak, Ajmoda that work very effectively on all skin types. Skin care is a blood purifying tablet. It cools and detoxifies the blood, increase blood circulation of the skin. It minimizes the blemishes, lighten sun tan, delay ageing of skin and heal skin problems.
Panchatikta Ghrita Guggulu
Panchatikta Ghrita Guggulu is an ayurvedic preparation mainly used for skin diseases. This tablet contains pure herbal ingredients such as Nimba(Azadirachta indica), Patola(Cucumis acutangulus), Guduchi(Tinospora cordifolia), Vasa(Adhatoda vasica), etc. This tablet promotes detoxification and rejuvenation. Panchatikta Ghrita Guggulu tablet is a natural source of anti – oxidant. It promotes engender vibrant and healthy skin.
Strawberry Face Cream
Strawberry face cream is pure herbal cream which gives you glowing complexion without any side effects. This face cream Delays ageing, eliminates dead skin cells, cleanses the skin, improves complexion, and even tones your skin. The antioxidants present in strawberries delay the signs of aging like wrinkles and sagging skin. The Vitamin C fights free radicals that cause damage to cells and collagen resulting in fine lines. Vitamin C in strawberries is essential for the production of collagen, which improves the skin's elasticity.
Skin care kit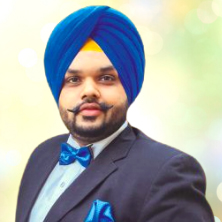 Dr. Vaidya Karanvir Singh is the younger Vaidya in Chandigarh Ayurved & Panchakarma Centre. He is the fourth generation in his family who is practicing as a general consultant in Ayurved & Panchakarma treatment at Chandigarh. In his practice, he had treated more than 1 Lakh Plus patients worldwide.
Article by Dr. Karanvir Singh (M.D in AYURVEDA, PANCHAKARMA FAGE) and reviewed by Vaidya Jagjit Singh (B.A.M.S)