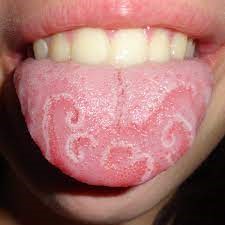 Geographic tongue is a benign or harmless condition. It is termed as Geographic tongue as in this condition the tongue of the individual appears like a map-like, or geographic appearance.
It is an inflammatory condition that causes smooth, red, irregularly shaped patches to form on the tongue. These patches usually have a raised white border. The patches can disappear and reappear and may move from one part of the tongue to another. It may occur in any individual however, it is most common in individuals with psoriasis.
CAUSES OF GEOGRAPHIC TONGUE-
The cause of this problem is unknown. It is a form of inflammation and very common problem in individuals with the following conditions:
Psoriasis
Fissured tongue
Lichen planus
Vitamin B deficiency
What are the Symptoms of Geographic tongue?
This condition may look alarming but doesn't cause any health problems and it is not associated with infection or cancer.
Usually it is painless but sometimes may cause discomfort and increased sensitivity towards some substances.
Mild discomfort or pain, especially when the tongue come on contact with spicy or acidic foods, certain toothpaste or mouthwash, hot foods or liquids, and cigarettes or chewing tobacco
Smooth, red, irregular patches present on the tongue
Raised white borders around the patches
It may heal in one area of tongue and then migrate to the other part of the tongue so also termed as benign migratory glossitis.
A map-like appearance to the tongue
Absence of papillae, the tiny bumps that give the tongue its texture.
For how much time does it persists?
New patches may continue to form for up to a year Individual patches usually last for a couple days. The individual may experience recurring episodes of geographic tongue over many years. Contact your dentist or doctor if you have the following symptoms:
It the symptoms don't get better after a few weeks
Development of new symptoms or an increase in severity
Pain, burning, or blisters present on the tongue
Patches or blisters on other parts of your mouth
Difficulty breathing or swallowing
DIAGNOSIS-
Your doctor or dentist will visually examine your mouth to determine if you are experiencing geographic tongue.
Differential Diagnosis-
Lichen planus: An immune disorder that causes bumps, rashes, and blisters on different parts of the body.
Candidiasis: A fungal infection.
Leukoplakia: White patches in the mouth caused by long-term exposure to irritants such as tobacco and bad dental work.
What are the Risk Factors?
Individuals with the following conditions have a greater risk of developing geographic tongue:
Psoriasis
Fissured tongue
Lichen planus
Vitamin B deficiency
Is it a Medical Emergency??
No, Geographic tongue is not an Emergency condition.
It is a minor – although sometimes uncomfortable – condition.
If discomfort or excessive pain persists for more than10 days, it's always better to contact your doctor to make sure you don't have a more serious medical condition.
Treatments
This problem will usually disappear without any medical treatment. To relieve soreness the following medications might be prescribed by your doctor.
An anti-inflammatory steroid ointment or rinse
An antihistamine gel or rinse
Over-the-counter pain reliever medication.
Anti-inflammatory medications
Mouth rinses with a topical anesthetic or numbness providing medication
Topical corticosteroids
Zinc supplements
But, the above treatments have not been proven to be effective for everyone.
The geographic tongue usually gets better on its own within months, which may lead you to believe an unproven treatment has worked.
This condition may last for a year or more, though, and it may come back after a period of remission.
AYURVEDA AND GEOGRAPHIC TONGUE
Tongue is an important and delicate part of Gastro-intestinal tract and it reflects if your Digestion is going well or not. Ayurveda helps in relieving the symptoms associated with the Geographic tongue.
 Ayurveda Treatment comprises of the following-
Deepana- pachana- Medication which promotes digestion and Agni or Digestive fir
Purificatory or Shodhana Therapy and local therapy – Pratisarana, kavala or swishing the medicine inside your mouth, Gandush or oil pulling.
Dietary regimen- Intake of Laghu supachya aahara or light and easily digestable food items. For example- Avoid Dahi or cud, Avoid Kshira or milk and avoid of oily and spicy food items.
Lifestyle measures- Avoid divasvapna or sleeping during day time.
 CAC SPECIAL MEDICATION FOR GEOGRAPHIC TONGUE
Detox Premium Powder
Sheeta Dhara
Digestion support
Puran Pachak syrup
Manjisthadi churnam
Some Lifestyle Measures
Some lifestyle measures and remedies may help reduce any discomfort from geographic tongue:
Any irritating food should be avoided like Citric acid containing food items.
Avoid Alcoholic Drink or irritating substance or lozenges
Tobacco should be avoided as it may increase stinging and pain.
Avoid Hot or spicy foods
Acidic beverages and foods should be avoided.
Choose the right toothpaste, avoid the one containing tartar-control additives
Limit or avoid Heavy flavoring or whitening agents
Dried nuts, salty nuts may also cause discomfort.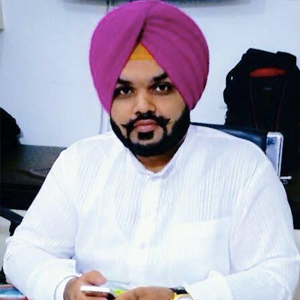 Vaidya Karanvir Singh is the younger Vaidya in Chandigarh Ayurved & Panchakarma Centre. He is the fourth generation in his family who is practicing as a general consultant in Ayurved & Panchakarma treatment at Chandigarh. In his practice, he had treated more than 1000 plus patients worldwide.
Article by Dr. Karanvir Singh (M.D in AYURVEDA, PANCHAKARMA FAGE) and reviewed by Vaidya Jagjit Singh (B.A.M.S)