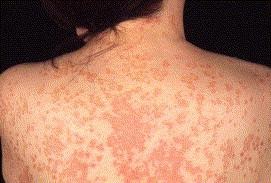 Granuloma Annulare – Causes, Symptoms and Treatment
What is granuloma annulare?
Granuloma annulare is a skin disorder that is mostly seen in children and young adults. This is a benign skin condition 

Granuloma annulare is a  chronic (long-lasting) skin condition  in which there is inflammation in the skin occur and  causes a raised, discolored rash or lumps under the skin. 

In most cases, rashes appear on the hands, feet and forearms.
Who develops granuloma annulare?
It can affect people of all ages. The more prevalence of granuloma annulare is seen in children and young adults, although it can affect people of all ages. Women are affected more often than men.
What are the types of granuloma annulare?
There are five main types that are noticed among individuals.  In some patients, more than one type of granuloma annulare can be present at the same time.
Localized granuloma annulare

: This is the most common form of granuloma annulare which is noticed in people. A circular rash appears on the skin in localized granuloma annulare that may begin as small circles that later merge together. Sometimes several small bumps are noticed on the skin before developing a rash. The areas are usually discolored. 

Generalized granuloma annulare

:  In this condition, occurrence of bumps is seen over a larger area, like the whole forearm, instead of in a smaller and rash is more concentrated. The bumps join to cover large area and cause discoloration.

Subcutaneous granuloma annulare

:

In This type of granuloma annulare lump formation occur under the skin. The lumps are commonly firm and round and not painful in nature. Lumps are usually small in these cases, lumps but they grow quickly. 

Perforating granuloma annulare:

In this Painful, scaly, small bumps seen on the hands and fingers. In some cases, itchy or painful bumps are seen and they leak fluid. 

Patch granuloma annulare:

In this condition Red colored, reddish-brown, or purple flat patches of rash form on the skin. 
SYMPTOMS AND CAUSES
Causes for granuloma annulare
The exact cause of granuloma annulare is not known yet. However immune system may play a role in the development of this condition. There are some factors that can trigger the condition these include-
Skin injuries  like insect bites or trauma

Certain medications, like allopurinol can also play a role in cuasing this condition.

Some immune-compromised conditions like human immunodeficiency virus (HIV) and hepatitis C.

Environmental trigger factors also contribute to this skin condition of granuloma annulare  for eg. Exposure to the sunlight for a long time.
What are the symptoms of granuloma annulare?
 Most commonly rash, lumps are noticed in people .Type, pattern of rash and lumps depends upon the type of the granuloma annulare . Sometime inflammation, pain and itching is also noticed among individuals. 
 DIAGNOSIS OF GRANULOMA ANNULARE
Diagnosis of granuloma annulare is made by taking proper medical history of patient and by doing visual examination of the skin. 

A dermatologist will help to diagnose the type of rashes, lesions or damage of any other part .Medical history may hold clues to support the diagnosis.

Skin biopsy may be helpful to confirm the diagnosis and rule out the other skin conditions.
MANAGEMENT AND TREATMENT
In most of the cases, granuloma annulare goes away on its own without any treatment. The condition usually disappears completely within two years. In some cases reoccurrence is seen.

In severe cases of granuloma annulare which affect the large areas of rash on your skin, or deep, large lumps under your skin then treatment is necessary. 

The purpose of treatment is to help control the severity of the condition and to control the itching or pain. 

Medications:

Certain drugs are helpful to treat the inflammation. Medications like strong corticosteroids, isotretinoin , or tacrolimus are effectively used to treat the condition . Medications can be used for local application i.e. applied directly to your skin or can be given as an injection. Drugs that are used to treat malaria help to reduce the occurrence of rashes on your skin.

PUVA therapy

: In this therapy, a drug named psoralen, that can be taken orally or can be given as a bath or soak after that exposure to UVA light is done. Psoralen makes your skin more sensitive to light. UV light help to slow down the growth of skin cells, which stop the further growth of granuloma annulare . PUVA therapy is also known as photo chemotherapy.

Cryotherapy:

In this therapy, affected portion of the skin is freeze by using specialized equipment. This treatment tries to stop the skin patches from continuing to grow.

Laser therapy

:  A special laser is used to target and to heat the skin. This is helpful to decrease inflammation in the skin and prevent further complications.
AYURVEDIC TREATMENT OF GRANULOMA ANNULARE
Chandigarh Ayurved centre

provides effective Ayurvedic  treatment for granuloma annulare  .

CAC

provides combination of medications that are very effective to treat this kind of skin condition.
Description of medications
Detox Premium Powder
The powder is very beneficial to cure any kind of body pain as it removes excess toxins from the body and balances the aggravated pitta and vata dosha. The ingredients help in reducing swelling, redness, shrinkage of tear lining in the anus, burning sensation, etc.
Blood Purifier Syrup:
The herbal syrup is prepared from herbs like Khadir Chall (Acacia catechu), Manjistha (Rubia cordifolia), Neem (Azadirachta indica) etc. that acts as a natural blood purifier. This herbal syrup reduces redness, itchiness, swelling on the skin.
Panchtikat Ghrit Guggul

:
This herbal preparation contain ingredients like Neem (Azadirachta indica), Patola (Trichosanthes dioica), Guduchi (Tinospora cordifolia), Vasa (Adhatoda vasica), Patha (Cissampelos pariera), Vidanga (Embelia ribes), etc that relieves all skin diseases. It balances Pitta & Kapha dosha in the body.
Twak churna:
Twak Churna balances all the three doshas of your body.  It help reduce Pigmentation of skin, MELASMA over face and Acne along with Urticaria, Cellulites and all kinds of Dermatitis. It contain ingredients like Yashtimadhu and Manjishtha that possess antioxidant, anti-fungal, anti-bacterial and anti-inflammatory properties.
Skin Care tablet:
Skin care tablet is herbo mineral and purely ayurvedic formulation. Skin care is a blood purifying tablet. It cools and detoxifies the blood, removes stagnant blood and dissolves obstructions in the blood flow that further increase blood circulation of the skin.
Twak Tailam
TWAK TAILAM is the herbal oil and is purely Ayurvedic preparation. CAC Twak Tailam provides relief from various skin problems such as pimples, blemishes, scars, ulcers, wounds, skin rashes, dry patches, itching, skin irritation, reduces redness, etc. It is composed of natural herbs that pacifies all three doshas and provides healthy skin. Twak tailam supports skin health, helps in reducing uneven pigments, delays the process of ageing, improves complexion, and helps in deep detoxification, blood purification without any side effects.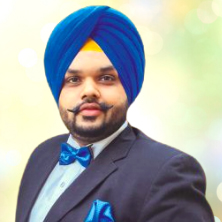 Dr. Vaidya Karanvir Singh is the younger Vaidya in Chandigarh Ayurved & Panchakarma Centre. He is the fourth generation in his family who is practicing as a general consultant in Ayurved & Panchakarma treatment at Chandigarh. In his practice, he had treated more than 1 Lakh Plus patients worldwide.
Article by Dr. Karanvir Singh (M.D in AYURVEDA, PANCHAKARMA FAGE) and reviewed by Vaidya Jagjit Singh (B.A.M.S)