Guttate Psoriasis – Cause, Clinical presentation and treatment
In guttate psoriasis, small, droplet or round spots called papules that are raised and sometimes scaly.
Who gets guttate psoriasis?
Guttate psoriasis can affect people of any age. But it is a young person's condition. It is seen commonly seen in   children, adolescents, and adults less than 30 years of age. Respiratory illnesses or viral infections are common triggers.
Clinical presentation of guttate psoriasis
In Guttate psoriasis spots aren't very thick as compared to plaque psoriasis, which causes raised lesions. Guttate spots are also small that have thin covering of flaky skin called scales.
Appearance of Guttate psoriasis lesions
Small in size

Red or dark pink in color

Different from each other

On the torso or limbs

Lesions are thinner than plaque psoriasis lesions
Like psoriasis, guttate psoriasis is also not contagious. It can't spread to others through skin-to-skin contact.
Guttate psoriasis may persist for whole life if not treated, or it may convert into plaque psoriasis.
Cause of guttate psoriasis
The exact cause of psoriasis is not known yet. However combination of genetic, environmental, and immune system factors may play a role in triggering this condition.
Other factors that may trigger this skin condition may include 
Any kind of  skin injury, like a cut, an insect bite, or a burn

Sunburn

Stress factor

Some medications, like antimalarial drugs and beta-blockers (drugs used to treat heart disorders)

Cigarette smoking
What are the stages of guttate psoriasis?
 There are mainly three stages of psoriasis, including guttate psoriasis. These stages are :
Mild

. In this condition, there are only lesions, which appear on your skin.

Moderate

. Lesions cover more area as compared to mild stage. 

Severe.

In this, lesions cover 10 percent or more of your body, sometimes the entire body.
Diagnosis of guttate psoriasis
Diagnosis of guttate psoriasis can be made by taking physical history and by doing a physical examination. 

Complete medical history is helpful to rule out other skin conditions. 

PASI score is helpful to diagnose the condition and severity of condition.

 

Skin biopsy is helpful to confirm the diagnose and eliminate other possible conditions of skin and to help determine the type of psoriasis.
Following skin conditions may be mistaken with guttate psoriasis:
Tinea corporis (ringworm of the body)

Secondary syphilis

Nummular eczema

Pityriasis rosea (Christmas tree rash)

Scarlet fever ras
Treatment options for guttate psoriasis
Treatments for guttate psoriasis depend upon to the severity of the condition. As in some mild cases, no treatment is needed. And in some cases it is seen that guttate psoriasis will clear up on its own within several weeks or months.
For treatment of psoriasis following options may be used.
Topical steroid treatments
This is the most common treatment that is used for psoriasis. Use of topical corticosteroids can help by reducing redness, itching, and inflammation.

Mild topical corticosteroids are helpful to treat the mild cases.

However, topical corticosteroids can be used on their own, but often they are used in combination with other treatments for moderate to severe cases. They can be applied once or twice per day. 
Topical nonsteroidal treatments
These are usually prescribed when topical steroids are not working for you. Topical non-steroidal contains- 
This is helpful for slow skin cell growth.
 Retinoids are a type of compound that contain vitamin A.         These help psoriasis by limiting the production of new skin cells and also help to reduce inflammation. 
OTC topical treatments
They are used to reduce symptoms. They're often used to reduce redness, soften lesions, or relieve itching

Main active ingredients in OTC products are salicylic acid and coal tar. Other products may contain ingredients like:
aloe vera

jojoba

zinc pyrithione

capsaicin
Other topical products like soaps, shampoos, and gels are also available to treat psoriasis.
Phototherapy
Phototherapy is used to treat moderate to severe cases, either alone or in combination with topical medications. 

In Phototherapy, there is regular exposure of the skin to ultraviolet (UV) light is done. 
Other medications
Other medications are helpful to treat severe or recurrent cases of guttate psoriasis or for cases that convert into plaque psoriasis. These medications require a doctor's prescription and include:
Cyclosporine and methotrexate
These acts as an immunosuppressant. These drugs work by suppressing your immune system and it is   used to treat severe psoriasis. 
Natural treatments or home remedies for guttate psoriasis
Sunlight.

  Regular exposure to sunlight for short periods of time, may help reduce your symptoms.

Bath salts

. Soaking in a bath with Dead Sea salts will help to reduce inflammation and wash away dead skin cells.

Coconut oil.

Coconut oil will help to soften the scales on your lesions and make it easier for topical medications to get to the skin below.

Vitamin D.

Vitamin D may help reduce inflammation and improve the health of your skin. It's usually applied topically.

Avoid using soaps and other cosmetics that may cause itching or can irritate the skin. 
Many lifestyle changes can help you to manage your guttate psoriasis. These include:
A nutritious diet.

Having nutritious food will help to reduce guttate psoriasis symptoms. 

Daily exercise.

It's important tofollow a proper regimen for exercise when you have psoriasis, especially for your cardiovascular health. 

Meditation or yoga.

Meditation or yoga are helpful to relax  your mind by reducing stress and overall good functioning of your body, that will help to reduce the symptoms, particularly itching.  These are helpful as stress is one of your psoriasis triggers.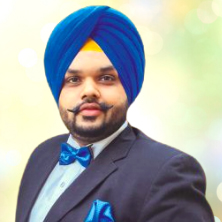 Dr. Vaidya Karanvir Singh is the younger Vaidya in Chandigarh Ayurved & Panchakarma Centre. He is the fourth generation in his family who is practicing as a general consultant in Ayurved & Panchakarma treatment at Chandigarh. In his practice, he had treated more than 1 Lakh Plus patients worldwide.
Article by Dr. Karanvir Singh (M.D in AYURVEDA, PANCHAKARMA FAGE) and reviewed by Vaidya Jagjit Singh (B.A.M.S)