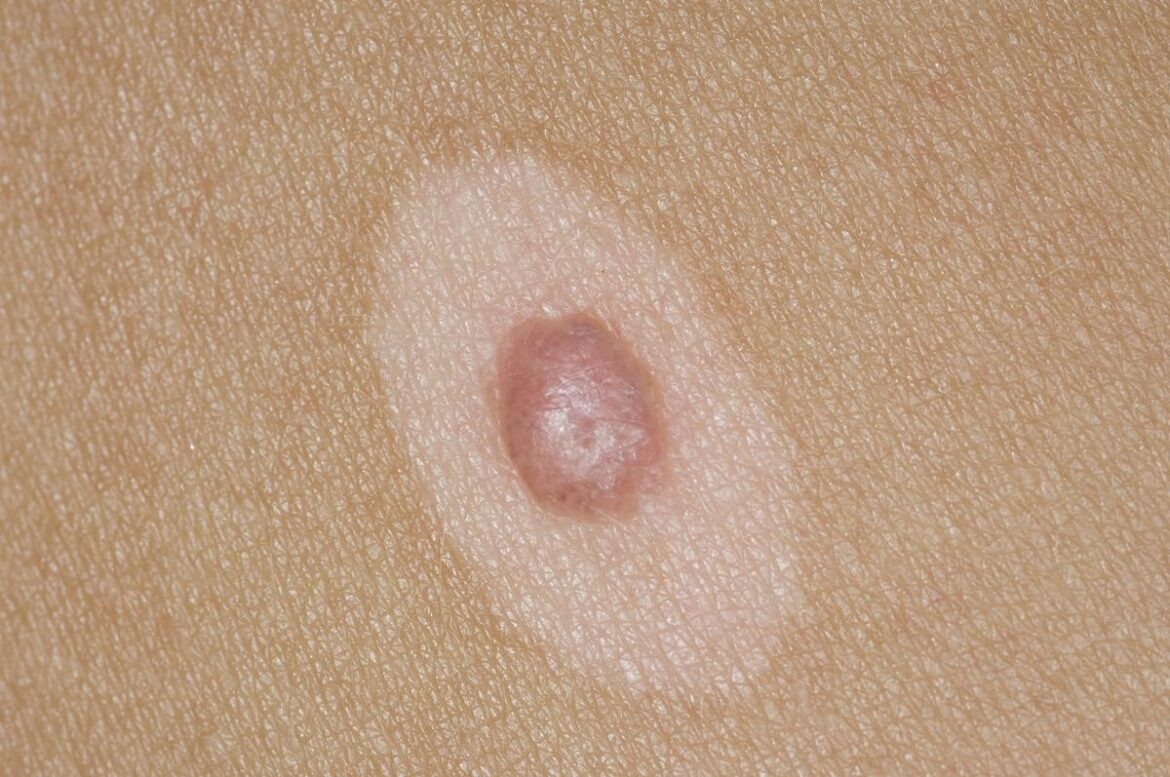 A halo nevus is a benign i.e. non-cancerous mole that is surrounded by a round or oval patch of depigmentation or skin without any pigmentation. Halo nevi most frequently appear on the back, chest, and abdomen. Halo nevi exist as a single lesion in 50% of cases, and multiple lesions are present in the remainder of cases. Halo nevi are usually asymptomatic.
Any individual can develop halo nevi. They present in up to 5% of Caucasian children between the ages 6 and 15. These nevi occur more frequently in those with an increased number of other types of nevi, as well as those with a personal or family history of vitiligo.
CAUSES OF HALO NEVUS
Halo nevi develop when your body attacks the pigment cells surrounding a mole. The trigger for this response is poorly understood, and is postulated to be associated with minor injury, sunburn.
WHAT ARE THE SYMPTOMS OF HALO NEVUS?
The following symptoms can be seen in Halo Nevus-
Brown or black mole
Round or oval patch of depigmentation
Asymptomatic
Stages of Halo nevus:
Halo Nevus can be divided into 4stages-
Stage 1: A pigmented (brown or black) nevus surrounded by a halo of depigmentation
Stage 2: A pink nevus surrounded by a halo of depigmentation
Stage 3: A circular area of depigmentation and the disappearance of the nevus
Stage 4: The skin resumes a normal appearance and the de-pigmented halo becomes re-pigmented.
Note: In some cases, the central nevus does not fade, and instead develops hyperpigmentation in a reticular pattern.
How long does it lasts?
Halo nevi gradually disappear after several months or years in most of the cases.
But in some individuals, it does not disappear.
The color of the nevus begins to fade, and the ring of depigmentation returns to its original color.
What is the Treatment of halo Nevus?
It does not require any treatment, unless removal is desired for cosmetic reasons.
However, a thorough screening for melanoma or family history of melanoma is recommended*. In addition, patients above the age of 40 with a new-onset halo nevus must be examined and followed for possible melanoma.
Recommendations at home
It is important to apply sunscreen to the halo of pigmentation, as this area of the skin is more prone to develop sun burns.
These medicine are prescribed for Halo Nevi-
Non-steroid anti-inflammatory creams – Tacrolimus and Pimecrolimus. Helps to re-color the area of depigmentation.
Steroid creams- Fluticasone- Prescribed if the area of depigmentation develops a sunburn.
Medical interventions
Periodic skin exams
Ultraviolet light therapy or excimer laser can recolor depigmented skin.
Surgical removal of the mole
Diagnosis-
It is usually diagnosed on the basis of visual appearance.
A dermatoscope may be used to examine the mole. A general physical examination is often performed to detect any other moles.
If you have a family history of skin cancer or this mole has an abnormal appearance, a biopsy may be taken.
Differential Diagnosis-
Cutaneous melanoma
Vitiligo (depigmented well defined patches on the body)
Molluscum contagiosum (a viral skin infection, there can be redness around it)
Regressing Solar lentigo
Atypical nevus (irregular color or border of a nevus)
Regressing Seborrheic keratosis Lichen sclerosus (shiny white atrophic plaques on the body or genital skin)
Home Remedies for Halo Nevus
If a person has problems of white stains, then fill the copper vessel with water at night and consume it in the morning.
Carrots, gourd and pulses should be consumed as much as possible, so that there is no lack of nutrients in the body. Eat two to four almonds daily.
Turmeric and Mustard Oil- A mixture made by mixing turmeric and mustard oil, the stain is reduced by applying the stained area.
How to use-
Take 1 spoon of turmeric powder.
Mix it in two spoons of mustard oil.
Now apply this paste on a place with white rashes and after keeping it for 15 minutes, wash the place with lukewarm water.
Do this three to four times a day for better result.
Turmeric-
Soak 1/2 kg turmeric in 8 liters of water overnight, soak it overnight in the morning after soaking overnight.
Heat until 1 liter is left. Add 1/2 liter mustard oil to it, after that keep cooking until 1/2 liter is left, this experiment provides benefit in white stains of the body.
This oil should be used both in the morning and evening.
Neem leaf and honey- It is very beneficial reducing white spots.
How to use-
Make a fresh copal paste of neem and put it in a sieve and extract its juice.
Mix one spoon honey in one tablespoon neem juice and drink it three times a day.
You can also use this mixture throughout your life.
Apart from this, make a paste by mixing a little water in two spoons of walnut powder.
Apply this paste on the stained area for 20 minutes. Do this three to four times a day.
Neem- Mixing coconut oil in neem oil and applying it on white stains is beneficial, using it daily for several months gives good results.
A person suffering from whitish discoloration of skin should eat vegetable of Bathua daily.
How to use-
Boil the bathua and wash its white stained area three to four times a day.
Take two cups of raw Bathua juice, mix half cup sesame oil in it and cook it on low flame when only oil remains, take it off and fill it in the vial.
Keep applying it continuously.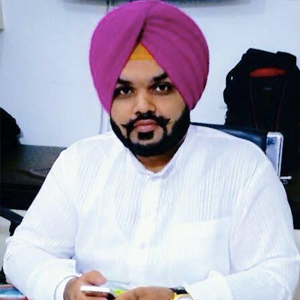 Vaidya Karanvir Singh is the younger Vaidya in Chandigarh Ayurved & Panchakarma Centre. He is the fourth generation in his family who is practicing as a general consultant in Ayurved & Panchakarma treatment at Chandigarh. In his practice, he had treated more than 1000 plus patients worldwide.
Article by Dr. Karanvir Singh (M.D in AYURVEDA, PANCHAKARMA FAGE) and reviewed by Vaidya Jagjit Singh (B.A.M.S)