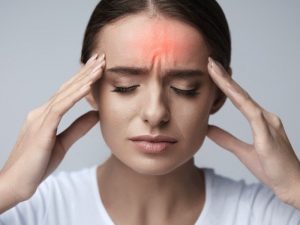 Headache is also known as cephalgia and is defined as persistent or lasting pain in the head region. The pain also radiates above the ears or eyes, behind the head (occipital), or in the back of the upper neck.
Mostly headache conditions are considered primary headache or secondary headache. Primary headache is generally not associated with other diseases like migraine, tension, cluster headache. Secondary headache is caused by other diseases and it may be minor or major.
Nowadays, both boys and girls are affected equally by headache before puberty but after puberty women are more affected than men. Secondary headache commonly results from innumerable conditions, ranging from life-threatening ones such as brain tumors, strokes, meningitis, and subarachnoid hemorrhages to less serious but common conditions such as withdrawal from caffeine and discontinuation of analgesics (painkilling medication).
The cure of the headache depends on the type and severity of the headache and other factors such as the age of the patient. Here we described some of the best home remedies that surely ease the symptoms of the headache quickly. Various home remedy for headache are given below –
1. Ginger
Ginger is considered as the best ayurvedic herb that gives instant relief to the patients. It reduces inflammation of the blood vessels in the head, hence easing the pain. And since it stimulates digestion, it also helps quell nausea and acidity which occurs during migraines.
How to use
Steep ginger root for tea, or mix equal parts of ginger juice and lemon juice and drink up. For better result consume this once daily.
You can also apply a paste of ginger powder and 2 tablespoonfuls of water on your forehead for a few minutes to provide quicker relief.
2. Peppermint Oil
Peppermint oil with its refreshing scent, helps to open up clogged blood vessels which cause a headache. It contains menthol which helps to regulate blood flow in the body.
How to use
Mix 3 drops of peppermint oil in one tablespoon of almond oil, or just add a little water and massage the temples or the back of your neck with it. Alternatively, can apply crushed peppermint leaves on your forehead.
Make an herbal tea by adding 1 teaspoon of dried peppermint to a cup of boiling water. Cover and let it steep for 10 minutes. Strain and add some honey to sweeten it. Sip the tea slowly.
3. Cinnamon
Cinnamon is a very good and beneficial herbal remedy that gives quick results in relieving the headache.
How to use
Grind some sticks into a powder, and add some water to make a thick paste. Now apply this paste on your forehead and lie down for 30 minutes. Then wash it off with lukewarm water.
4. Cloves
Cloves is a very effective and good home remedy that is used in throbbing headache due to its cooling and pain-relieving properties.
How to use
Crush few cloves gently and put them in a sachet or a clean handkerchief. Inhale the fragrance of the crushed cloves whenever you have a headache until you get some relief from the pain.
You can also put 2 drops of clove oil in a tablespoon of coconut oil and sea salt, gently massage your forehead and temples with it for about 10-15 minutes.
5. Basil
A strong-scented herb known as basil contains many analgesic properties that provide effective results in the management of headache. The basil oil works as a good muscle relaxant that relieves the headache caused by tension, anxiety, etc.
How to use
Put 3 or 4 fresh leaves of basil  in a cup of boiling water and let it simmer. Consume with adding a little honey and sip the tea slowly.
You can also chew some fresh basil leaves, or inhale the steam after boiling basil in a pot of water.
6. Lavender Oil
Lavender oil  not only a good home remedy but also have a beautiful fragrance – it's also a great remedy for alleviating headaches.
How to use
Simply smelling the soothing scent of lavender essential oil helps, so you can just put a few drops on a tissue and inhale it.
You can also add 2 drops of lavender oil to two cups of boiling water and inhale the steam.
Another option is to mix two or three drops in one tablespoon of almond oil or olive oil and massage your forehead with it. You can also draw a foot bath of lavender oil and peppermint since the hot water draws blood to your feet and the aroma relaxes you.
7. Rosemary
The rosmarinic acid in rosemary oil has soothing and anti-inflammatory properties that are useful in treating headaches.
How to use
Simply massage your forehead and temples with a few drops of rosemary oil mixed in a tablespoon of carrier oil.
Alternatively, make an herbal tea by boiling one teaspoon of crushed rosemary leaves and one teaspoon of crushed sage leaves in a cup of water. Let the tea cool to normal temperature, and then drink it.
The person who is suffering from headache must follow these home remedies, as they are easily available and can be used by any person. They are very effective and don't cause any type of harm.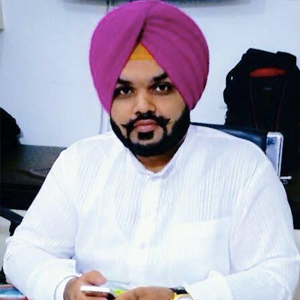 Vaidya Karanvir Singh is the younger Vaidya in Chandigarh Ayurved & Panchakarma Centre. He is the fourth generation in his family who is practicing as a general consultant in Ayurved & Panchakarma treatment at Chandigarh. In his practice, he had treated more than 1000 plus patients worldwide.
Article by Dr. Karanvir Singh (M.D in AYURVEDA, PANCHAKARMA FAGE) and reviewed by Vaidya Jagjit Singh (B.A.M.S)