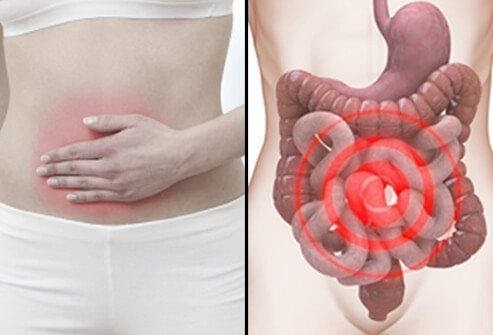 HOME REMEDIES FOR STOMACH PAIN
Introduction
Feeling of any kind of discomfort in stomach, is known as stomach pain. Unhealthy  dietary habits and life style leads to many kind of stomach related disorders. There are many causes of stomach pain which may include 
Bloating and constipation

Nausea & vomiting

loose motion

Acidity & heart burn

Any kind of infection in stomach 

Diseases like IBS ( Irritable bowel syndrome ) , gastritis , Crohn's disease leads to severe abdominal pain.  
Home remedies
1.Ginger ( saunth)
Ginger  is a commonly used natural remedy for an upset stomach and indigestion.
Ginger contains chemicals called gingerols and shogaols that can help speed up stomach contractions and help in digestion of undigested food so cure many kind of stomach related issues like indigestion, nausea , vomiting etc. 
–  Ginger is used by adding in tea or make simple decoction with ginger and take it 
 2.Mint
 Menthol in mint may help with the following:
preventing vomiting and diarrhea

relieving pain by reduce muscle spasm 
 Mint leaves  can be used in Raw as well as in  cooked form for consumption. 
– By boiling  mint leaves  to make a tea. You can add some cardamom in this . This will give relief in stomach upset.
– It can also be used in powdered form made up from dry leaves. BY adding this powder in beverages or foods. 
3.lime or lemon juice, baking soda, and water
 Nutrients in lime or lemon juice can help  in the neutralization of acid so helps in reduction of acidity.
1 tablespoon (tbsp) of fresh lemon or lime juice

1 teaspoon (tsp) of baking soda

8 oz of clean water
Cinnamon ( dalchini )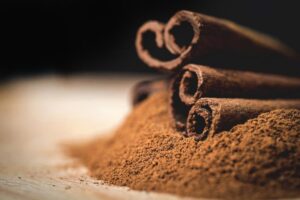 Cinnamon contains  eugenol , cinnamaldehyde that  ease digestion and reduce gas and bloating. 
– Add  1 tsp of  cinnamon powder, or an inch of cinnamon stick, to  meals. Alternatively, they could try 
– Make herbal tea by mixing the cinnamon with boiling water       take this two or three times daily may help to relieve indigestion.
Cloves ( lvang )
Cloves contain substances like eugenol  that may help to reduce free radicals present in the body and also have anti inflammatory effect.  
– Mixing 1 or 2 tsps of  powdered cloves with 1 tsp of honey once a day before bedtime. 
– It can be taken as tea – combine the cloves with 8 oz of boiling water  
Cumin( jeerak )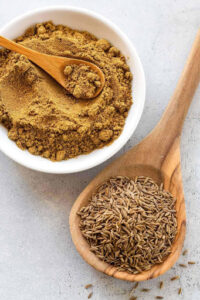 Cumin seeds contain active ingredients like terpenes, phenol, flavenoids that helps in 
reducing indigestion

decrease gas and bloating 

reducing intestinal inflammation  
It can be used as 
– Mix 1 or 2 tsps of  powdered cumin into their meals. 
– Add cumin seeds or powder to boiling water to make a tea.
Aloe juice
Aloe juice helps in treating stomach disorder as it contains constituents  that helps to 
Reduce  stomach acid hence prevent acidity

Encouraging healthy bowel movements 

reducing inflammation
It  can be taken in morning empty stomach by mixing 15-20 ml of aloe juice in water this prevents issues like heart burn , acid reflux.
Licorice ( yashtimadhu )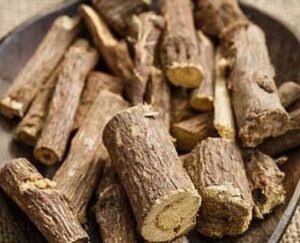 Licorice root contains substances like glycyrrhizin  that helps to reduce acidity , peptic ulcers , gastritis and other stomach related problems. 
–  Drink yashtimadhu root powder by mixing in boiling water  several times a day .
– Root powder can be taken after mixing with honey.
Rice
Plain rice is useful for people with many types of stomach complaints. As it contains magnesium and potassium so reduce stomach pain .
– Rice water is very helpful in case of loose motions not only stops the motions but also used to overcome weakness.
Carom ( ajwain)
– Add 1-2 tsp carom  seeds in 1 glass of water and keep it for whole night and take it in the morning empty stomach. This prevent acidity and improves digestion.
– Take 1 tsp of carom seed powder  with luke warm water in stomach pain . This will give immediate releif.
– Add carom seeds in your meels.
Asafoetida ( Hing )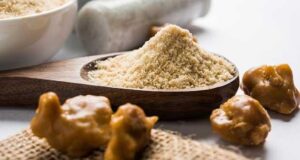 Hing contains the constituents that have anti-spasmodic , anti-inflammatory , antibacterial effect  and it is widely used in stomach related health problems like pain, gas , bloating etc.
It can be used in following ways –
–  By Using Hing in daily cooking – Using Hing in daily cooking  will strengthen your digestive system and improves digetion related issues.
– Mix some Hing in a  glass of water and pinch of black in this for taste and drink this 2-3 times in a day or when needed, this will help to overcome discomfort . 
– Massage hing paste around umbilicus it gave immediate effect in stomach pain. Hing paste can be made by taking pinch of hing and mix it in mustard oil.
Everyone experience discomfort  in stomach  mainly due to  indigestion due to eating or drinking in improper manner. With the help of these home remedies you can treat  digestion related issues  like acidity , gas, belching etc.  that cause stomach pain  , at your home.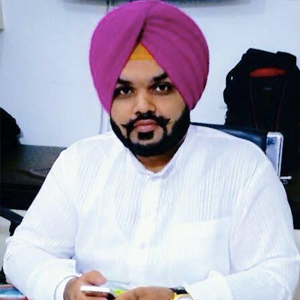 Vaidya Karanvir Singh is the younger Vaidya in Chandigarh Ayurved & Panchakarma Centre. He is the fourth generation in his family who is practicing as a general consultant in Ayurved & Panchakarma treatment at Chandigarh. In his practice, he had treated more than 1000 plus patients worldwide.
Article by Dr. Karanvir Singh (M.D in AYURVEDA, PANCHAKARMA FAGE) and reviewed by Vaidya Jagjit Singh (B.A.M.S)