HOW AIR FRYING IS BETTER THAN DEEP FRYING?
WHAT IS AIR FRYING?
Air frying is the process of frying food with negligible amount of oil in it. For air frying special appliances are used which are called air fryers. Air fryers have become a popular kitchen appliance now-a-days as it is a healthy option in comparison to deep frying involving a lot of oil. Air fryers work on the principle of convection current. The food is kept inside it with a minimal 15ml of oil in it. Then hot air is circulated inside the chamber and the food gets crunchy and crispy from the exterior. A chemical reaction called Malliard reaction occurs inside the food in which an amino acid and a reducing sugar reacts in the presence of heat leading to change in flavor and color of foods.
HOW AIR FRYING IS BETTER THAN DEEP FRYING?
Air frying involves very less amount of oil in the food whereas in deep frying, large amounts of oil are used. Air frying helps in cutting the fat content from food and thereby makes it healthy.  Near about 75% of the fat content is reduced in air frying foods.
WHAT ARE THE BENEFITS OF AIR FRYING?
The food which is cooked through air frying has lower fat and calories content in it. The food which is cooked has:
Crispiness
Texture and flavor of food is just like as of traditional deep frying
WHAT IS DEEP FRYING ALONG WITH ITS HARMFUL EFFECTS?
Deep frying is a cooking technique in which food is cooked by immersing it in extremely hot oil. The oil conducts heat very well due to which deep frying is a rapid cooking preparation technique. The foods are crispy on the outside and soft in the inside. It is usually delicious. Deep fryer, chip pan, vacuum fryer are used for it. It can be prepared at home, given in restaurants and street stalls.
The ideal temperature of deep frying is around 177 degree Celsius. The oil should not burn or catch fire during the deep frying process, so the oil must have a very high smoking point. Safflower and peanut oils are good choices for deep frying. However, olive oil and butter are the poor choices as they have low smoking points.
Some of the harmful effects of deep fried foods:
Increased risk of stroke
Heart attack
Coronary heart diseases
Gain in body weight
Heart failure
Diabetes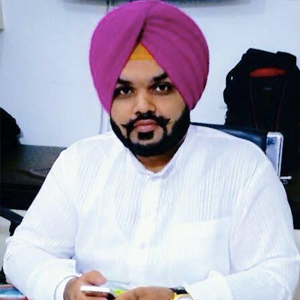 Vaidya Karanvir Singh is the younger Vaidya in Chandigarh Ayurved & Panchakarma Centre. He is the fourth generation in his family who is practicing as a general consultant in Ayurved & Panchakarma treatment at Chandigarh. In his practice, he had treated more than 1000 plus patients worldwide.
Article by Dr. Karanvir Singh (M.D in AYURVEDA, PANCHAKARMA FAGE) and reviewed by Vaidya Jagjit Singh (B.A.M.S)