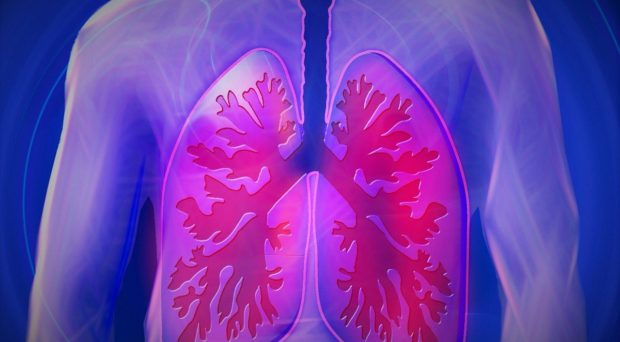 HOW TO TREAT PNEUMONIA WITH AYURVEDIC REMEDIES
DESCRIPTION
Infection in the lungs is called pneumonia. This leads to an inflammatory condition in the lungs. Pneumonia is mainly caused by infection with viruses and bacteria. It can also be caused by viruses, bacteria and parasites. Apart from this, it is also less likely to be caused by infection with other microorganisms, some drugs and other diseases.
Also, if we talk about the conditions and factors that promote pneumonia, then smoking, decreased patient immunity, excessive drinking, severe lung disease, severe kidney disease and liver disease. Apart from this, the use of certain drugs such as proton-pump inhibitors or H2 blockers can also increase the risk of pneumonia. The risk of pneumonia also increases with age. Apart from this, the risk of pneumonia is also high in patients suffering from asthma, heart disease, bronchiectasis, etc.

TYPES OF PNEUMONIA
There are five types of pneumonia, which are as follows.
Bacterial pneumonia

Viral pneumonia

Mycoplasma pneumonia 

Aspiration pneumonia

Fungal pneumonia.



SYMPTOMS OF PNEUMONIA
knowing its symptoms is very important for the diagnosis of any disease. In such a situation, if the symptoms of a serious disease like pneumonia are recognized on time, then treatment is easy. Know the symptoms of pneumonia.
The major symptoms of pneumonia infection are cough, chest pain, fever and difficulty in breathing. Also, if your temperature reaches 105 degrees Fahrenheit, it can be a sign of pneumonia.

In general, flu-like symptoms appear, which later gradually or suddenly progress.

The patient becomes weak and feels tired.

The patient has cough with mucus.

The patient feels sweating accompanied by fever.

Due to difficulty in breathing, the patient starts breathing rapidly or loudly.

The patient has restlessness.

The patient loses or stops feeling hungry.

Drop in blood pressure

Coughing up blood

Palpitations

Nausea and vomiting



PNEUMONIA DIAGNOSIS AND TREATMENT
In general if people notice any symptoms of pneumonia, you should seek medical advice immediately. If we talk about the diagnosis and treatment of pneumonia, then the patient is asked by the doctor to have a chest X-ray. Along with this, on listening to the movement of the lungs with a stethoscope, the doctor also hears some sound coming from the lungs. Apart from this, blood test, CT scan, sputum test, bronchoscopy etc. are also advised by the doctors.
If we talk about the treatment of pneumonia infection, then it also depends on the condition of the disease, the age of the patient. However, antibiotics, medicines to reduce cough, medicines to reduce fever and pain are given by doctors so that the patient can get relief. Apart from this, the work of giving relief to the patient is also done by some home remedies.

NATURAL REMEDIES FOR PNEUMONIA
Here are 5 natural remedies to treat pneumonia:
It has antimicrobial properties that fight against viruses, bacteria and fungi. 

Decreased body temperature 

Works to expel phlegm from the chest and lungs.

Drink a boiled milk, water and garlic mixture, or take lemon juice with honey and garlic mixed and take thrice daily to treat the condition.



It is rich in capsaicin which stimulates the release of mucus from the respiratory tract. 

It clears mucus from the respiratory system. Cayenne pepper is a good source of beta-carotene which makes up healthy mucus membranes.

Put cayenne pepper in the water. Add some lemon juice to it and drink it several times a day. 

People can mix cayenne pepper in carrot juice. Both are beneficial for treating pneumonia.



The mucolytic properties of fenugreek provide relief from congestion. It causes sweating which removes toxins from the body and reduces fever.

Prepare a tea made from fenugreek by boiling fenugreek seeds in two cups of water. 

Filter it and drink it. 

People can prepare herbal tea from fenugreek seeds, ginger, garlic and cayenne pepper. 

Drink this tea several times a day to get relief from symptoms.



It also acts as a mucolytic to remove mucus from the respiratory tract. 

Its antiviral and antibacterial properties help fight infections.

Apply a paste of turmeric powder and warm mustard oil on your chest or drink a glass of warm milk and turmeric powder thrice a day.



HOLY BASIL AND BLACK PEPPER

 
Both these elements are beneficial for your lungs. 

They help in treating pneumonia. 

Extract the juice from basil leaves. 

Add a pinch of ground black pepper to it and drink it every six hours.
CAC TREATMENT FOR PNEUMONIA
COUGH POWDER

– This ayurvedic powder is very effective in cough with mucus, cold, and other respiratory disorders. Cough powder is a mixture of some ayurvedic ingredients like talisadi churna, abharak bhasam, godanti bhasam, lakshmi vilas rasa, yashtimadhu churna, tankan bhasma, kaph ketu ras. These ingredients in combination show antioxidant, anti-inflammatory, bronchodilator, & expectorant properties.


RECOMMENDED DOSAGE

– Take 1 sachet twice a day with honey.

TRIKATU TABLET

– As the name suggests three ingredients are used for its preparation like Shunthi, Pippali, & Maricha. These herbs in combination deal with the loss of appetite, gas, flatulence, bloating, abdominal distension, weak digestion, constipation, abdominal pain, etc.


RECOMMENDED DOSAGE

– Take 1 tablet twice daily with normal water.

COUGH GO TABLETS

– These herbal tablets are beneficial in cough, cold, bronchitis, & other respiratory disorders. Cough Go Tablets are ayurvedic formulation containing Sonth (Zingiber officinale), Mulethi (Glycyrrhiza glabra), Pippali (Piper longum), Kali mirch (Piper nigrum), etc. All these ingredients show antioxidant, anti-inflammatory, bronchodilator, & expectorant properties. This is very beneficial in fever due to phlegm and treats the chronic cough. It helps in reducing cough, headache, rhinitis, etc.


RECOMMENDED DOSAGE

– Take 1 tablet twice daily with normal water.

GILOY CAPSULE

– Giloy capsules are formed with the standardized extract of herb giloy (Tinospora cordifolia). The Giloy herb improves immunity, removes toxins from body, and purifies blood, beneficial in cough, cold, fever, & bronchitis.


RECOMMENDED DOSAGE

– Take 2 capsules twice a day with normal water.

NERVE UP TABLETS

– Nerve up tablets help in balancing the vata doshas and kapha dosha, and acts as nervine stimulant. It shows effective results in improving the central nervous system. It contains natural ingredients like shudha kuchla, shudha shilajeet, abhrak bhasma, praval pishti, shankh bhasma etc. These contains natural vatahar properties and helps in curing vata disorders, speed up physical and mental processes. It act as Respiratory stimulant, helps in Joint pain, Inflammation, Stiffness, Gout, Arthritis, Bodyache, Erectile dysfunction, and Body weakness.


RECOMMENDED DOSAGE

– Take 1 tablet twice daily.

AMRIT TULSI RAS

– Amrit Tulsi Ras is a pure herbal preparation containing five types of Tulsi extracts Ocimum sanctum, Ocimum gratissium, Ocimum canum, Ocimum basilicum, Ocimum citriodorum. This herbal drop increases immunity, helps to treat cough, common cold and skin, respiratory diseases specially bronchitis. It gives effective results in bacterial and viral infections.


RECOMMENDED DOSAGE

– Take 2 drops twice daily in a cup of water.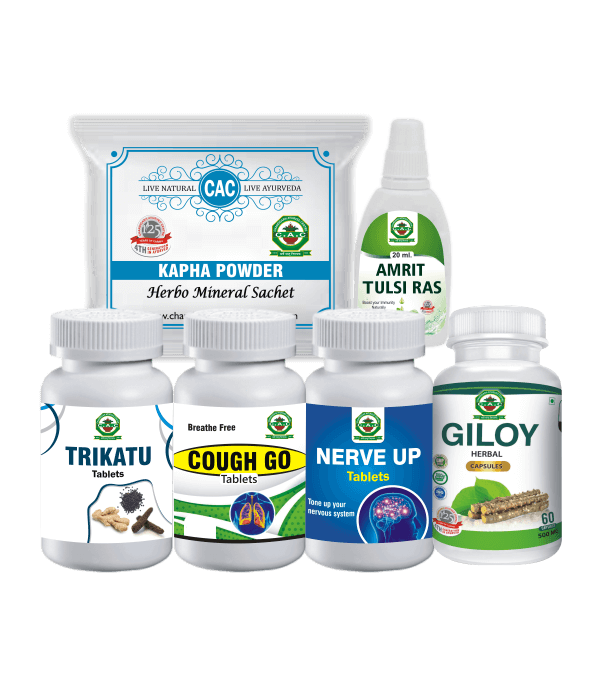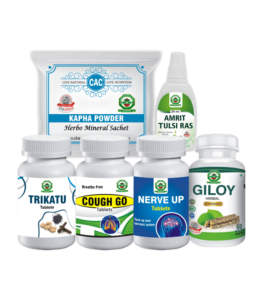 Pneumonia Care Kit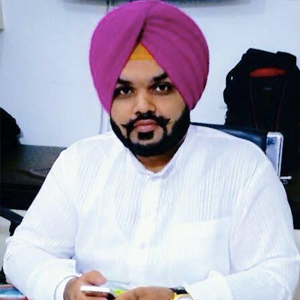 Vaidya Karanvir Singh is the younger Vaidya in Chandigarh Ayurved & Panchakarma Centre. He is the fourth generation in his family who is practicing as a general consultant in Ayurved & Panchakarma treatment at Chandigarh. In his practice, he had treated more than 1000 plus patients worldwide.
Article by Dr. Karanvir Singh (M.D in AYURVEDA, PANCHAKARMA FAGE) and reviewed by Vaidya Jagjit Singh (B.A.M.S)