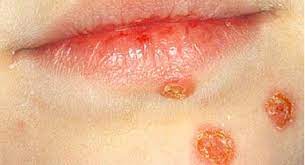 Impetigo is a skin problem. It spreads on the skin due to bacterial infection of Staphylococcus aureus or Streptococcus pyogenes. Due to this, many types of problems and wounds can occur on the skin. Impetigo can spread to any part of the body. In many cases, this problem has been seen in the mouth, nose, hands and feet. Yellow and dark colored fluid comes out due to impetigo. Impetigo can happen to people of any age, but this bacterial infection is very common in young children i.e. 2 to 5 years old. This problem mostly spreads in such a place, where there is a cut due to some injury, insect bite or wound. However, it can also spread inside the skin. 
Symptoms of Impetigo
People of any age can have impetigo in any part of the body. But this infection is seen more on the face of children. Also, sometimes this infection is also seen on the hands and feet of children.
Blisters first start forming on the skin of people suffering from this problem. When it breaks, pus comes out and the skin becomes red. Gradually it starts spreading to other parts of the body as well. Apart from this there are some other symptoms. like-
Suffering from itching problem due to wound.

Red rash on the skin.

Swelling at the site of infection.

Feeling of pain at the infected area.
The doctor says that in severe cases, impetigo infection starts reaching deep into the skin. Due to which there is a problem related to other skin, which is called Ecthyma.
Impetigo Causes
The doctor says that impetigo is caused by bacteria. This problem can be easily passed from one person to another. Therefore, most infected person is advised to stay away from healthy person.
Impetigo is caused by staph (staphylococcus) and bacteria-strep (streptococcus) bacteria.

This bacteria can also spread in the body due to skin infection.

This bacteria spreads more in the place of insect bite or irritation.

This bacterium attacks quickly on children suffering from cold.

In children, this bacteria can enter the body through sheets, towels and toys.

Impetigo bacteria can attack when immunity is weak.

In some cases, this disease can occur even if you have healthy skin.
Risk of Impetigo
Children between the ages of 2 and 5 have a higher risk of developing impetigo.

The problem of impetigo is more in hot places and places with moisture.

This disease is contagious, due to which one infected person can infect another healthy person.
Treatment of Impetigo
Doctors tell that impetigo can be treated mainly through antibiotics and creams. This medicine is applied on the affected area. To apply antibiotic ointment, the affected skin is first cleaned with warm water. After this, with the help of cotton, the crust is removed from the blister area, so that this ointment can reach deep. After removing the scab, the cream is applied on the blistered area.
Prevention of Impetigo
Take care of cleanliness at the place of infection.

Try to stay away from the infected person.

Follow the rules given by the doctor.

Do not make children sit on dirty sheets.

Keep children away from dirty toys and things.
Home Remedies of Impetigo
Use garlic
Garlic is very beneficial for us. Garlic can be used in case of impetigo. Garlic is effective in removing fungal and bacterial problems. To use garlic, crush the cloves of garlic and extract its juice. Now apply this juice on the affected area. This will remove the problem of impetigo.
Use neem
Neem can be used to overcome the problem of impetigo. Neem has the property of removing bacterial problems. To use it, rub the neem bark with a little water on the stone. You will get a paste by rubbing neem bark. Apply this paste on your affected area. In place of coating you wish. So neem oil can also be used.
Turmeric is effective in removing impetigo
Turmeric has anti-septic and anti-bacterial properties, which is effective in removing the problem of impetigo. It has anti-inflammatory properties, which helps you in reducing the inflammation of impetigo. In case of impetigo, mix turmeric powder in cold water. Now apply this paste on your affected area. This will give you relief from impetigo in a few days.
Keep in mind that for the number of days you have been given medicine, you must use the medicine given by the doctor for the same number of days. if you hurry
What is the treatment for impetigo?
Impetigo is an extremely common and contagious skin infection that causes red marks all over the face, especially around the mouth. As this infection mostly occurs in children and infants, it is also known as school sores. These sores mostly occur around the nose and mouth. Due to which the body of children breaks down, drowsiness, and over time they form a yellow-brown layer on their skin. Sometimes they can occur on the wound as well as affect the lower part of their body. Until that disease is over, the children may become lethargic and the children sleepy. Fortunately, not only is impetigo a known condition, it is also a fairly common one. This means that you do not need to worry about your child getting sick because of these sores. There are effective treatments available in the market for you to use and you can cure your child of this infection in no time. Impetigo is mainly treated with the help of antibiotics. These antibiotics come in the form of creams or ointments that have to be applied topically on the wounds. However, in case of excessive wounds, you can also administer the medicine orally as it also comes in the form of tablets.
How is impetigo treated?
Impetigo is usually diagnosed visually because the lesions tend to be very specific. Sometimes, your doctor may choose to drain some of the fluid from the sores for laboratory testing. This can help in determining which type of antibiotic to use for maximum effectiveness. However, it is an optional step in the diagnosis and treatment process and cannot be done in your case either. Once the infection is detected, it can be treated. The treatment should be very careful as even slight negligence in the treatment can be costly for the patient. Whichever medicine the patient will face a lot of problems in the future, they should be used only in the prescribed way by the doctor and while getting the treatment done to the patient, attention should be paid only to recovery. Because the recovery of the patient depends a lot on his thinking, if a patient's thinking is good, then he can get rid of his disease quickly. And can enjoy healthy life and can think about his future life.
The main line of treatment for impetigo is through antibiotics. Antibiotics are available in the form of ointments or creams that need to be applied topically on the wounds. However, before applying the cream, you need to use a warm and wet cloth to wipe the yellowish-brown layer over the wounds. If this is not done, the cream will not be completely absorbed and it will definitely hamper its overall effect. After cleaning the wounds, you can apply the cream frequently as directed by your doctor. If you prefer oral medicines, you can give the pills to your child as well. They are equally effective and are often used in severe cases of this infection. The dosage of the pill will depend on the severity of the infection. You can keep it at home.
Who is eligible for the treatment of impetigo
If your child has been diagnosed with impetigo, you can seek treatment for the same.
Who is not eligible for the treatment?
Children are susceptible to a large number of diseases and infections and if the child is absolutely fine and does not have any kind of problem in his body then that child is not necessary for any kind of treatment. Chicken pox is one of the most common people if a child has chickenpox, then this disease usually happens, children with chickenpox are not eligible for this treatment. Do not confuse it for impetigo as chickenpox scars cannot be cured by this treatment and no matter how isolated the lesions may be, it is always better to get a diagnosis from a doctor And only the doctor will give you the right advice. Without the doctor's advice the treatment should not be done if your child has rash or chicken pox, then he will not be eligible for this treatment.
What are the post treatment guidelines?
Maintaining cleanliness around children and keeping your child away from overcrowded areas or other children, because if you do not do this then this disease can happen again in your children who have this infection, they will again can help prevent infection.
How long does it take to recover?
It only takes a few days for the infection to clear up. If the treatment is not done properly then it may take some more time to recover if the treatment is not done properly The exact number of days which depends on the severity of the infection and the number of lesions. Always think well of the patient So that he can get well soon. And to be able to return to his routine, the patient should listen carefully to every thing told by the doctor and follow it.
Detox Premium Powder:
This is a herbo-mineral preparation that contains ingredients like Parwal Pishti, Giloy satv, Shukta Pishti, Kamdudha Ras, Gandhak Rasayan, etc.
Parwal Pishti: This Pishti reduces inflammation, flaking, itching of the skin. The Pishti is composed of natural coral calcium processed with rose water.
Shukta Pishti: It helps to balance the Pitta dosha in the body. All signs and symptoms related to Psoriasis patients are managed with this article.
Giloy Satv: This satv is prepared from the herb Giloy (Tinospora cordifolia). The anti-inflammatory, antioxidant, and analgesic properties of this herb deal with psoriasis easily.
Kamdudha Ras: This herbal-mineral classical preparation balances Pitta dosha in the body.
Gandhak Rasayana: This herbal preparation is used since ancient times for all types of skin disorders.
Tal Sindoor: It contains ingredients like Shuddh parad, Aloe vera, Gandhak, etc that relieve redness in psoriasis patients.
Akik Pishti: This Pishti reduces all types of Pitta related disorder hence it gives good results in psoriasis.
Recommended Dosage: Take 1 sachet twice daily with plain water.
Blood Purifier Syrup:
It is ayurvedic syrup that consists of various natural ingredients such as Khadir Chall (Acacia catechu), Manjistha (Rubia cordifolia), Neem (Azadirachta indica), Giloy (Tinospora cordifolia), Harad (Terminalia bellirica), Baheda (Terminalia chebula), Amla (Emblica officinalis), etc. As the syrup purifies the blood by removing excess toxins it is very beneficial in maintaining proper circulation and improves the skin naturally.
Recommended Dosage – Take 2 teaspoonful twice daily.
Skin Care Plus tablet:
skin care tablet is a pure ayurvedic formulation. It help to maintain the texture of your skin depending on the type of skin you have. It contains various herbs like Haridra khand, Panchnimb churna, Khadir chahal, Chirayta, Mulethi, Chopchini, Gandhak, Ajmoda that work very effectively on all skin types. Skin care is a blood purifying tablet. It cools and detoxifies the blood, increase blood circulation of the skin. It minimizes the blemishes, lighten sun tan, delay ageing of skin and heal skin problems.
Recommended Dosage: Take 1 tablet twice daily.
Panchatikta Ghrita Guggulu:
Panchatikta Ghrita Guggulu is an ayurvedic preparation mainly used for skin diseases. This tablet contains pure herbal ingredients such as Nimba(Azadirachta indica), Patola(Cucumis acutangulus), Guduchi(Tinospora cordifolia), Vasa(Adhatoda vasica), etc. This tablet promotes detoxification and rejuvenation. Panchatikta Ghrita Guggulu tablet is a natural source of anti – oxidant. It promotes engender vibrant and healthy skin.
Recommended Dosage–Take 1 tablets twice a day with normal water.
Strawberry Face Cream:
Strawberry face cream is pure herbal cream which gives you glowing complexion without any side effects. This face cream Delays ageing, eliminates dead skin cells, cleanses the skin, improves complexion, and even tones your skin. The antioxidants present in strawberries delay the signs of aging like wrinkles and sagging skin. The Vitamin C fights free radicals that cause damage to cells and collagen resulting in fine lines. Vitamin C in strawberries is essential for the production of collagen, which improves the skin's elasticity.
Recommended Dosage– Apply to the affected area twice daily.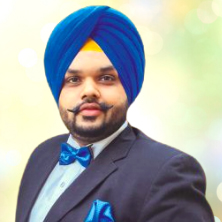 Dr. Vaidya Karanvir Singh is the younger Vaidya in Chandigarh Ayurved & Panchakarma Centre. He is the fourth generation in his family who is practicing as a general consultant in Ayurved & Panchakarma treatment at Chandigarh. In his practice, he had treated more than 1 Lakh Plus patients worldwide.
Article by Dr. Karanvir Singh (M.D in AYURVEDA, PANCHAKARMA FAGE) and reviewed by Vaidya Jagjit Singh (B.A.M.S)