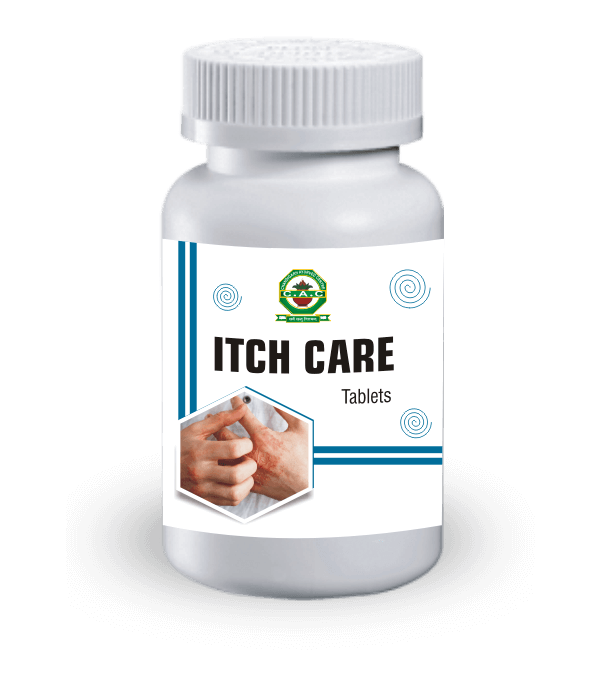 Description
It is pure herbal combination which is purely natural. 

Skin primarily protect our body from toxins present in environment. 

Itching is related to various skin problems like dermatitis or irritates such as nickel in jewelry, infected cut. 

Chronic skin condition like psoriasis, acne and due to internal conditions like blood, lungs, and liver. 

Mainly toxins in skin arises due to excess rakta dhatu and rasa or plasma nourishes the skin. Itch cure tablet has cooling herbs which provide cooling effects to patients by pacifying pitta doshas.

This tablet helps to purify blood as wells as cleanses and rejuvenates the body.
Uses of Itch care tablet
Allergic rashes

Itching

Eczema

Burning sensation

Urticaria or angioedema and hives

Psoriasis

Scabies

Leprosy

Improves the digestion

Dermatitis
Ingredients
Chopchini (smilax china) ————————-200 mg

Gandhak (sulpher) ———————————200mg

Safed chandan (santalum album) ————–200mg

Bavachi (psoralea corylifolia) ——————-200mg

Manjistha (rubia cordifolia) ———————200 mg
Ingridents description  
1. Chopchini – Psoriasis is an inflammatory skin disorder characterized by red and scaly patches.
Chopchini helps in managing psoriasis when applied to the affected area due to its anti-psoriatic property. 

It inhibits the growth of microorganisms and reduces inflammation of the skin due to its anti-inflammatory property. 

A certain constituent present in Chopchini has anti-proliferative property that also helps in managing Psoriasis. 

It prevents or inhibits cell reproduction or proliferation.
2. Shuddha gandhak – Gandhak Rasayan (also spelled as Gandhaka Rasayana) is an ayurvedic mineral-based medicine, which contains detoxified Sulfur processed with herbal juice as a main ingredient. 
Gandhak Rasayan is antibacterial, antiviral and antimicrobial ayurvedic medicine. It is beneficial in almost all types of infections due to its broad-spectrum antibiotic activity.

 

Small red spot occurs on the skin due to allergic reaction to allergens. It causes itching and sometimes burning sensation on the skin. 

Gandhak Rasayan helpful to treat this condition.

 

Gandhak Rasayan helps to eliminating itching and scabies rashes.
3. Safed chanadan – It helps manage certain skin problems like itching or inflammation generally associated with acne and pimples. 
These problems arise due to imbalanced Pitta-Kapha doshas. 

Sandalwood helps in managing these problems due to its Pitta-Kapha balancing properties by reducing the symptoms and preventing further damage. 

It is useful for healing cuts, wounds, skin irritations, itching, psoriasis and eczema due to its anti-inflammatory and antimicrobial properties.
4. Bavachi – Bakuchi helps to treat various skin problem like itching red papules, itching eruptions, eczema, ringworm, rough and discolored dermatosis, dermatosis with fissures due to its Raktashodaka (Blood Purifier) properties.
5.Manjistha – manjistha has anti-oxidant, anti-microbial and anti-inflammatory properties.
Ayurveda acknowledges manjistha as a well-known for various skin conditions. 

Owing to its blood purifying properties which helps in removing toxins from the blood, it helps in treating a host of skin infections. 

It not only helps in shielding the skin from oxidative radical damage due to the harmful UVA and UVB rays, but also reduces the risk of the various signs of aging like wrinkles, blemishes, spots, fine lines, and dark circles. 

It is also beneficial for treating allergic conditions like acne, pimples, zits, psoriasis, scabies, eczema and many more. 

It is even useful in healing cracked heels.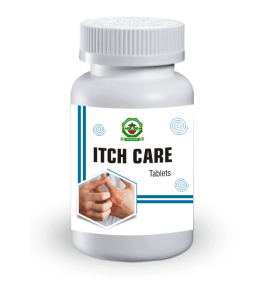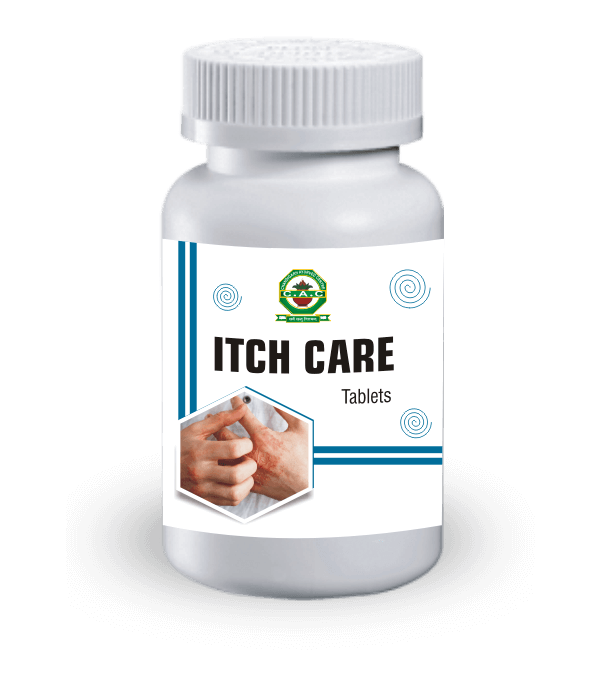 ITCH CARE TABLET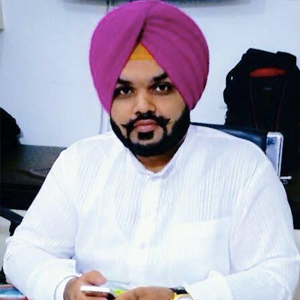 Vaidya Karanvir Singh is the younger Vaidya in Chandigarh Ayurved & Panchakarma Centre. He is the fourth generation in his family who is practicing as a general consultant in Ayurved & Panchakarma treatment at Chandigarh. In his practice, he had treated more than 1000 plus patients worldwide.
Article by Dr. Karanvir Singh (M.D in AYURVEDA, PANCHAKARMA FAGE) and reviewed by Vaidya Jagjit Singh (B.A.M.S)