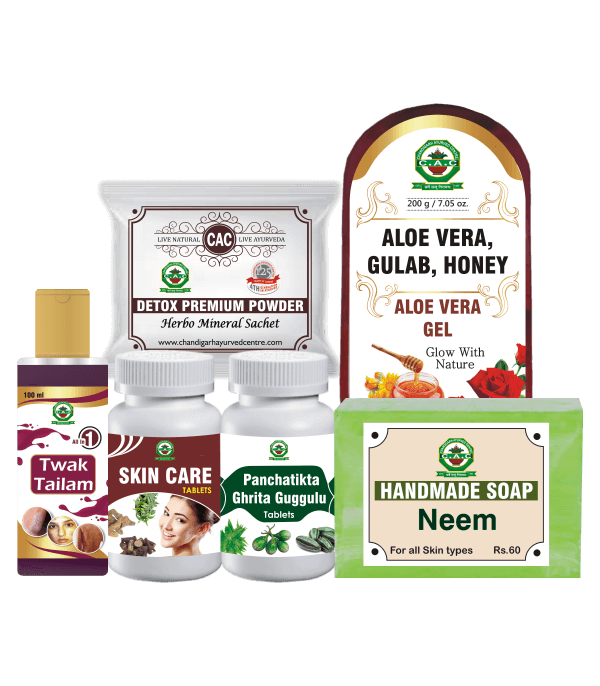 MAKE LIFE RAIDIANT WITH CAC ACNE GO KIT
WHAT IS ACNE?
Mukhdushika or Acne is a skin condition that arises when your pores or hair follicles become plugged with oil and dead skin cells. It is in the form of whiteheads, blackheads or pimples.
In Ayurveda Acne is termed as "Mukh Dushika". It is most common among the teenagers, but it can affect people of all ages. Instead of using harmful chemical you can choose Ayurveda to heal your Acne naturally.
 As Ayurveda primarily detoxify the whole body and work on the root cause of the problem or it works on the cellular level of the body.
TYPES OF ACNE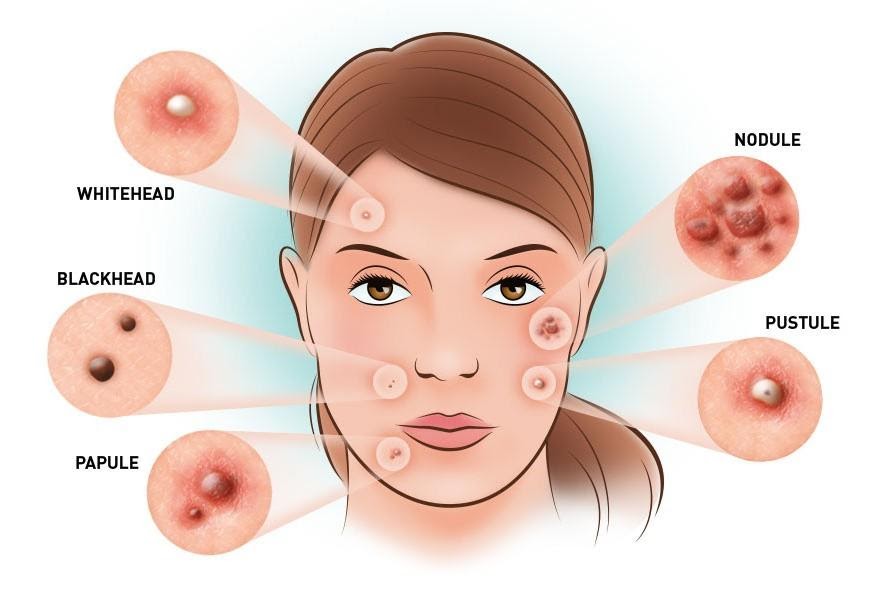 "SAY BYE-BYE TO YOUR ACNE" 
Stop your worries and get rid of acne by herbal medication.
The following medications are helpful in Acne-
LIST OF MEDICATION
| | | |
| --- | --- | --- |
| S.NO. | MEDICINE | DOSAGE |
| 1. | PANCHATIKTA GHRITA GUGGULU | 2Tablet twice daily |
| 2. | SKIN CARE TABLET | 1-2 tablet twice daily |
| 3. | TWAK TAILA | For external application |
| 4. | ALOE VERA GEL | For external application |
| 5. | DETOX PREMIUM POWDER | 1Sachet twice daily |
| 6. | NEEM SOAP | For cleansing |
DETAILED DESCRIPTION OF THE MEDICATION-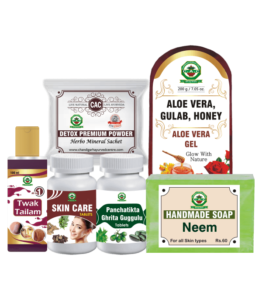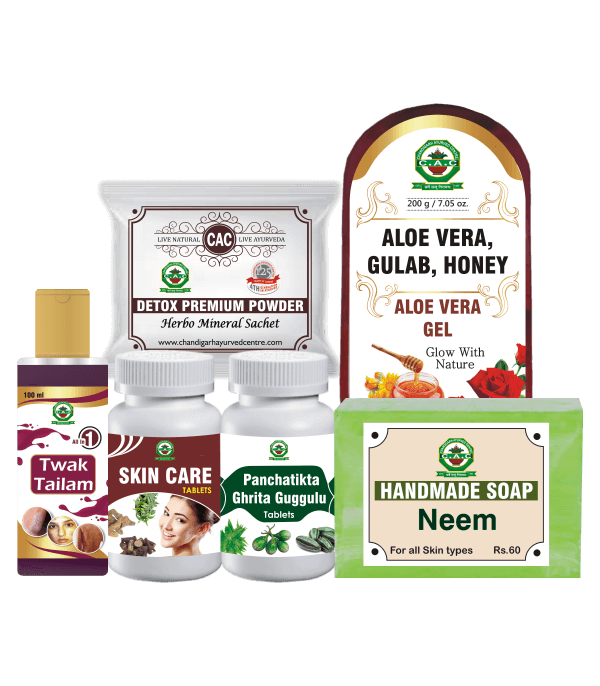 Acne Go Kit
According to Ayurveda, Mukh dushika or Acne is caused due to excessive aggravation of Pitta dosha, because of the cool nature of the medicines it helps to pacify the Pitta Dosha and helps to cure the acne naturally.
PANCHATIKTA GHRITA GUGGULU-
Ingredients-
Shuddh guggulu (Commiphora mukul)

Neem (Azadirachta indica)

Amrita (Tinospora cordifolia)

Gajapippali (Piper chaba)

Shunthi (Zingiber officinalis) etc.
Benefits-
Panchatikta Ghrita guggulu is used for curing the skin diseases.

It is effective in the treatment of Acne and blemishes.

Ingredients present in it pacify the Pitta dosha also it is Tridoshahara i.e. balances the three humors of the body.

It is very potent in maintaining the hormonal level of the body thus reducing chances of Acne due to hormonal imbalance.
Ingredients-
Haridra khand

Panchnimba churna

Panchatikta guggulu

Patol patra, Ajmoda

Khadir chhal

Chirayta

Mulethi

Manjistha

Chopchini

Gandhak etc.
Benefits-
This tablet is used to purify the blood.

It provides cooling effect and detoxifies the blood

It clears out the obstructions in the blood flow that further increase blood circulation of the skin.

It minimizes the blemishes, lighten sun tan, delay ageing of skin and heal skin problems. 

These tablets also act as a moisturizer

Helps in Improving the blood circulation

Remove blemishes

Reduce itching and burning sensation of skin

Prevent acne and pimples

It is also indicated in case of leucoderma.
Ingredients- 
Yashti madhu

Manjistha

Coconut oil
Benefits-
It is very effective for acne-prone skin

Discoloration of skin

Good for all skin types

It has pacifying or cooling properties which further beneficial for improving the skin's elasticity. 

The skin is deeply cleansed as well as moisturized by its application.

It seeps into the pores and hydrates deeply.

The molecules present in the Twak taila ensure the repair of the collagen layer of the skin.
It is made up of pure extract of Ghritkumari or Aloe Vera and the mixture of Rosa sinensis or rose petals. 
This is an amazing composition which provides a cooling effect on the skin and relieves from burning sensation, itching etc. 
Aloe Vera gulab gel helps in maintaining healthy skin and repairs the skin damage.
Ingredients-
Parwal Pishti

Giloy satv

Shukta Pishti

Kamdudha Ras

Gandhak Rasayan, etc.
Benefits-
Detox Premium powder helps to

reduces inflammation, flaking, itching of the skin.

It helps to balance the Pitta dosha in the body and used in all types of skin disorders.

The signs and symptoms associated with Psoriasis patients are managed with this Sachet.

Extracts of Giloy (Tinospora cordifolia) present possesses anti-inflammatory, antioxidant, and analgesic properties helps to deal with Acne and psoriasis easily.

Ingredients present in it helps to relieve redness associated with acne and also used in other skin conditions like Psoriasis.
It is necessary to clean the face before application of Twak taila or Aloe Vera Gel. So Neem soap is best for cleansing as it possesses antibacterial, Anti fungal, Anti ulcer and have lots of Antioxidants. 
Benefits-
Ultimate acne and pimples killer

Purifies and cleanse the skin

Hydrates the skin

Suitable for all types of skin

Reduces itching and rashes

Fight germs and bacteria

It treats issues like too much oiliness or dryness of the skin

Heals painful big acne lumps
Why to Choose CAC SPECIAL Acne Go Kit?
Unique Formula to heal in a natural way. 
Specially designed for acne and skin disorders.
Prepared and designed under the guidance of Skilled MD doctor.
Medicine is prepared from 100% natural herbs.
It is safe to use with no side effects.
Completely safe and effective.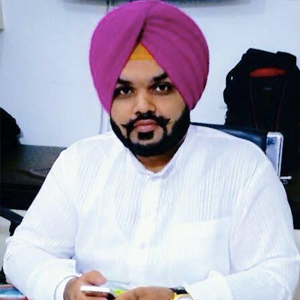 Vaidya Karanvir Singh is the younger Vaidya in Chandigarh Ayurved & Panchakarma Centre. He is the fourth generation in his family who is practicing as a general consultant in Ayurved & Panchakarma treatment at Chandigarh. In his practice, he had treated more than 1000 plus patients worldwide.
Article by Dr. Karanvir Singh (M.D in AYURVEDA, PANCHAKARMA FAGE) and reviewed by Vaidya Jagjit Singh (B.A.M.S)