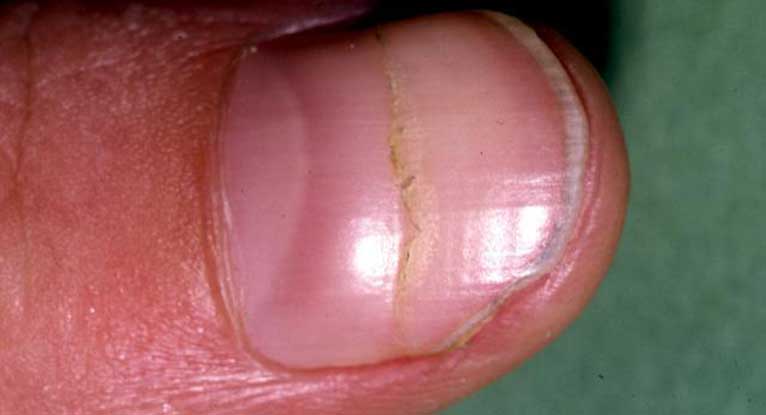 Nails are made of dead cells, just like the hair. They are key part of the body and more useful. It would be hard to pick up tiny objects or scratch if you didn't have nails. They protect fingers and toes. Due to its social and aesthetic importance, healthy and beautiful nails are a billion dollar industry today. Nail disorders can affect any part of the nail. Some disorders affect multiple parts at the same time. Some diseases affect only one or two nails, while some affect all twenty nails. Fingernails that fall off normally grow back in 3-6 months. Toenails can 12-18 months to grow.
PARTS OF THE NAIL
The nail consists of the following parts:
Nail plate
Nail bed
Nail folds
Cuticle
Lunula
Matrix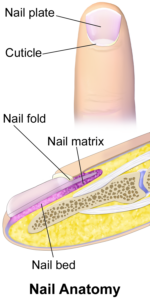 CAUSES OF NAIL DISORDER
Nail disorders can appear due to:
Skin disease
Infections
Tumors
Medications
Systemic disease (underlying disease)
Congenital or hereditary conditions
Birth deformities such as pachyonychia congenita
Any physical trauma
Environmental trauma
Chemical injuries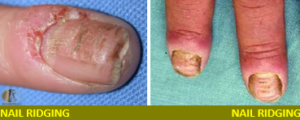 NAIL CHANGES IN COMMON SKIN DISEASES
Nail changes can appear in various skin diseases. Some of the common diseases with specific nail changes are described below. Nail psoriasis can be diagnosed by examining the nail and other affected skin patches.
PSORIASIS
Psoriasis is a chronic autoimmune disease. Nail changes appear in about 10-55% of patients with psoriasis. Nail psoriasis symptoms depends on its rapidity and part of nail affected.
 It appears as:
Pitting
Onycholysis
Crumbling nail
Yellow or brown discoloration of the nail bed
Nail psoriasis treatment is usually dissatisfactory. More than one treatment options may be combined to get better outcomes. They are:
Steroid ointments like clobetasol
ointment (Calcipotriol)
gel (Tazarotene)
cream (5-fluorouracil)
Oral Immunosuppressive drugs ( apremilast, methotrexate and cyclosporine)
Intralesional injections (methotrexate and triamcinolone)
Biological injections (Etanercept, Secukinumab)
Ultraviolet light therapy
Nail removal (in severe disease)
LICHEN PLANUS
It is an itchy rash that is not contagious. Lichen planus triggered by the immune system. The nails are infrequently affected. It may also appear without any skin involvement.
It often affects the nail matrix. The nail changes are:
Onychorrhexis
Trachyonychia
Twenty nail dystrophy
Pterygium
Treatment of nail lichen planus are:
Steroid ointments (Clobetasol)
Intralesional injection (Triamcinolone)
Non-steroidal anti-inflammatory ointments (Tacrolimus)
Steroid pills (Prednisolone)
ALOPECIA AREATA
A skin disease that causes sudden, patchy hair loss on the scalp is known as Alopecia areata. It can infrequently affect other parts of the body, including the nails.
The nail changes in alopecia areata include:
Pitting
Trachyonychia
Onychorrhexis
Red lunula
Spotted lunula
This is temporary, therefore treatment is not required. Severe nail involvement is treated with intralesional injections (Triamcinolone).
ECZEMA
Eczema is a skin disease that is caused due to irritants or allergens. Nails are most often affected due to wet work (such as dishwashers and cleaners). Frequent and prolonged contact with water itself can cause irritant damage over a period of time. Occupational exposure to chemicals like acids, oils and solvents can affect the nails. Some ingredients in cosmetics like nail polish and hand creams can cause allergic eczema.
The nail changes seen in eczema include:
Onychorrhexis
Onychoschizia
Onycholysis
Nail dystrophy
Trachyonychia
Pitting
Paronychia
Treatment of nail eczema includes:
The causative factors should be avoided
Use Petrolatum based moisturizers
Use Steroidal ointments
If there is secondary infection Antibiotics or antifungals should be use.
NAIL INFECTIONS
ONYCHOMYCOSIS
Onychomycosis is a fungal infection in your toenails or fingernails. It is common in adults who live in hot, humid environments. The fungi enter through minor cuts or cracks in the skin next to the nail. It may be contagious.
The factors that cause onychomycosis include:
Onychomycosis Injury to the nail
Weak immune (diabetes, AIDS, etc.)
fungal skin infection (Athlete's foot)
Tight fitting shoes or gloves
Frequent and prolonged contact with water (hand washing, dishwashers, cleaners, etc.)
Symptoms
Usually painless
Any lifting from the nail bed
No longer firmly attached
Nail thickening may occur
Nail discoloration can be yellow, white, or brown
Your doctor will be able to diagnose fungal nail infection by looking at it. A part of the affected area will be clipped and scraped. The type of fungus is identified by laboratory tests.
Fingernail infections get cured far more quickly than the infections of your toenails. To cure them, there is requirement to combine the topical and oral medications for better results. Whereas, in some of the severe cases, there might be required to remove the affected nail. Treatment options include:
Topical Medications (treatment that you apply to the skin)
Amorolfine
Ciclopirox
Efinaconazole
Tavaborole
Oral Medications (treatment that you take by mouth)
Fluconazole
Itraconazole
Ketoconazole
Terbinafine
Griseofulvin
Other Treatments
Surgical nail removal
Non-surgical nail removal
Laser therapy
PARONYCHIA
Paronychia is a common infection of the nail folds. There are two kinds of paronychia, acute and chronic. Infection that persists for more than 6 weeks is termed as chronic paronychia. It happens due to a break in the skin, caused by:
Biting or chewing nails
Injuries
Skin diseases like eczema
Excessive manicures or pedicures
Ingrown nails
Prolonged wet work (dishwashers, bartenders, cleaners, etc.)
The germs that cause paronychia can be bacteria or fungi, or both. Herpes viruses can also cause this. The common organisms involved are:
Staphylococcus
Streptococcus
Pseudomonas
Candida
Herpes simplex virus (whitlow)
The symptoms of paronychia include:
Pain and Swelling
Affects nail wall
Red swollen appearance
fluid discharge or pus may be present
Thick and discolored nails
Absence of cuticle
Fever may be present
Your doctor will be able to diagnose paronychia simply by looking at it. The affected area will be swabbed to determine the causative organism. Antibiotic or antifungal creams and pills are usually prescribed in acute paronychia. Mild steroid creams are used to treat chronic paronychia. Surgical removal of the nail plate may help to drain the pus. Proper nail care, protective gloves and avoidance of wet work will prevent this from reappearing.
PERIUNGUAL WARTS
Warts are small, rough, grainy or fleshy growths that appear on the skin. They are caused by infection with the human papilloma virus (HPV). They appear when the virus infects the top layer of the skin through cuts or scrapes. Periungual warts grow under the nail and along the nail folds. It is contagious. A person may get it from contact with infected skin, or items such as towels and toys.
Some people are more prone to getting periungual warts. These people are:
Children and teens
People who bite their nails or pick their skin
People with a weak body defense system (like diabetics, chemotherapy, AIDS)
SYMPTOMS
Rough, grainy bumps
Black dots may be present on the surface
Pain (if large or infected)
Your doctor will be able to diagnose periungual warts by looking at it. They may also scrape the wart to look for tiny dots.
You can treat warts at home by applying salicylic acid. It comes as a gel, liquid, or plaster (pad). You should carefully apply salicylic acid to the wart every day. It can take many weeks of treatment to have good results.
Covering the wart with duct tape is useful. It prevents the spread of infection. Changing the tape every few days helps to peel away the layers of the wart. Application of raw garlic or tea tree oil may help in a few cases.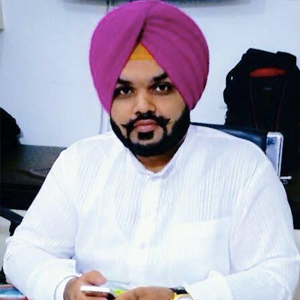 Vaidya Karanvir Singh is the younger Vaidya in Chandigarh Ayurved & Panchakarma Centre. He is the fourth generation in his family who is practicing as a general consultant in Ayurved & Panchakarma treatment at Chandigarh. In his practice, he had treated more than 1000 plus patients worldwide.
Article by Dr. Karanvir Singh (M.D in AYURVEDA, PANCHAKARMA FAGE) and reviewed by Vaidya Jagjit Singh (B.A.M.S)